Hope you all had a great Easter! I wanted to fill you in on what's going on in this brain of mine. You see, I have a little problem of starting projects and not finishing them. Well I finish them up until the last final details sometimes (like ummm, the nursery!) and then start something new. I usually have about 5-10 different things going on at once. No lie. My brain is always spinning its wheels of new ideas and projects. But seriously I MUST hang stuff up on the walls in the nursery and photograph the room for you all because it really is pretty!! Haha. Goodness by the time I get it posted for you all it will be time to make her a big girl room. Ugh. Soon. Real soon. Make me do it.
Moving on…
So last week in my never-ending wheel-spinnin' brain, I decided I wanted to do something. People are always painting their furniture and such different colors, so instead of white or black which is safe, I'm going to use this color…

on this.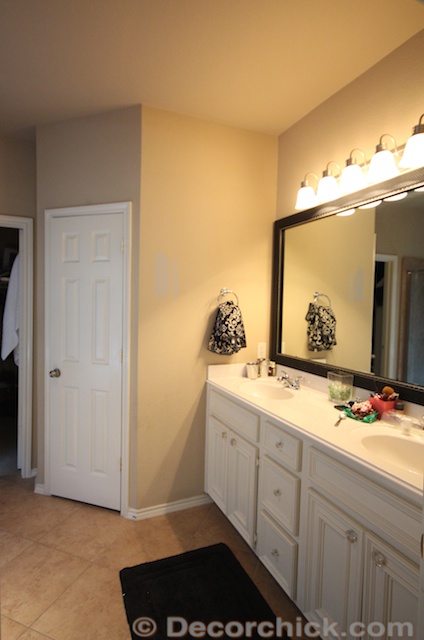 Yes I'm going to paint our bathroom vanity coral! And I'm so excited about it! I already have the paint for it too so I'll be starting it possibly today. I have to buy another brush because I left my last one in the fridge too long and ruined it. Gah.
And no, this is not an April fools joke. :)
I haven't seen too many colored vanities around so I hope it turns out good. With some pretty new knobs it should be fabulous. :) And I need to paint the walls too–maybe just a white? I don't know still. What color do you think?
I'll keep you posted on the cabinets. Then of course I'll need new bath rugs and towels. And maybe paint the frame around the mirror. Haha. Every small makeover turns out to be a bigger one. Hopefully I will get to show you the reveal sometime this year. Slow and steady wins the race right? ;)
Oh and here's a pic of me and my little sailor girls on Easter.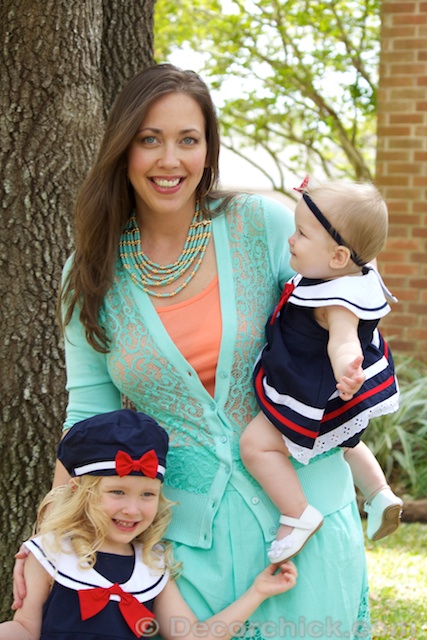 Aren't they sweet? I wish you could see full frontal full length pics because their dresses were so stinkin' cute. But umm, taking pics is not an easy task any longer. And hopefully my husband can be in the pics one day too! (he plays at the church all day so he wasn't here for pics). And see, I told you I love orange and aqua!
What are you up to these days? Do you suffer from DADD too (decorating ADD)?
xxoo,
Decorchick!
Let's Connect!