Hi all! Man I feel like I've been going non-stop lately (which I really have been) but that's good for y'all since you get to see new projects right?  I love having new things to share and was so happy when I put up some board and batten in the master bathroom! I wanted to give it a little more of a luxury feel without breaking the bank, and easy board and batten was the trick.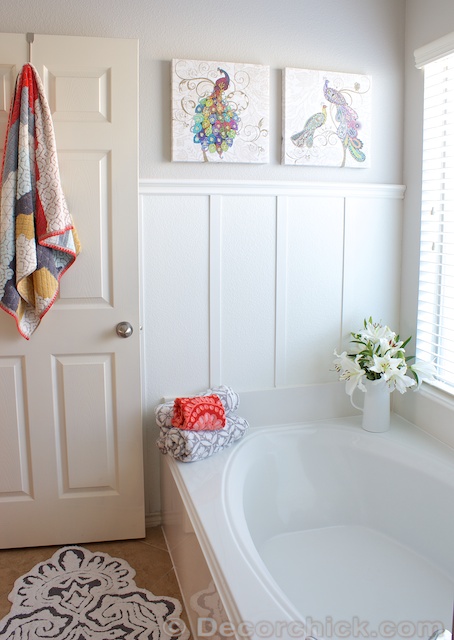 I won't be doing a tutorial on this because it's exactly the same as the way I did the board and batten in the gameroom. So visit that tutorial if you're interested. :)
And P.S.-There is a giveaway at the end of this post for a $100 Lowe's Card and a Bluetooth Bath Fan from Homewerks.
But first, why did I want a more luxury feel in here? Well because we got this cool new bluetooth bath fan from Homewerks Worldwide to hook up in here! So I wanted to be able to listen to some tunes while soaking in the tub staring at some pretty molding. :)
I had my husband do the dirty work of installing for me. Let me warn you…this fan is bigger than most regular bath fans, so cutting of the ceiling will be involved, and you need access to the attic. That was the tricky part for us but he managed to do it somehow without breaking his neck. I snapped a few pics of him installing, but when he got to the cutting and attic part, I kind of checked out and went to get caught up on Breaking Bad. I did make it back though for the fun time when the music started playing and he paired up his phone.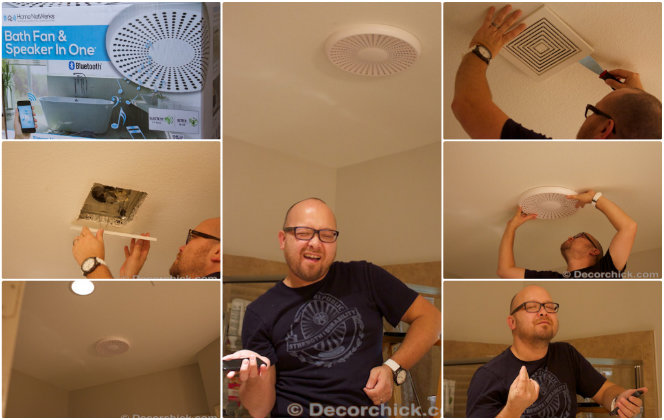 He is one cool dude let me tell you. ;) I do love having the option to have music in the bathroom now–definitely a luxury feel!
About the Bluetooth Bath Fan: The fan is compatible with most Bluetooth-enable smartphones, tables and laptops from up to 30 feet away. After the initial set-up, the fan connects to your device automatically when it's in range of the speaker. The quiet Bluetooth Bath Fan generates greater air movement and provides a high-quality, full speaker sound. The sleek, white design mounts seamlessly into the ceiling. Retailing at under $149, The Homewerks Bluetooth Bath fan can be found in stores and online at The Home Depot, Lowe's, Ace Hardware and True Value Hardware.
So cool right. And I'm happy I get to give one away too!
So remember this is what that bathroom wall looked like before I added the B&B.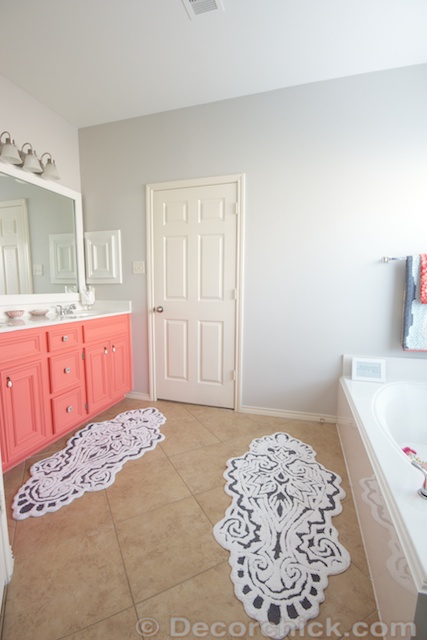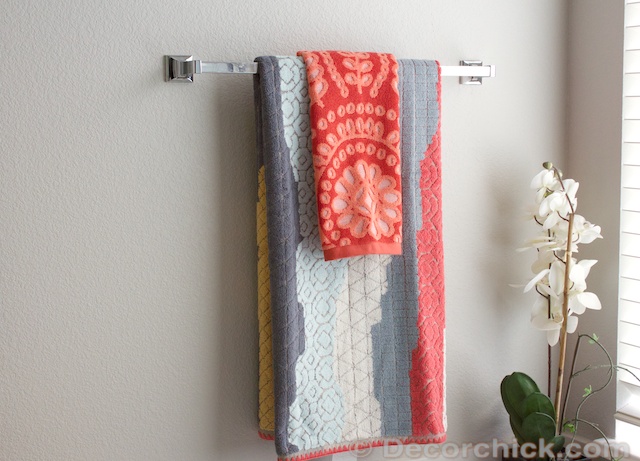 I just removed that towel rod and got to work. And let me tell you. It's amazing what you can get done in 1 1/2 hours while your husband takes the kids to Cracker Barrel and the grocery store. I got this ALL done before they got back. No lie. Just made a few cuts on the saw and used the nail gun to put it up. Then of course I painted late at night. But I felt like super-mom.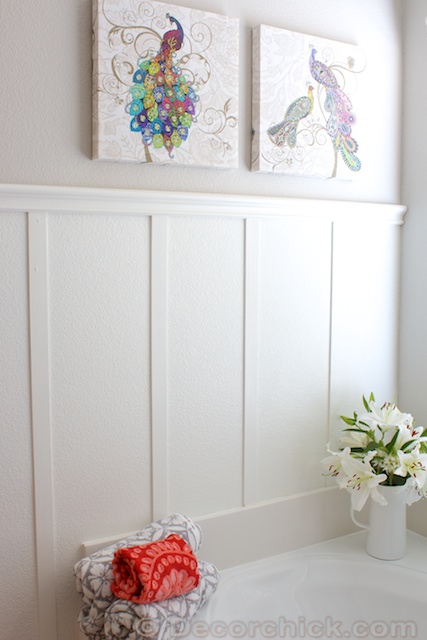 Remember the coral vanity? Yep still have it and still love it. And I know I'll get asked again but the towels and rugs are from Anthropologie that I bought a while back.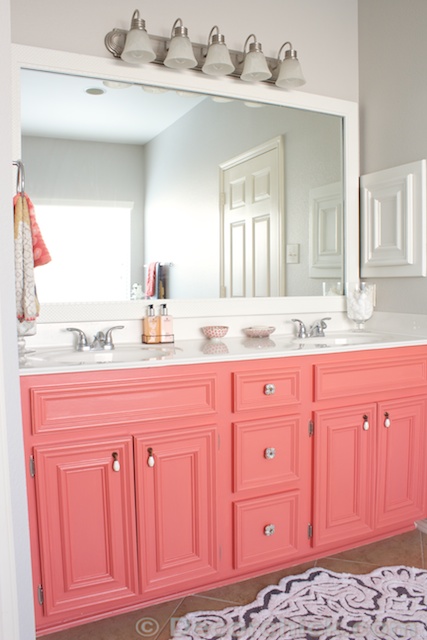 The board and batten does go behind the door too in case you are wondering if I was lazy…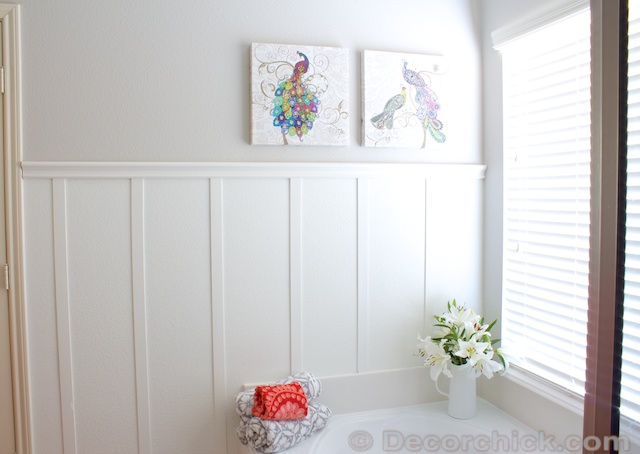 And wow I really need to paint the door the brighter white like the molding.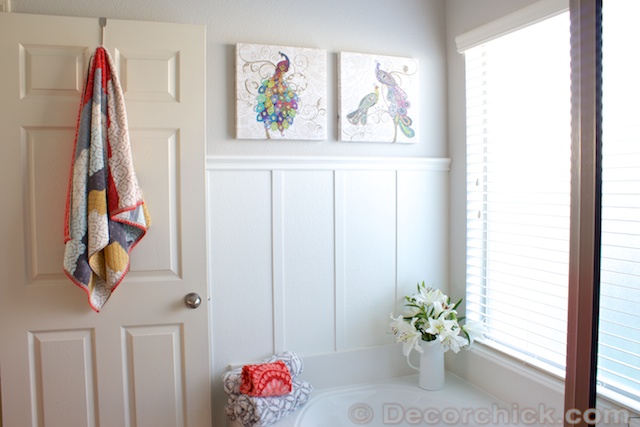 Now the peacock in our navy and coral bedroom has a couple of friends…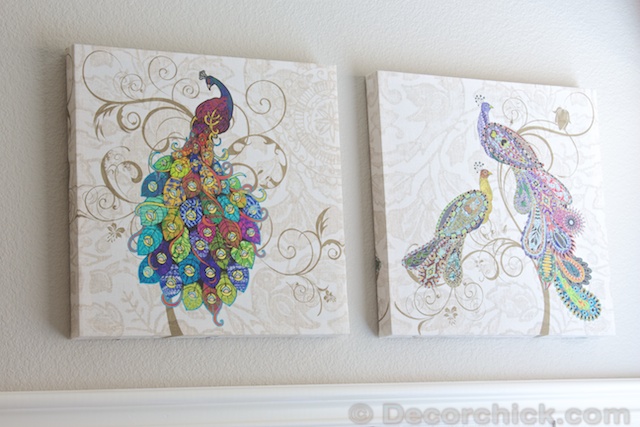 I found those at Homegoods. So cute right?
I love it so much and it's such a great and inexpensive way to get a high-end look for less.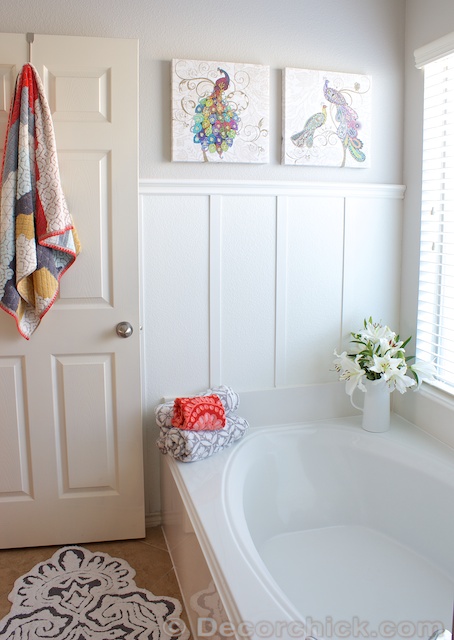 So are you ready for a more luxurious bathroom too? With the Homewerks Bluetooth fan and a little molding you can't go wrong. And Homewerks Worldwide wants to give one of you a bluetooth fan and speaker AND a $100 gift card to Lowe's. So there you go. That will buy your molding materials so you have no excuses. :)
To enter just leave a comment with what upgrade you'd like to do if you won the Lowe's gift card. I could think of a hundred! Giveaway will be open until Friday, October 18th and winner will be chosen via Random.org. Good luck! And Homewerks is giving away one fan per week through October 15, 2013 on their Facebook page. To enter, simply 'like' the page for a chance to enter.
So what do you think of the new fan and board and batten? We sure love it!
UPDATE: Giveaway now closed and the winner is #49, Dana Valle. Congrats!
xxoo,
Decorchick!