The house is all pinkified and ready for Valentine's Day!  Well ok, just the mantel is pinkified and I love it. I love pink.  I'm certain I need my own pink room somewhere.  Where that will be I have no idea, but it's nice to think about it. :) Anyway here's the mantel!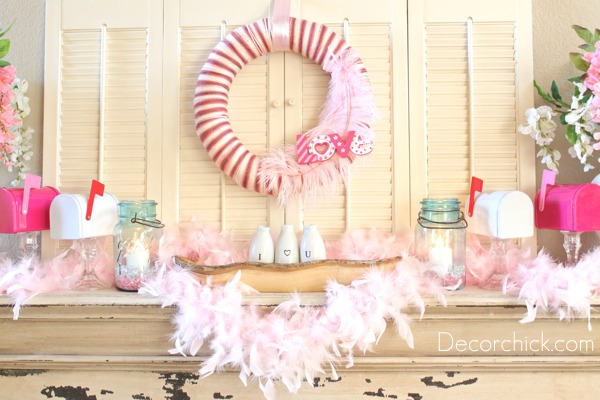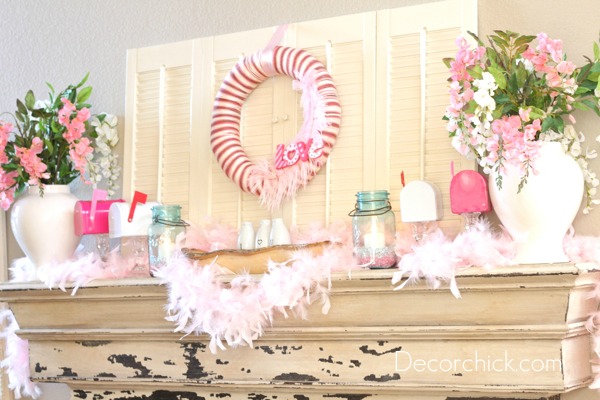 Valentine's Day is that 1 holiday where I tend to have more fun with the decor and not be so strict on it going with the rest of the house blah blah blah. Hence the pink feather boa. As I've said before when it comes to how I decorate, I just do what I like and not worry about what everyone else is doing.  Valentine's Day just means pink to me, and lots of it!
I love this mantel so much more than last year's Valentine mantel, but I still used a lot of the same things.  And if you look at last year's post those pictures are atrocious! My sincere apologies, really.  I think I've gotten a bit better on my photography since then. :)
Anywho, I saw the cutest idea on Pinterest and I thought it would be great for the mantel so I copied it.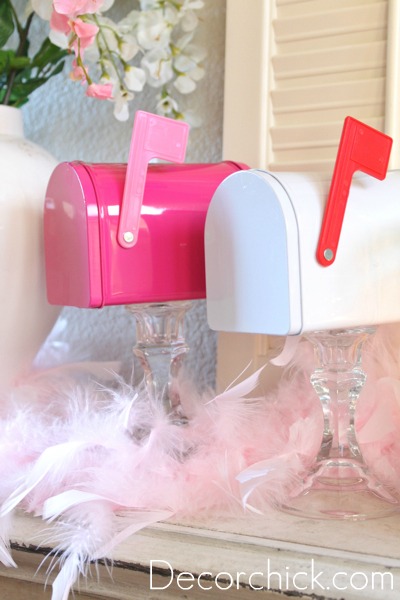 I saw the pin and it was from Emily at the The Anderson Crew, where she glued those little mailboxes (found in the dollar spot Target section) to a candlestick.  How adorable huh? For mine, I just used the glass candlesticks from the Dollar Store that I already had and sat the mailboxes on top.  I didn't glue them down so I could reuse both again.  But how cute!!  I wanted to put everyone's initial on the front like Emily did, but didn't have time.  But I will fill with treats and maybe even a little Valentine money. :)
I also used the same aqua mason jars as I did last year and filled them up with pink and clear beads and popped a candle in.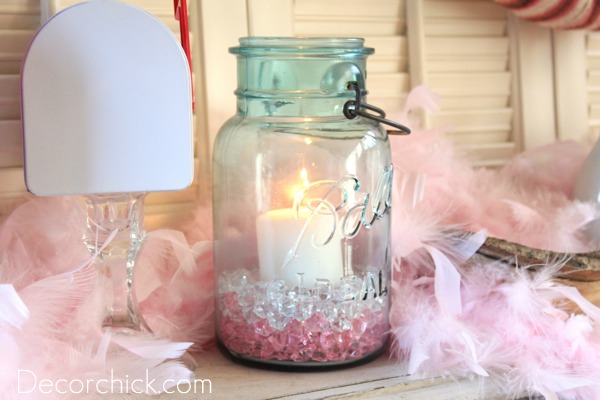 The little I love you vases were from the dollar section at Target that I used last year as well.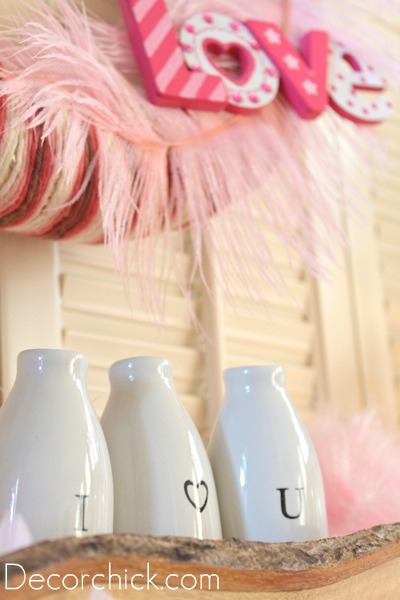 And one more…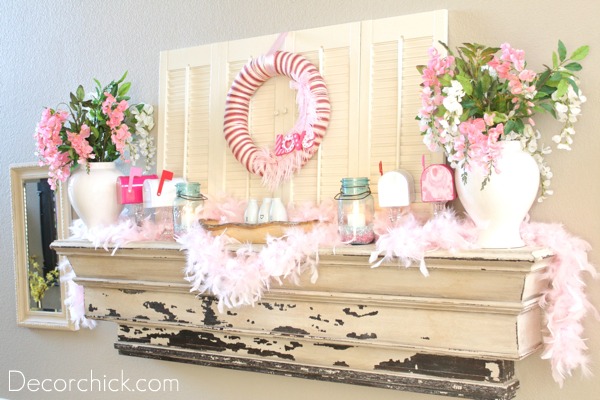 You can see the tutorial for the Valentine Yarn Wreath here if you'd like.  I love yarn wreaths!
P.S. – For anyone that is new here (because I get asked each time I post a new mantelscape), the "mantel" that I'm using is actually the Pottery Barn Ledge that I use and decorate as a mantel since we don't have a real one.  We got ours at the PB Outlet heavily discounted over a year ago.
And that's a wrap for this year's love mantel.  :)
Are y'all feeling the love yet?  The big day is less than 30 days away now! Have you busted out the pink and red yet, or are you going with a whole different color scheme this year?  So many options!
Sharing this post at Beth's Valentine Mantel Party and Weekend Wrap Up Party at Tatertots and Jello.
xxoo,
Decorchick!