I wasn't even going to decorate for Valentine's day, but silly Beth decided to have another mantel link party coming up on Monday, and well, I'll do anything for my mantel…and Beth.  I wasn't ready to part with my winter mantel just yet, but I love how the Valentine one came out!
So here is the very foo-fooey (how do you spell that?) pink-ified mantel.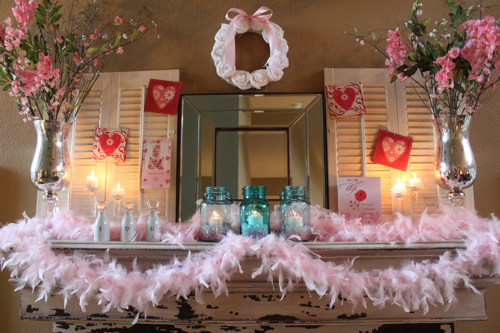 That boa!!  It kills me!  I never decorate with stuff like that but I thought I could get a little wild and crazy for Valentine's day. You know, because love is in the air.
I used my blue mason jars that I love to collect as little candle holders.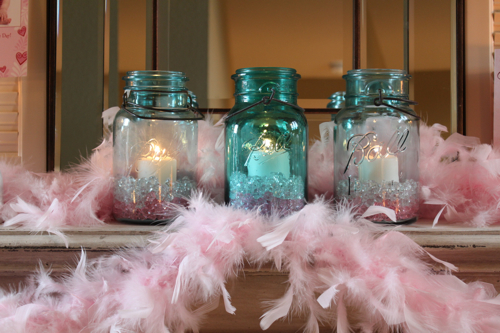 I actually got the idea from Melissa at The Inspired Room when she made her Jingle Bell Jars at Christmas.  She filled her jars with epsom salt and dropped in a candle, and then obviously decorated with bells. And apparently she is the queen blogger/creator of mason jar candles. Now, I didn't use epsom salt or bells, but I did use a filler of some pink and clear crystal bead things, and dropped in a votive.  So pretty!
I displayed a Valentine card my husband gave me a few years ago.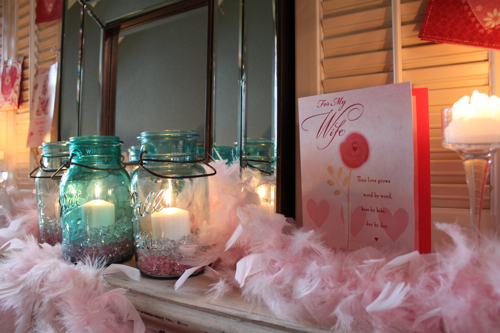 Awww. And no, you can't read the inside. :)
I also displayed Emma's Valentine card that she sent out last year. I LOVE this picture of her.
Ahhh I wish she would let me put bows in her hair still. :(
These are just some pretty napkins that I taped up to the shutters for some more bling. Fancy.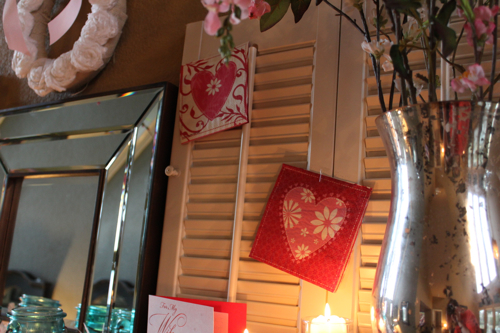 The cute "I heart you" vases are from the dollar section at Target, but I think they were $2?
I got real creative with those and just stuck in some extra crystal knobs I had on top.  And they fit just perfectly!
I used my Rosette Wreath and just switched out the ribbon for a pink one.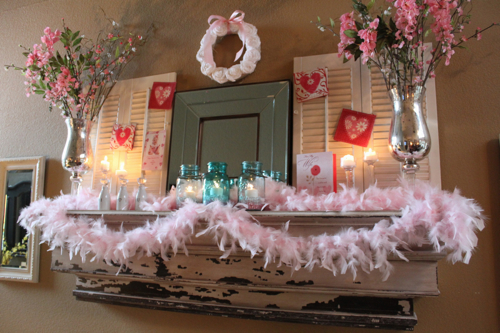 I did buy some new floral stems, and I know some of them are a little crazy and long.  Floral arrangements aren't my thing.  I did buy 2 of the feather boas at Hobby Lobby at $3.50 each, and the little white vase set at Target.  But everything else I had.  Now that we got that out of the way, just enjoy too many photos because I couldn't stop.  Photographing pink is fun.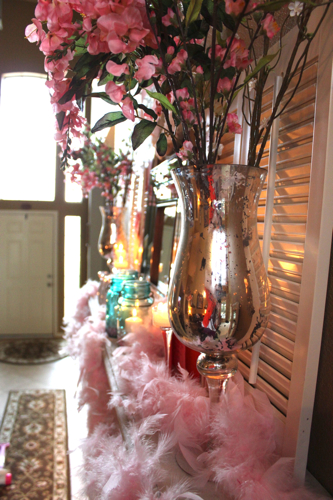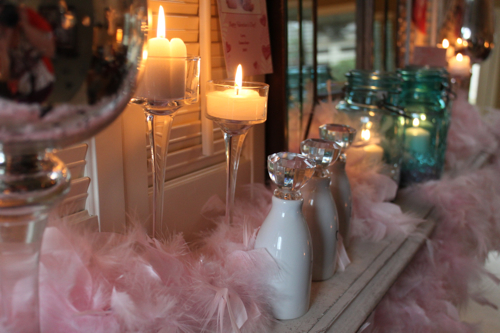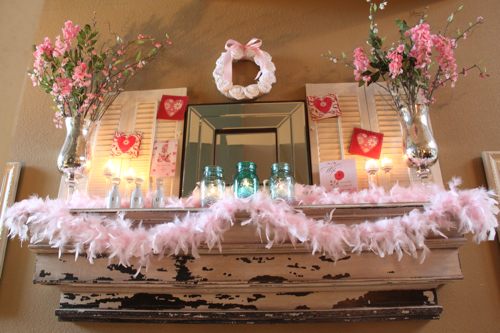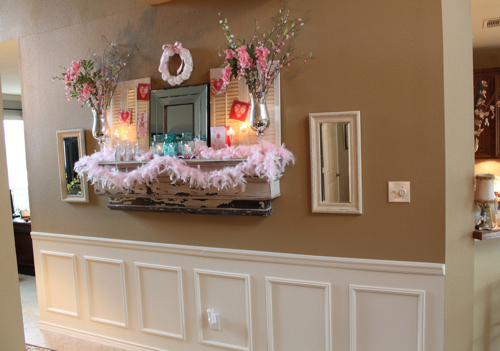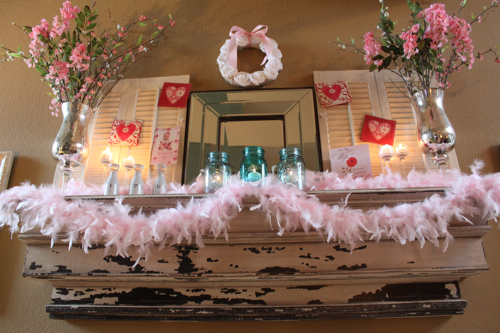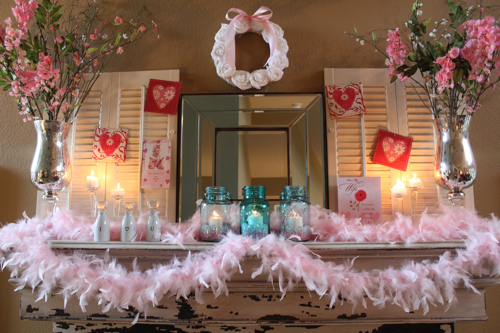 Yummy. Makes me want cotton candy.
Have you started Valentine decorating?  Heck, some of you still may be in Christmas mode. I still have our Christmas wreath on the front door.  But it's red, so it's staying up.
Don't forget to link up your mantels to Beth's party on Monday!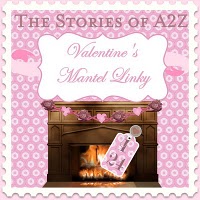 The link to the party is here.
Also sharing this post at Thrifty Decor Chick's Before and After Party.
I love my sponsors: Altar'd – How to paint furniture guide, Altar'd – Decorative Finishes for Furniture, Savings Lifestyle, Olive Bungalow, Willow House, Knitty Bitties, Silhouette, Lisa Leonard, The Rusted Chain, Red Letter Words, The Vintage Pearl, Simple Fit RediShade, Donahue Wellness
xxoo,
Decorchick!