Hey everyone are y'all ready to party?  I love Valentine's Day and love decorating for it.  If you haven't seen my Valentine's decorations for this year yet, they were…
and the Valentine's Day Mantel.
I heart them both. :)
Now I can't wait to see what YOU have done for the love holiday!   Anything Valentine's Day related is welcome.
I'd love it if you would link back to me with a text link or use this pretty little button so all of your friends know where you are partying. Remember I'll be pinning some of my favorites, hint hint. :)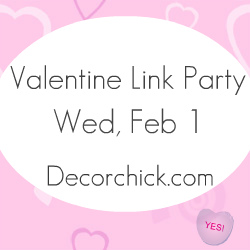 Now let's see what you got!  Mingle around and visit a few other links if you have time too! :)