Hey guys! I've immensely enjoyed my little break over the holidays and I hope you have too! We ended 2012 with a VERY awesome and life changing item. And it's no little item either. I'm talking about our new Sleep Number m9 bed!!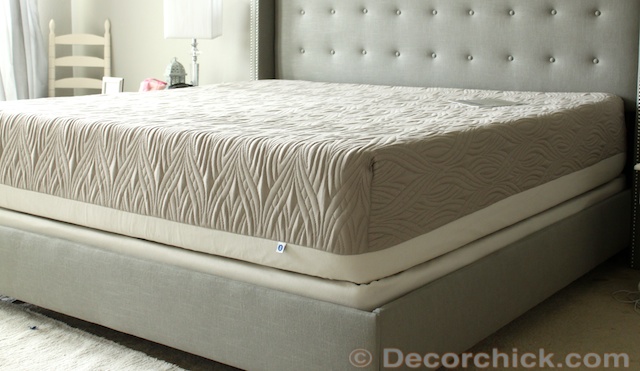 Now, one thing you may not know about me (or maybe you do?) is that I LOVE my sleep. I have to have it. At least 8-10 hours every night and sometimes a nap during the day. And we spend a lot of our lives sleeping, so it's kind of important that you have a good bed to sleep on.
Before we got our Sleep Number m9 bed, we had a different mattress and the body impressions on it were so bad (it was only 3 years old) that me nor my husband slept good. At all. We tossed and turned ALL night and woke up with back pain, and our bodies just hurt in general. It was so bad, that for about 2 weeks I was upstairs sleeping in my stepdaughter's room on the daybed because that is a nice mattress and I slept better. But, we all know it's not good to sleep in different rooms than your spouse. Ha! So needless to say, I pretty much RAN at the opportunity to receive a new bed from Sleep Number when asked to review their m9 series memory foam bed!
We went to our local Sleep Number store where Sean, one of the Sleep Number professionals showed us around and found out my "sleep number" by testing the beds out with their 3-D imaging.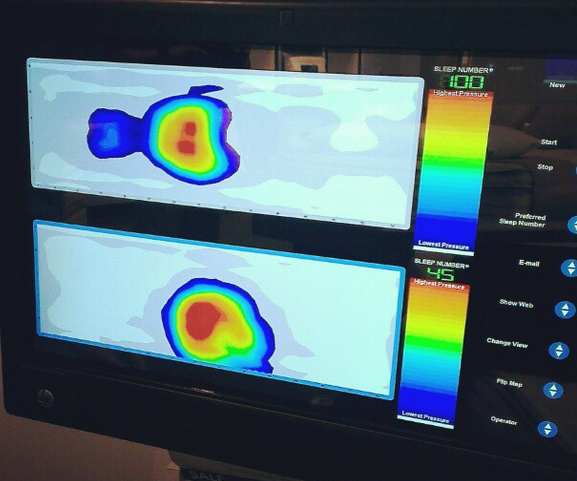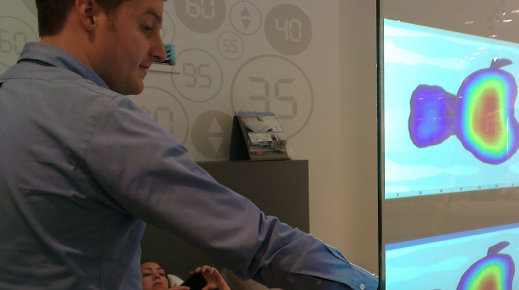 They can tell what your pressure points are and that determines what they think will be a good number for you to sleep on. And my number came out to be a 45 at the store, and that's pretty accurate. I sleep anywhere from a 45-55 typically. Since ours is a memory foam mattress and softer, sometimes I like it a little firmer. Of course Sleep Number is known for their dual air technology allowing each side to adjust the firmness to their particular liking. My husband has been sleeping with a high number, like 80-100 and loves it. So right there that's pretty awesome that we are able to both sleep in the same bed, with very different preferences. :)
One of the things I love the most about this bed is how thick it is.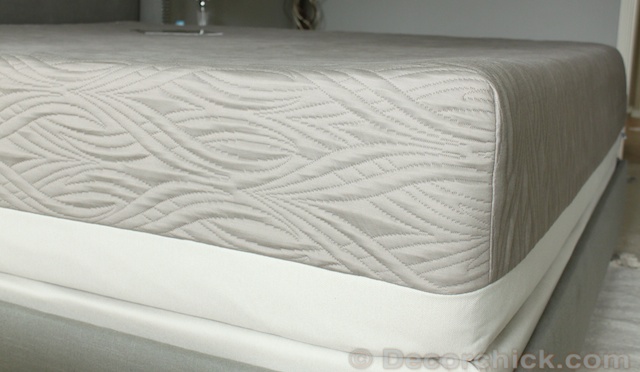 It's 13 inches deep and that is a perfect size mattress. I don't like a wimpy mattress. The m9 bed offers the highest memory foam profile too.
The other thing I REALLY love about this bed is how COOL it is. I'm not talking about cool as in "hip," I'm talking about how it keeps our bodies cool at night. A lot of memory foam mattress can be hot, but definitely not this one. Their special foam features a breathable air-flow design and it really does its job. Promise. I am very picky about how hot/cool I am.
The guys that delivered the bed set it up in no time.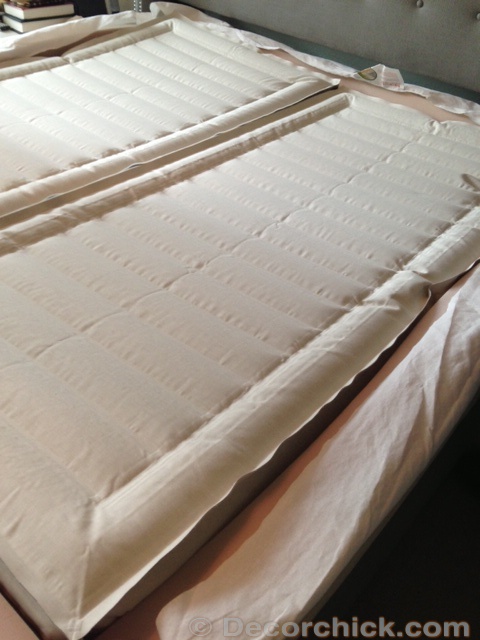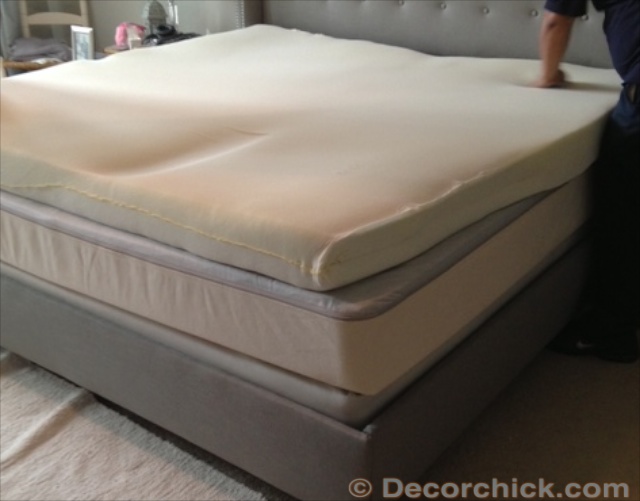 That top layer is the memory foam that was just being rolled out. Then you just put on the cover, your mattress pad and sheets and that's it.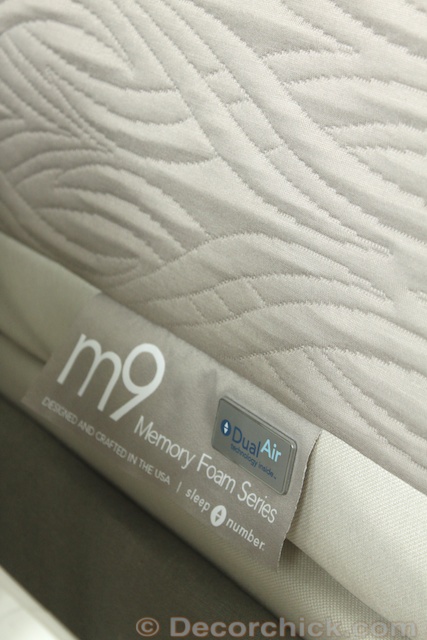 The bed also comes with 2 wireless remotes to control your number and adjust it however you like.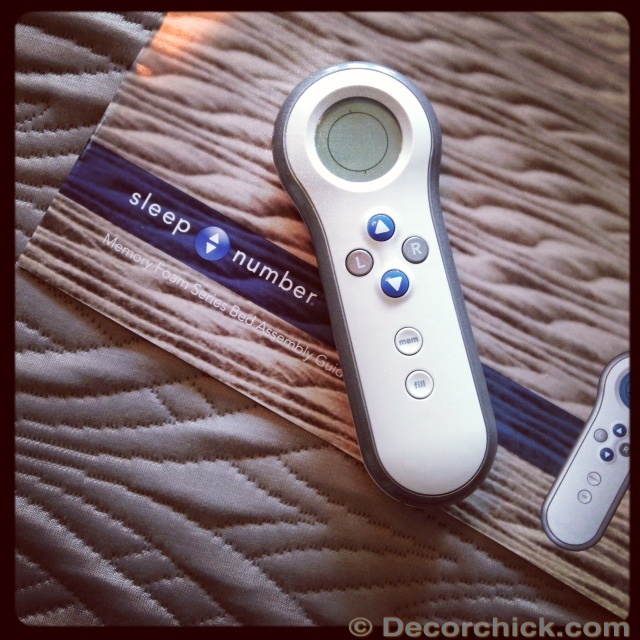 Hopefully you know me well enough by now that I am an honest tell-it-like-it-is person, so I'm not going to write a glowing review just because I got a bed. But guys, there isn't anything bad about this bed that I can think of. Seriously. We've been sleeping on the bed a little over 2 weeks now, and it's pure Heaven. I know these beds are not cheap, but I believe there are just certain things you have to spend money on. One is a good sofa, and the other is a good bed. They are just necessary in my opinion for your quality of life so it's good to make an investment into staple items. And if you have been thinking about purchasing a Sleep Number bed I'd highly recommend them, especially the m9 memory foam bed like ours. It's so luxurious. Customer service is great, their warranty is great, and the product is fantastic. It's win win. Be sure and follow Sleep Number on Facebook too so you can stay up to date with the latest innovations and sales!
My husband and I haven't slept this good in a long time. I used to wake up several times a night, but now I barely even move. I think I stay in one position now it's crazy. Oh, and I'm sure you noticed the new upholstered bed too. More on that soon. :)
Do you have a Sleep Number bed? Do you love it? I'd love to hear your thoughts. Are you thinking of purchasing one? Tell us!
xxoo,
Decorchick!
Let's Connect!




I received a free Sleep Number® m9 Memory Foam bed to review from Select Comfort / Sleep Number for this post.