Laundry isn't a fun chore to most, but with this simple and easy tip, it can be, and you will feel SO awesome. Have you ever heard of Flylady?  I heard of her several years ago from my sister.  I read up on what she does and recommends back then, but sadly I never put anything to practice.  But one of her tips is to do a load of laundry a day so you can stay on top of it.  Because seriously, laundry piles up SO fast it's ridiculous.  And since adding a 4th set of clothes to the hamper since the baby was born, it was getting way too much for my once a week laundry day.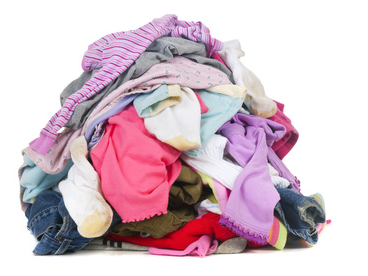 So this past week I decided to try Flylady's one load of laundry a day method and I have to say, it's been awesome.  I feel in charge and in control of the laundry now, not the other way around where it owned us!  We have clean clothes that are actually PUT AWAY daily and it's been so nice!  I am not kidding when I say the laundry used to sit in the basket in our room for week(s) and we'd be digging in there whenever we needed something clean.  It really was chaotic to me and I hated walking into our room because of the clothes everywhere.  Now it's much more peaceful. :)
So if your laundry is what ours used to be like, try this method. It will change your life!
"One load of laundry a day keeps the chaos away" –Author, Decorchick. *giggle*
No, Flylady has no clue who I am, although that would be awesome.
And in different news, I have another Silhouette "Back to Basics" promo that runs until the 16th. Use the code DECORCHICK at checkout and you can get 1 Silhouette Cameo, 1 Silhouette hook, 1 Scraper tool, 1 Silhouette Spatula and 1 $25 download card to the Silhouette store for just $269.99. All of these tools are awesome, especially for intricate pieces of vinyl like my Scrabble Art was. You can order HERE if you wish. :)
Now back to laundry–how do YOU do laundry?   Do you follow Flylady?  Is your laundry out of control or is it manageable? I love talking clothes. Usually it's not dirty clothes, but it's appropriate today. And it feels good to be sane again, even if it's only been a week. :)
xxoo,
Decorchick!