Hi everyone hope you had a great weekend!  I'm so excited to show you all the bedding and the crib and the bed crown in the nursery! I mentioned when I repainted the nursery (again), that I was going in a whole new direction than I previously was. So that means I had to say goodbye to my scrabble tile wall project, but I still have them so maybe we can use again one day.
Here is how it's looking so far and I am pretty much in love.
Isn't that bed crown/corona fabulous? More on that tomorrow but it's from Antique Drapery Rod Company. I'll give all the details on it tomorrow and maybe if you're nice, you might get a chance to win one? Hmmmm. ;)
All of the bedding is from Restoration Hardware Baby & Child, and of course I bought during their Friends and Family 20% sale. So it wasn't any more expensive than anything else I was looking at would have been.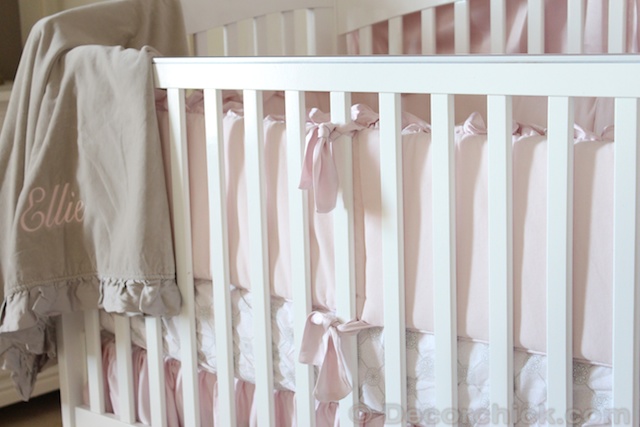 It's the washed velvet crib bumper in Petal, washed satin skirt in Petal, and the Italian Floral Medallion Sheet. That sheet has a little bit of their Dove color in there which I LOVE (it's very close to the wall color in here), and that coverlet is also from RH and was a Christmas gift. It's the Dove color with "Ellie" embroidered in Petal.  But since I was using Emma's old crib and repurposing other pieces of furniture for her room, I felt it was ok to splurge on the bedding. :)
I do love the bedding (it's quite luxurious for a baby), but I do wish they made the ties on the bumper longer. It's very hard to get around and tie on certain corners of the crib. And since the ties are satin, they seem to come loose more easily which is kind of irritating. But I do still love it and it's very pretty and elegant. Heck, she's sleeping on better stuff than we are! Her bedding is made in Italy for goodness sakes. Ha!
Here are a few more shots.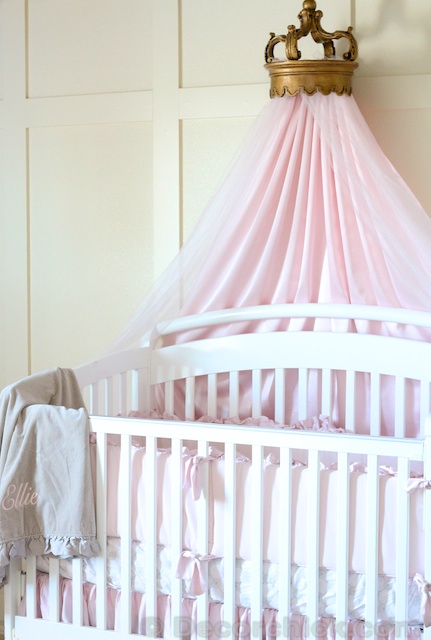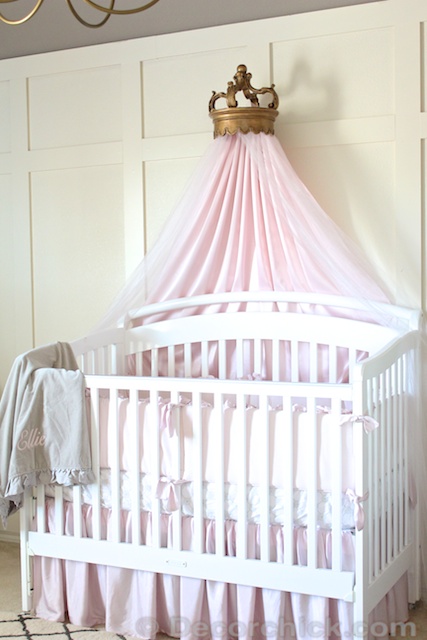 The bed crown really completes the look and I'm so excited with how her room is coming along. Eeek!  Remember when I changed the light fixture in here for that gorgeous chandelier?  Well it looks perfect with the crown and that made me happy. Again, more on that tomorrow!
Oh, and if you are curious about that white paneled wall in here, you can read the easy tutorial here.
So what's new? Did y'all have a good weekend? Did you watch Downton Abbey? If you missed it over the weekend, I did a 6 month baby update post if you wanted to check it out. :)

xxoo,
Decorchick!
Let's Connect!