You know how sometimes you think moving furniture around is such a huge ordeal, or you are scared to try something, so you just let your furniture placement sit like it is forever? Well that was me. Sure I will move a table or a few chairs around here and there, but for the most part, our living room has its advantages and disadvantages because of the tv placement. Yes, I know you shouldn't let the tv dictate where your furniture is going to go, but let's be real here. It did.
But now, I'm in love with how our living room is! It's so different and feels like a new room!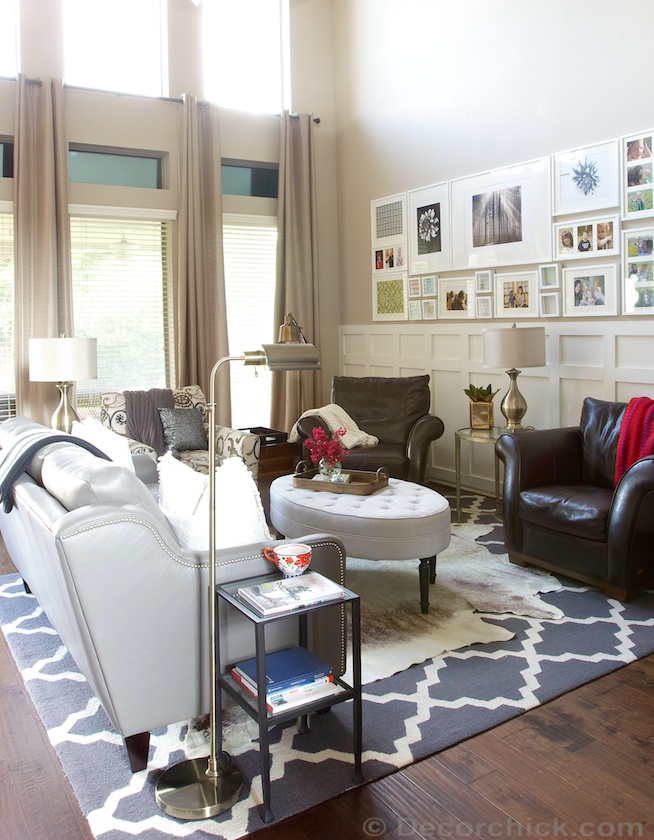 You know what started this whole thing a few weeks ago? These beautiful new end tables that Birch Lane sent!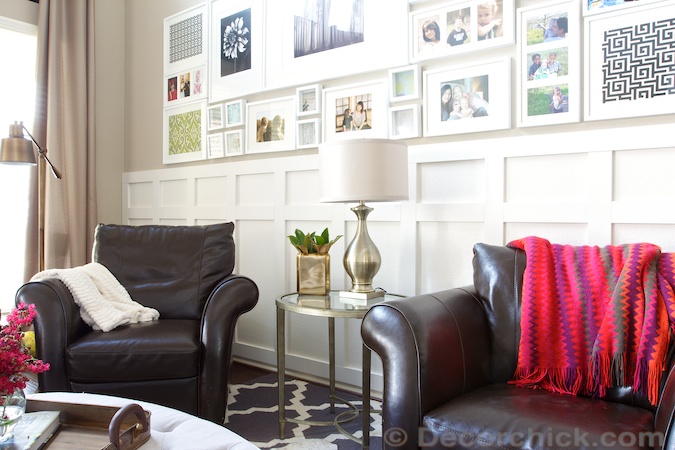 They are big and really make a statement, and that's what this room needed. It needed more big furniture rather than wimpy tables that didn't match and were different heights. These are the Horton end tables from Birch Lane.
Aren't they pretty? I attached the lamp cord going down the back of one of the table legs, and the rest continues under the cowhide that plugs into a extension cord under the couch, so it's hidden pretty well for the most part. I really wish all homes came with outlets built in the floors. That would be fabulous.
But I really lucked out with those beautiful lamps too (from Homegoods) that just so happen to be the exact finish as the new tables. And they are big, and now we have 2 matching lamps!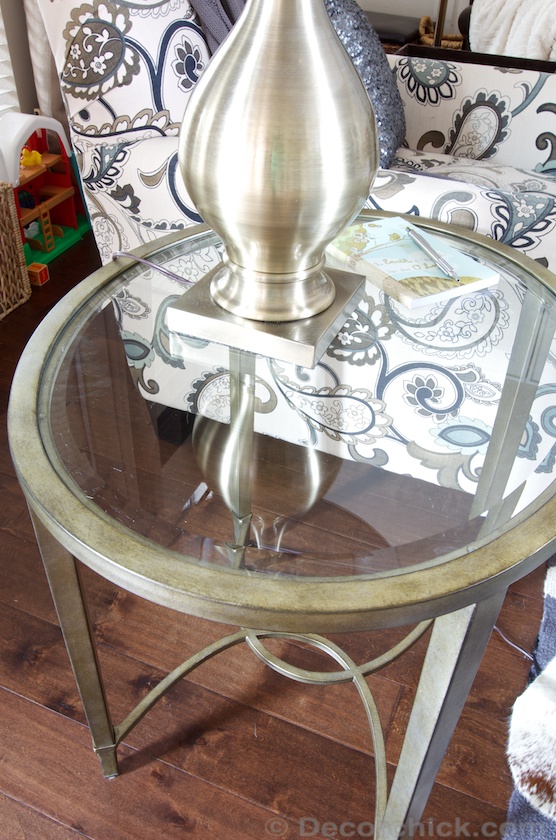 The little farm behind the chair makes a nice accessory too. ;)
A little funny thing is, that I didn't actually come up with this placement. When I was in Utah a few weeks ago, I casually mentioned to my husband before I left that if he wanted to surprise me with a new arrangement when I get back, then to go for it! And y'all he did. And did a great job! He completely repositioned our area rug flipping it around, so now more of our hardwood floors show, which is pretty. He moved all of the hard stuff, and I just added the decor touches like the lamps, throws, a few extra side tables etc. And as you can tell, he made the room more conversation style so it's much more cozy.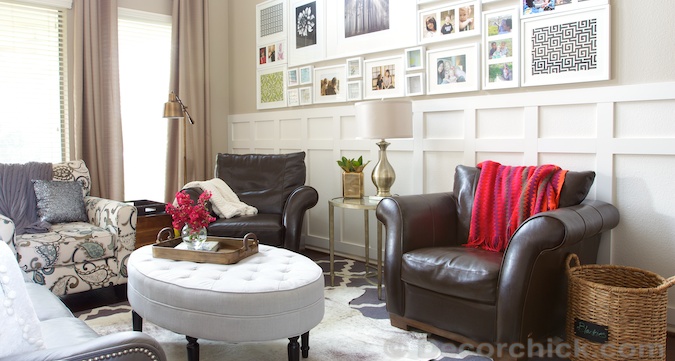 I also like how he positioned the cowhide rug too. Everyone can still see the tv, and even have a place for their feet. That = happiness. Too bad I don't have time to watch it!
One of the things I love now is how when you walk in our front door, you see the beautiful grey leather sofa and new lamp and table behind it. Before when the sofa was on the big white wall, none of it's pretty features were really displayed.
So this is what it looks like as you walk in the living room now.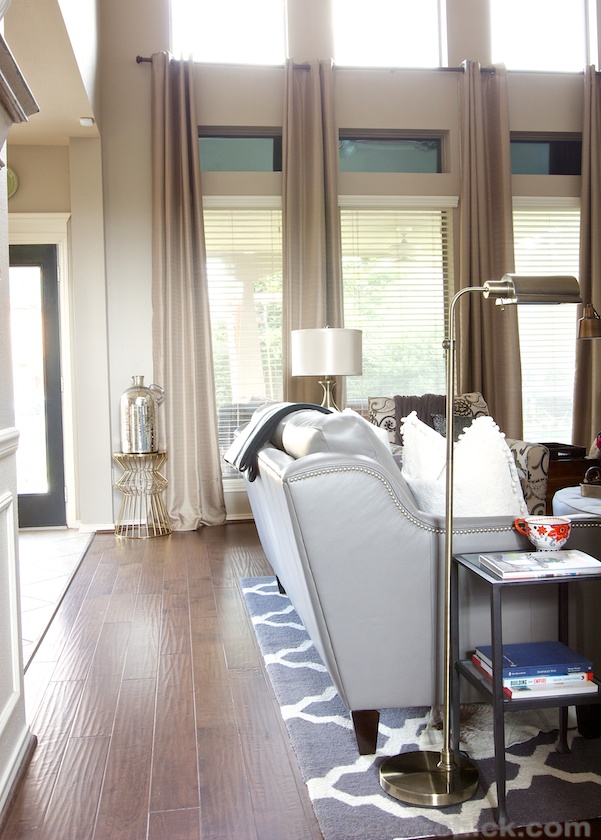 Isn't that a nice change?
And it was a shame the sofa's pretty nailhead and curvy details were hidden before.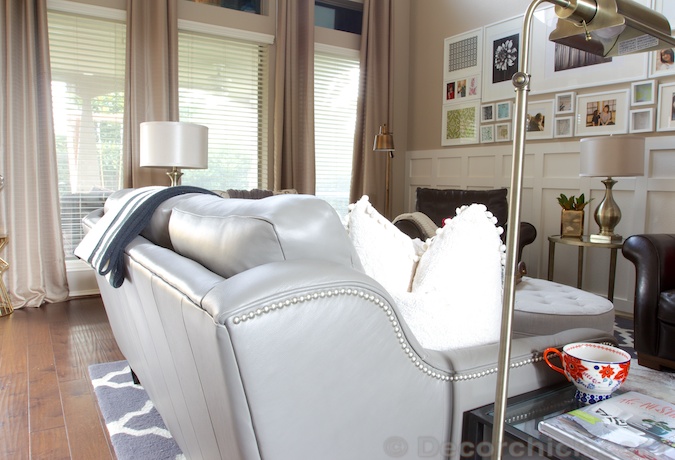 The cool little slim reading lamp is from Target and it's perfect for this spot and swivels easily, and casts just the right amount of light in the evenings for that side of the sofa.
And remember those nesting tables I got a while back, well I pulled out the smaller one and am using it as a side table for the sofa.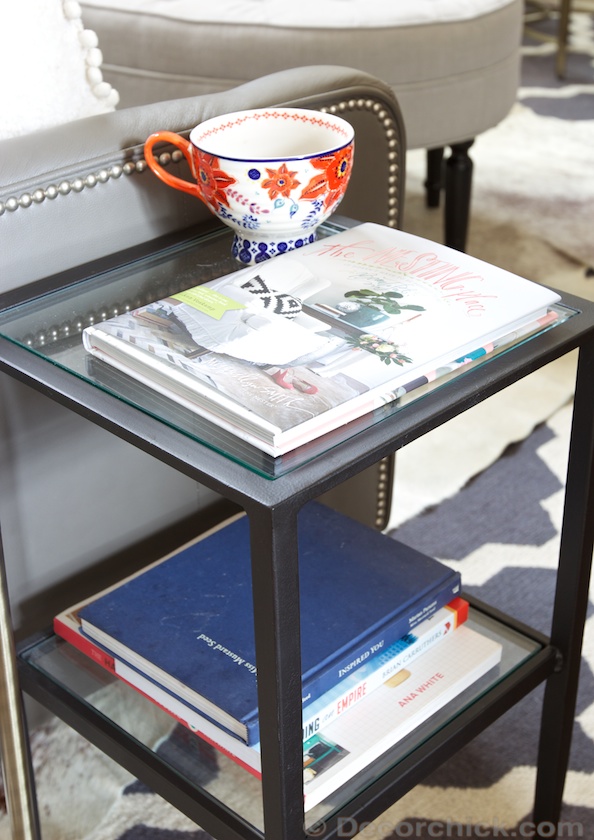 Complete with some blogger friends' books!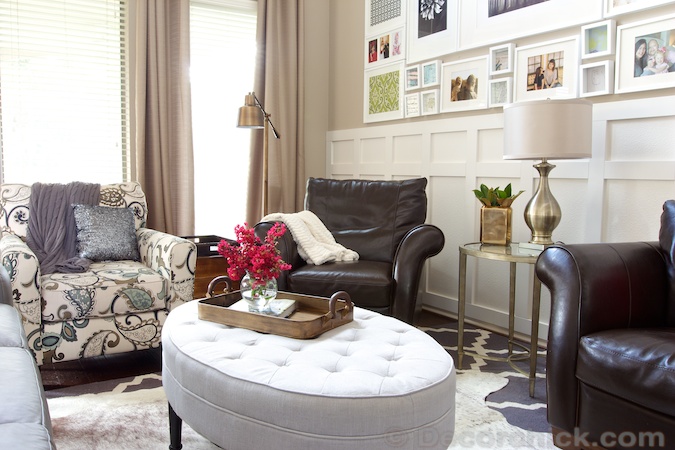 I get asked a lot about this ottoman, and that was found at Marshall's last year I think? Or early this year I don't remember. But it was on clearance and I was eyeing it for months!
So remember when I asked recently how many lamps were too many in a room? Well this living room is why. I was worried having 4 was too many, but I've grown to really like them all in this space now. We have the 2 table lamps, and 2 reading lamps.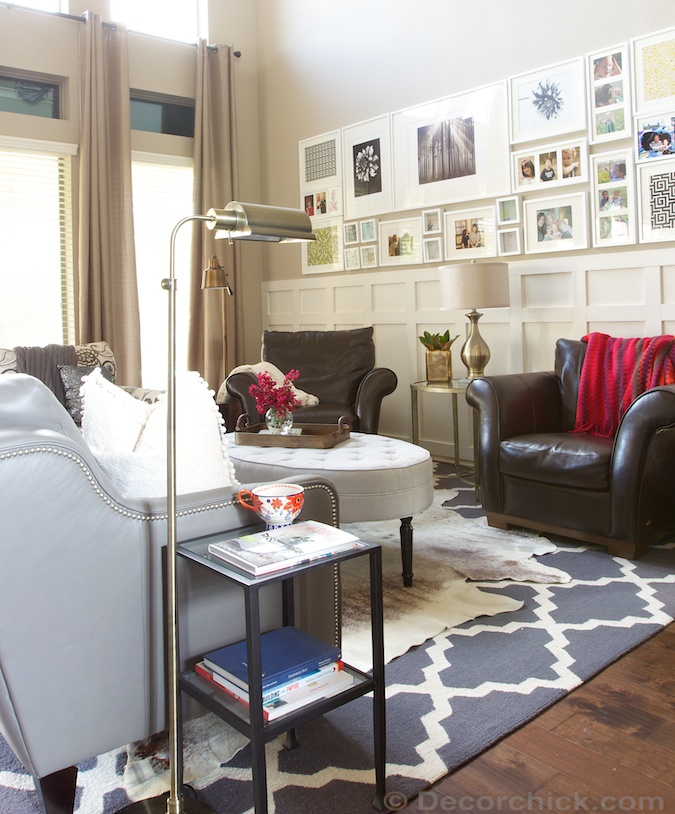 I can't wait to turn them on each day. Even in the daylight. :)
I love the new look and feel so much more, and for grins, here is what the living room looked like just a few weeks ago.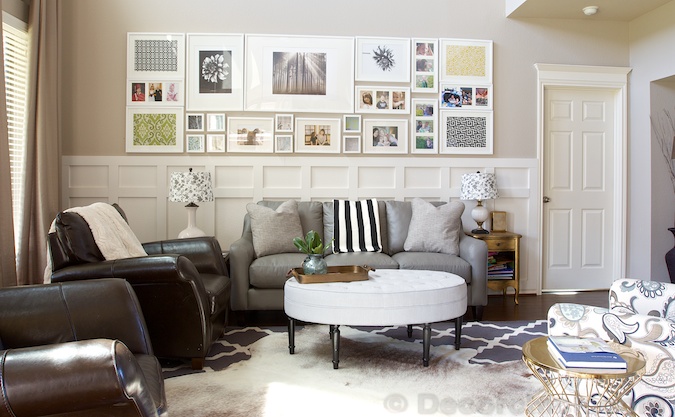 And now the new way.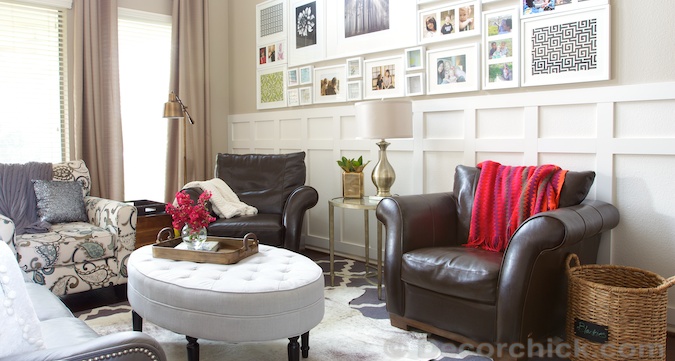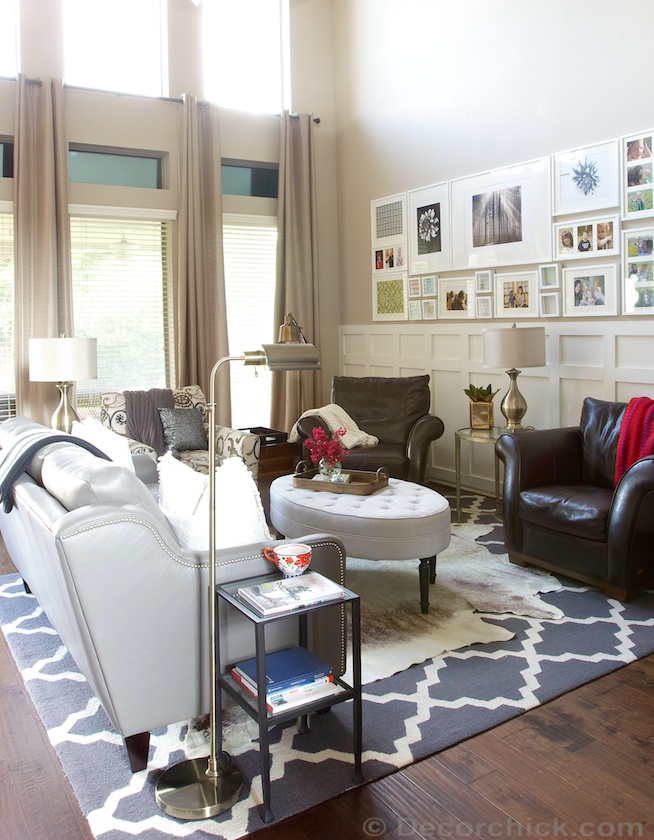 What do you think? It's so crazy how a set of new tables can cause this much change. Be sure and check out Birch Lane though for gorgeous home decor! I know you'll have your "want and need" list 10x's longer once you do. And they are Wayfair's newest brand that offers affordable items for your home, and I know you all love Wayfair.
Now don't be afraid to move your furniture around! Or ask your significant other to do it while you're away. Either will work.
For a complete home tour and paint colors used in our home, please see this post.
xxoo,
Decorchick!