So remember last Fall when I went to that La-Z-Boy event and designed that room with the coral sofa? Yes, that one. Well, we received a little gift, and I use the word "little" with sarcasm. But that little gift was a brand spankin' new sofa.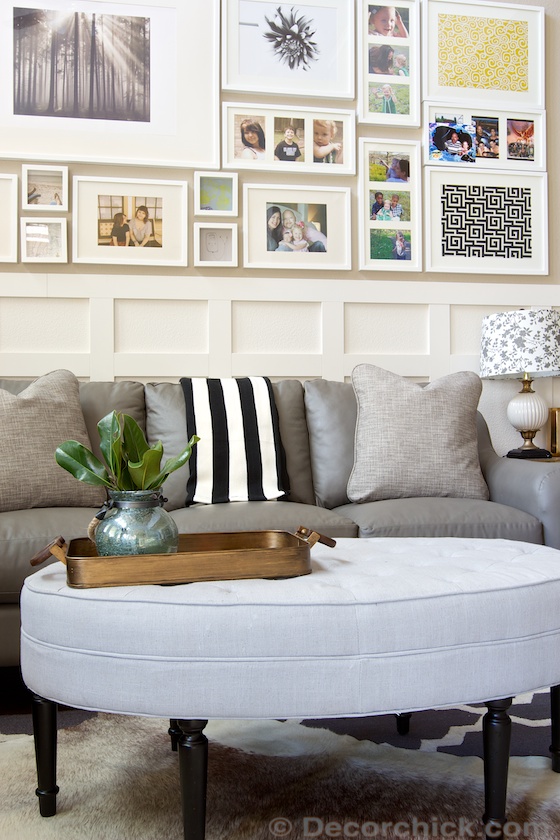 And it was a grey leather sofa. My goodness.
If you followed that LZB journey with me, you'll remember how beautiful that coral leather sofa was that I chose. Ahhhh. It really was. I was this close to bringing that baby home with me, but opted for the safer grey instead. Coral was great for the contest, but I know myself and while it was beautiful, I would probably get tired of it after a while. The grey is a perfect neutral that goes with everything. And no I didn't win that contest. Shucks!
La-Z-Boy's leather is just to die for. The cushions are all down filled and upgraded and amazing and you slowly just sink in when you sit down.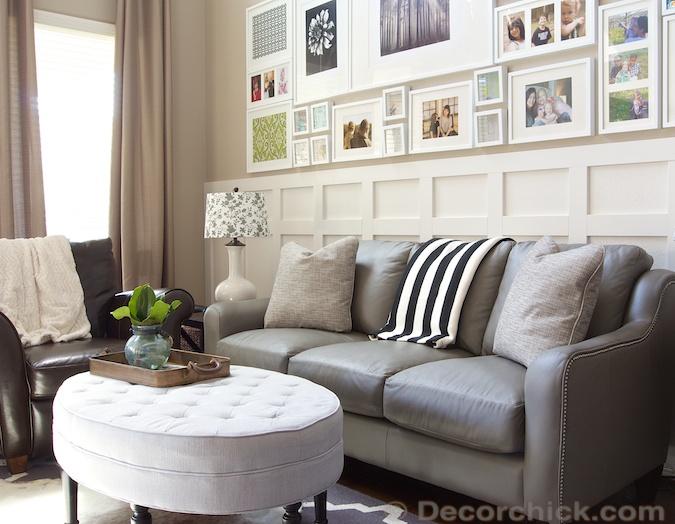 This is their Talbot sofa which is a nice transitional style. I love the nailhead detail on the sides.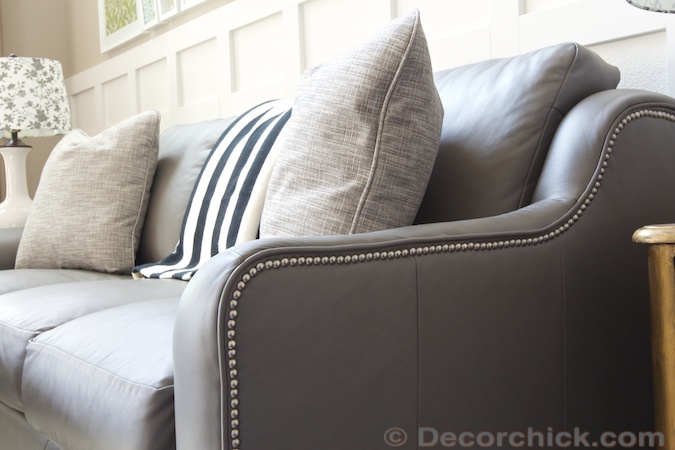 So this is the exact same sofa as the coral one, but just in grey.
If you remember, here is our old sofa–all brown leather.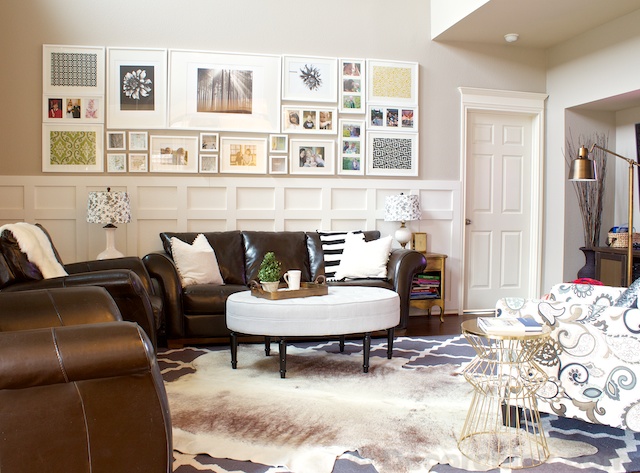 We moved that brown leather sofa upstairs in the gameroom. Everything else is exactly the same.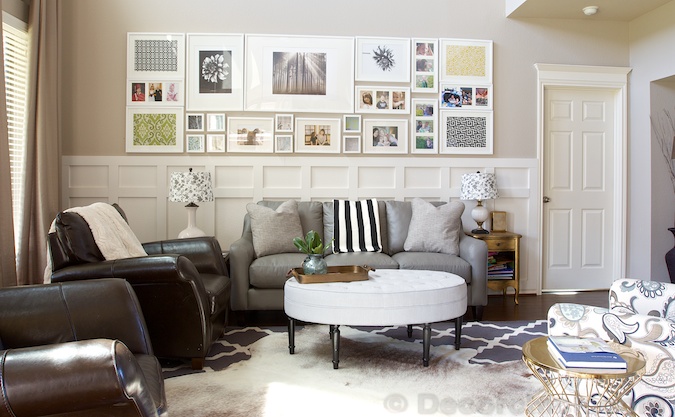 As far as the length of the couch, this new one is not as long. The seat length is exactly the same, but we lose inches from the arms because our old couch had those bigger rolled type arms and extended on the sides. I am glad we didn't lose the seat length though so there is still the exact same amount of space to take a nap on.
And Yes, I am aware there are some things that need to happen in here. Like, get some matching end tables that are the same height, and a pair of lamps that match. We won't be able to center the sofa right now with the gallery wall because the kids' toy chest is back there, and that's the only toys they have downstairs, so it's not going anywhere. So if the off-centeredness gives you hives, I apologize. I just wanted to show you how the new sofa matches well with everything else and breaks up all of that brown leather. :)
I might even be daring and try a switcheroo on the chairs with the paisley chair. We'll see if I get a wild hair.
When I am feeling colorful, I like to use this throw too.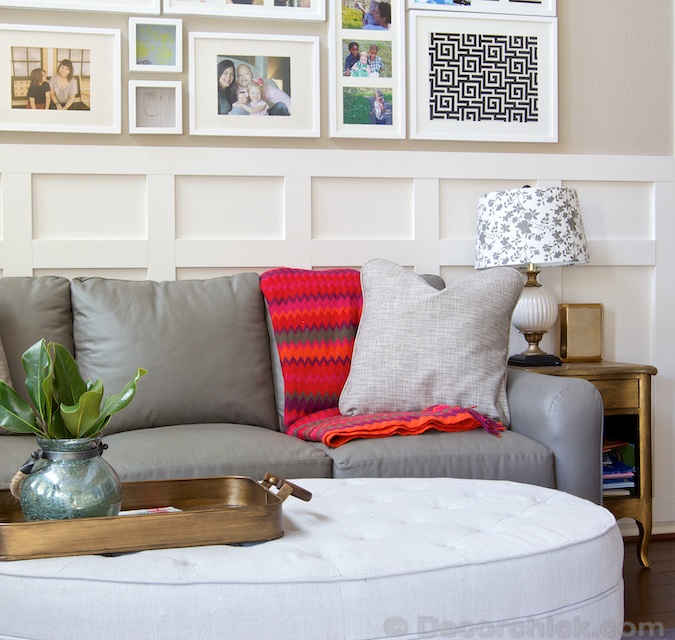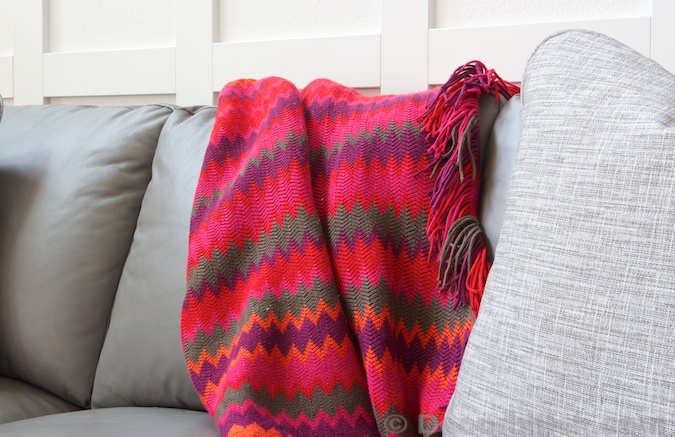 I am a wild woman I tell ya!
I got that throw at Homegoods back around Fall or Christmas-time last year, so it's not there right now. Maybe this year?
Here are a few more pics.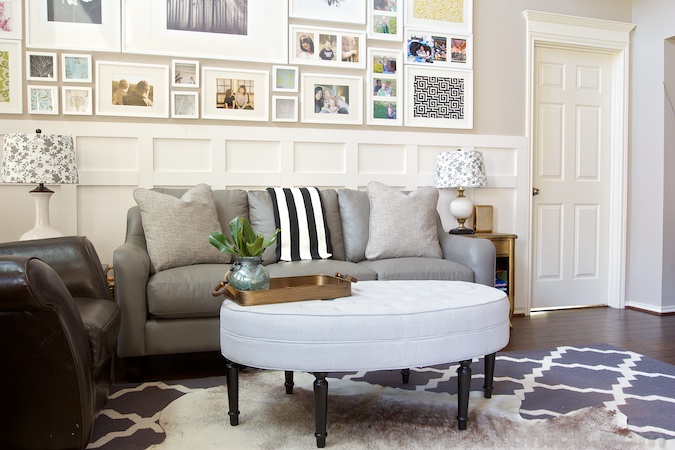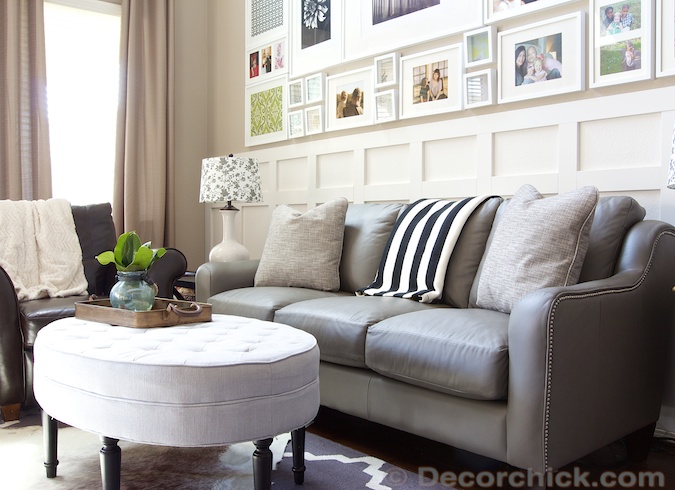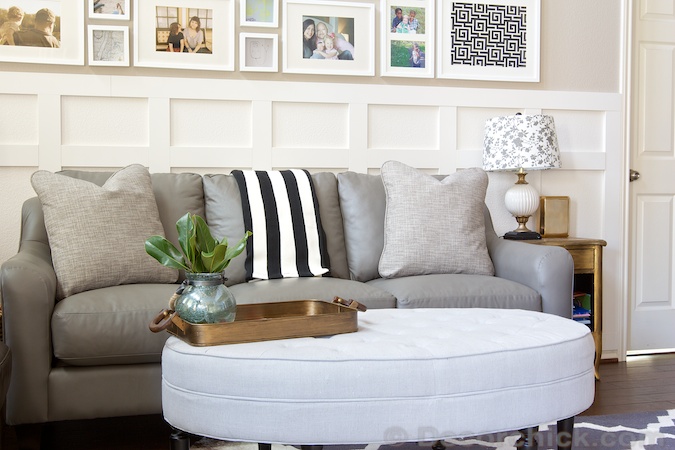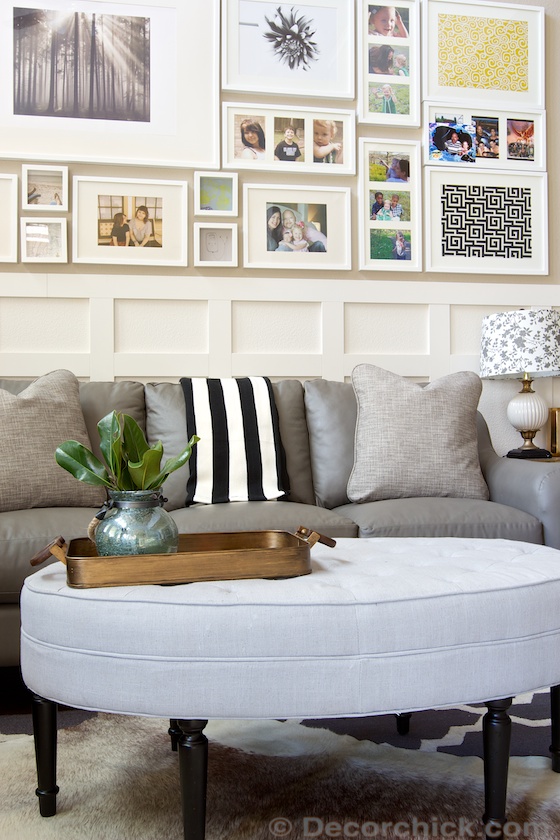 We love it so much and it's WAY more comfy on my bum than our other one. :) And have you seen all of the new fabrics and styles that just came out at La-Z-Boy?? Awesome stuff. It's basically everything that we decorated our rooms with at the event before they were made available to the public. And now, they are available to the public, so yay you!  :)
You can read about the cowhide rug in this post, and the exact sofa color is EL111753, (in grey leather), coffee legs, upgraded cushions and platinum nailhead. This is their medium grey shade. Not the darkest and not the lightest. A happy medium.
What do you think of the new sofa? We love love love it! Duh, I know. And no, I wasn't obligated to even write about the sofa. I just wanted to because I truly love it and I am so grateful, and it really was the least I could do.
xxoo,
Decorchick!