As if I didn't have enough projects and other things going on, I've taken on another one…in our kitchen…and it's our backsplash! Oh wait, I'm sure you got that part from the post title.  But yes it's true, I'm on the crazy train.  Wanna join me? :)
How could I resist this project though when The Home Depot reached out and asked if I wanted to try out their new Atmospheres Tile Collection by Daltile?  Ummm, yes, please!  I have been wanting to redo our kitchen backsplash for forever because there is SO much beige in our kitchen it drives me nuts.  Our backsplash is the same as our floor tile.  And it's b.o.r.i.n.g.
Here is a sampling of the Atmospheres Collection which is carried at The Home Depot and they are lovely.  These pictures offer several good tips for selecting tile, because selecting tile can be an overwhelming task.

Now, I have never done a tiling project. Ever.  So this is quite a big job for my first one, but hey, go big or go home right?  But luckily with tiling experts at every store, The Home Depot is empowering customers to take on both large and small scale tiling projects.  And I'm definitely empowered now after speaking to them!
Also, more good news is that the tile is already down, and it isn't pretty…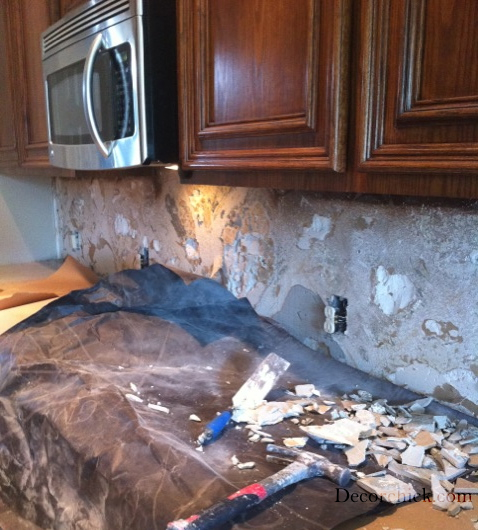 What a mess!!  But the good news is that things look MUCH better now and I can't wait to show you the progress!!  I also can't wait to show you which tile I chose from the Atmospheres Collection by Daltile.  Pretty pretty pretty!
I'm so excited to be partnering with The Home Depot on this project.  I am at that store I don't know how many times a week. Good thing it's like 2 minutes from my house. :)
So stay tuned for more updates–it's gonna be good. :)  Have you ever done any tiling project before?  What did you think of it?
xxoo,
Decorchick!
__________________________________________________________________
Also find me on Facebook, Twitter, Pinterest, Google+, RSS and Instagram
Disclosure: The Home Depot partnered with bloggers such as me to participate in its Daltile program.  As part of the program, I received compensation from The Home Depot in the form of a gift card to participate in this campaign promoting the new Atmospheres Tile Collection by Daltile.  They did not tell me what to say about the products used for the Daltile Program. The Home Depot believes that consumers and bloggers are free to form their own opinions and share them in their own words. The Home Depot's policies align with WOMMA Ethics Code, FTC guidelines and social media engagement recommendations. The winner of any giveaways in this program will be randomly chosen and gift card fulfillment will be handled by a third party.