Hi friends I hope you had a wonderful Thanksgiving! Today I want to show you the new nursery chandelier because it's beautiful, and then at the bottom of the post I'll tell you about the cyber Monday sale on the Shoot Fly Shoot classes! But they are 50% off today!  Ok, so the nursery chandelier…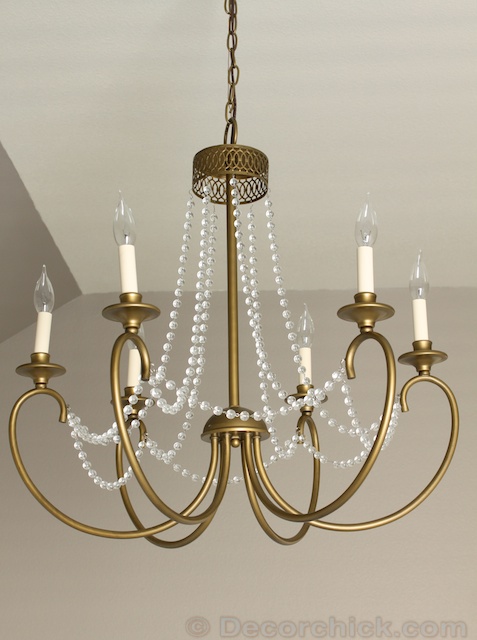 Oh my gosh isn't it gorgeous?? It totally deserved its own post.  Before we had a boob light fixture in here and I can't believe the difference a new light made.
I've been eyeing this chandelier at Home Depot for over a year now and happy I finally found the perfect spot for it…in the nursery! This is the Hampton Bay Estelle 6-light chandelier, the largest one, and they also have 3 others in this collection that are beautiful too.  They have a smaller version of this chandelier, and 2 flush mount ones.  I particularly love the semi-flush one if I didn't have the ceiling height for a large chandy.
When you turn this baby on, the lights are so bright and pretty and the crystals really sparkle.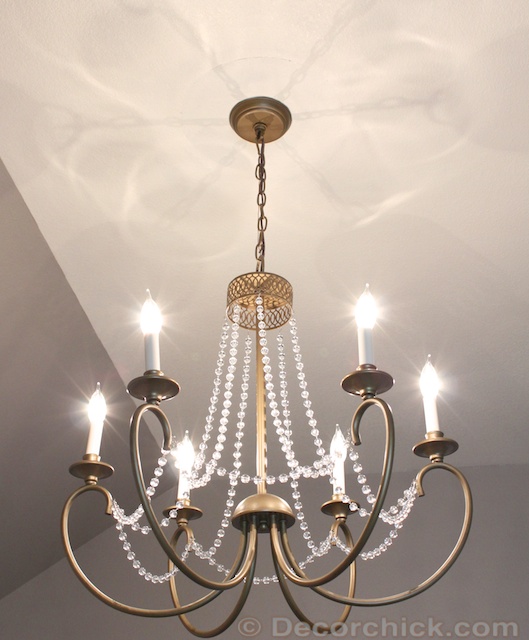 I really do just go in her room sometimes so I can turn the light on. It's that pretty.
If you're wondering, the paint color in that picture above looks really dark. I assure you it's not that dark. I just had to manipulate things so I could get a decent shot of the chandelier with the lights on.  The accurate color of the paint is the first picture and yes, it really is still the perfect warm smokey grey paint color. :)  I know some of you have bought it and I'd love to hear how you like it!
Here's another picture because I'm obsessed.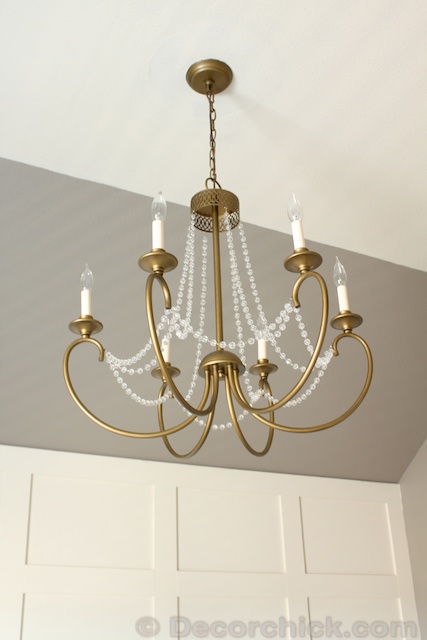 The nursery is coming together and it's so pretty! I'll show you the bedding soon. Ellie is a lucky baby because she's sleeping on nicer bedding than we are sleeping on! Haha.
Ok for the cyber Monday thing.  Remember a few weeks ago I told you all about Shoot Fly Shoot classes and how they are AWESOME?? Well today only they are 50% off!! That's huge! Just trust me if you want to really learn your DSLR camera, these classes are a must. I can't stand watching videos on the internet, and I love watching these videos so you know it's worthwhile. And you can watch them as many times as you want. Also, their Photoshop Elements classes are 50% off too! The Photography 101 class is $34.50 and the Photoshop Elements class is $24.50. Those are the discounted prices. You can check out my post on it with a full review, or you can just click here to order.  You won't regret!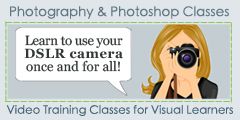 ETA: I had to update this post to also let you know that everything at Joss & Main is 30% off today with code "cyber30." If you aren't a member yet
here's an invite link you can use
. The tufted furniture is on there today too and it's fabulous!
Ok so what do you think of the new chandy? Have you tried the custom paint color yet? Are you doing lots of cyber Monday shopping? Let's talk! :)
xxoo,
Decorchick!
Let's Connect!