Remember a little over a year ago I finally got my dreamy white kitchen? Well I want to give you all a little update on how the painted cabinets have held up, and if I still like my decision to go all white!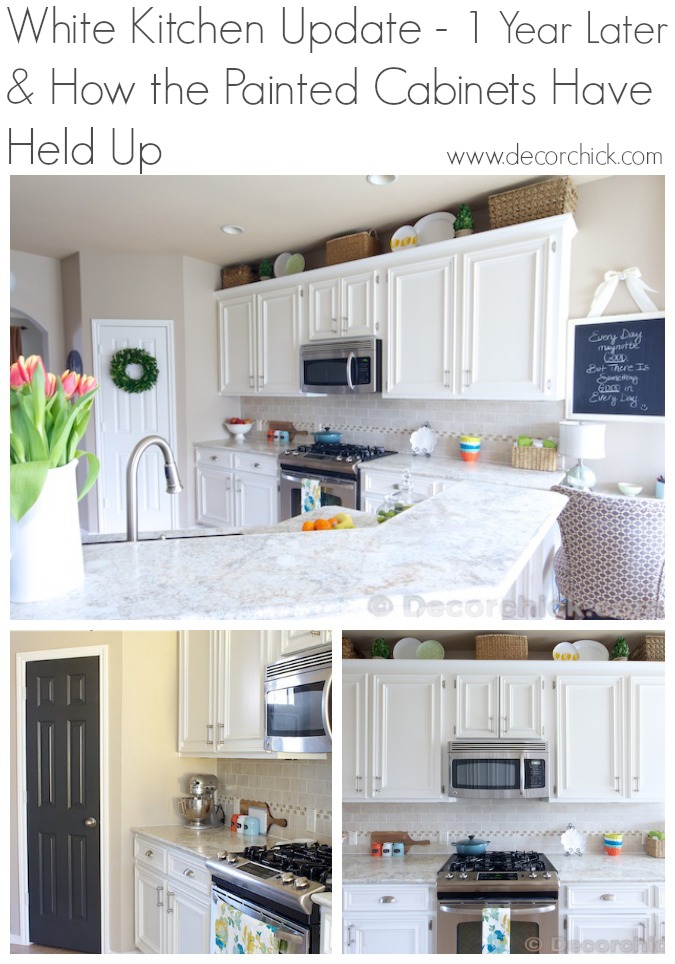 Still one of my favorite rooms in the house.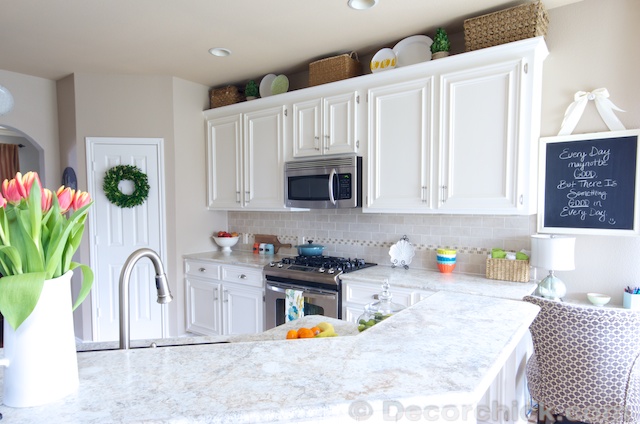 And remember since that makeover over a year ago, I painted the pantry door charcoal…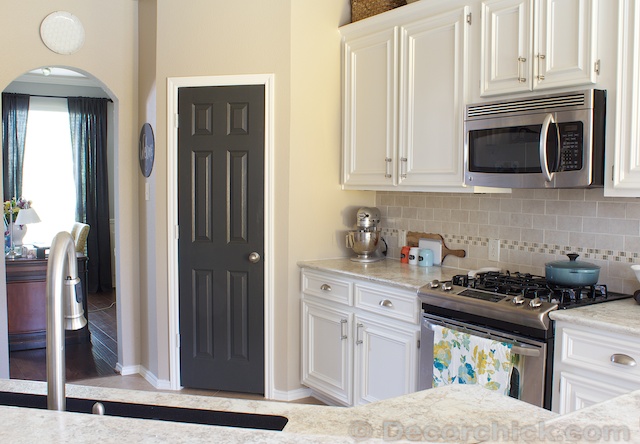 I like the grey door MUCH better.
So the verdict on the kitchen is….
So how have the painted cabinets held up? GREAT! There has not been a day where I regretted having them painted. If anything, I might have done a 2-tone kitchen with white uppers and grey lower cabinets, but maybe next time. :) I do love the brightness the all white gives though.
As with anything that is painted and used daily, you will have some wear and tear. Fortunately though everyone is pretty careful around here, but little chips will happen if a door is slammed against something, like the wall next to it.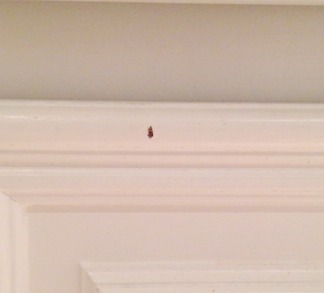 I just have to take some of the paint and touch it up. No big deal.
Do they get dirty? YES. Don't expect to have white cabinets and them not get dirty. They get dirty just like any other color of cabinet or wood cabinet. You just see it more easily on white cabinets, which isn't a bad thing. Just requires more effort on your part to clean them!
Would I choose oil paint again or go with latex? DEFINITELY OIL!! I have to say my painter was right even though I fought him on the oil vs. latex debacle. Go with the oil folks. Especially in the kitchen where you'll be wiping them down a lot. Remember my coral painted vanity in our bathroom? I used latex enamel on that one, and can tell a big difference between it and our kitchen cabinets. The oil paint gets so hard and is extremely durable. More than latex.
Have the cabinets yellowed at all from using oil paint? No, not that I can tell.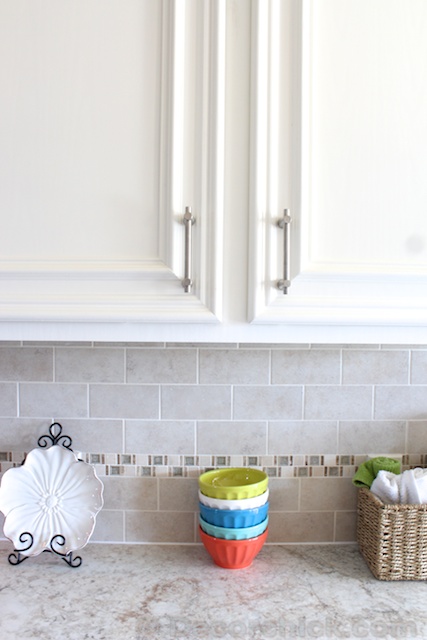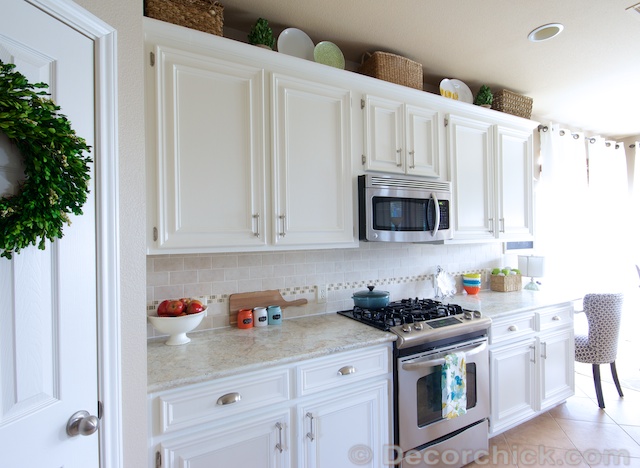 I still love our kitchen so much! I still can't believe it used to look like this!!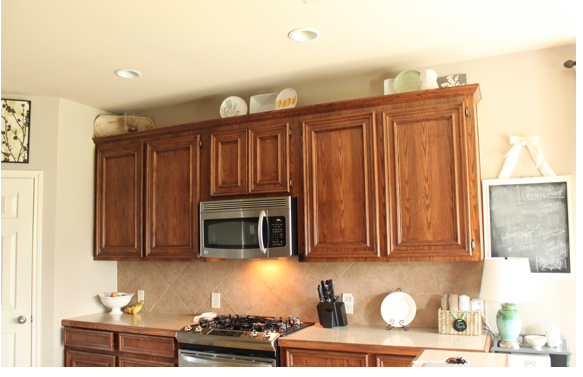 Such a difference.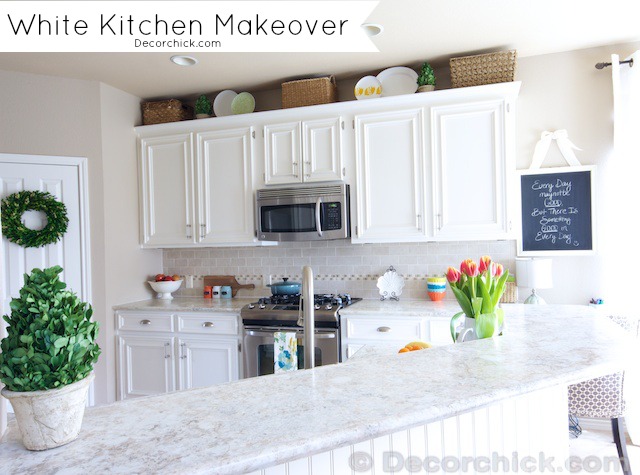 Again, to view everything in detail about this makeover, please visit the white kitchen makeover post. This post was just to update you on things I thought you all would want to know, specifically the painted cabs since I get a lot of emails about that.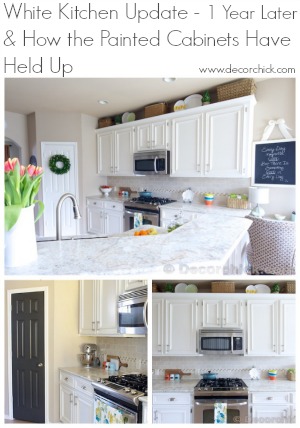 I also have written a post on how to paint your cabinets and get the wood grain out, so check that out as well. I put in tips from our painter.
I'd have another white kitchen in a heartbeat though, so if you've been on the fence, just go for it. :)
Any other questions for me? Leave them in the comments! Have you painted your cabinets yet?
xxoo,
Decorchick!