Hi friends hope you had a great weekend! I was able to finish up our Valentine's Day mantel over the weekend and snap some pics because we finally had some sunshine! It's been a dreary couple of weeks here.  And usually I do some pretty foo-fooey mantels for Valentine's Day but this year I wanted to bring it down a notch. So I kept the pink boa packed away this year. Haha.
Anywho, this is what I came up with this year and I quite love it! (said in my British Downton Abbey voice)
I love it so much! It's still cutesy and lovey, but a little more grown up? At least that's what I think. Ha!
The blue and red combo was inspired by those big chevron vases that I found on clearance at Kirkland's for $13!!  (Facebook friends–those are the 2 items that I drove off with and left that day!) Then, since I really want to get my money's worth from that rose wreath from Target that I usually use at Christmas, I thought Valentine's Day would be a great time to use it again.  I do really love it. And I just happen to love aqua and red together too so BAM! And that's how this year's mantel was born. :)
I shopped the house for the rest of the items. I layered the wreath on my old antique window, framed that out with my shutters, added a few other accessories and that's it.
The pom pom garland was super easy.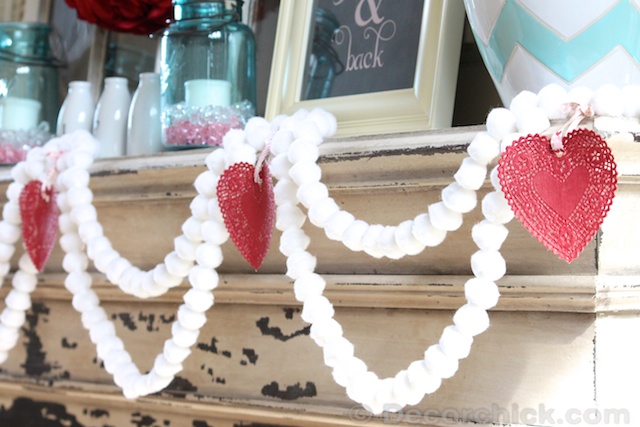 I love those pom-pom garlands you see everywhere, and I was thrilled when I was at Michael's the other day and saw they already come made! Hence the reason they were easy. :) $2.99 for 4 ft and it comes in white, pink, or red. Love it. I just used the white and hooked them together.  Those paper heart doilies are also from Michael's for a few bucks as well.  Sweet right?
I sat a birdcage (I think from Michael's or Hobby Lobby?) on top of my Ballard knock-off books.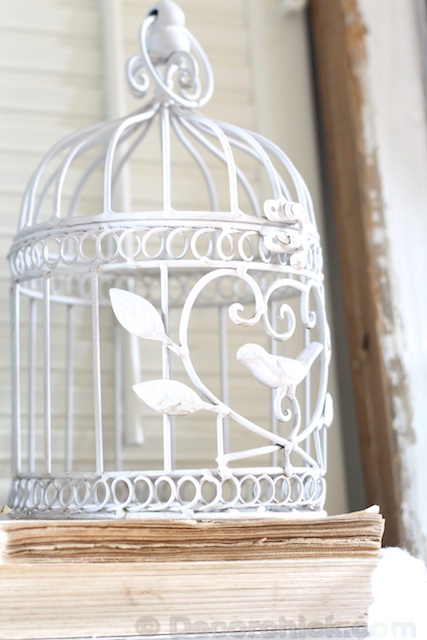 One of my favorite things on here this year is this free chalkboard printable that I got from Nest of Posies. She had 4 designs and I loved them all it was hard to choose.  But you can print them for free too and frame and boom…instant cuteness (and art!).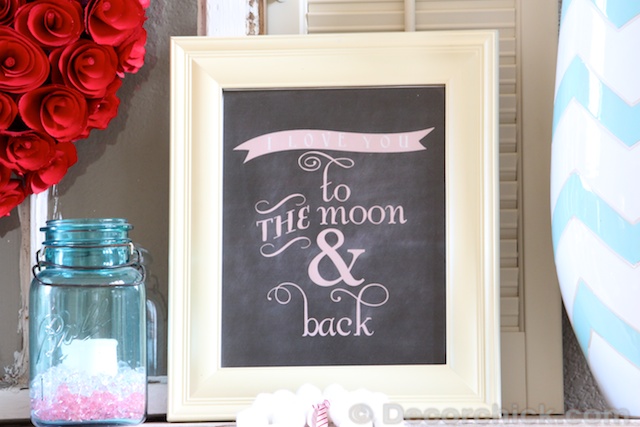 It really looks like a chalkboard doesn't it?
Here are a few more shots of the mantel.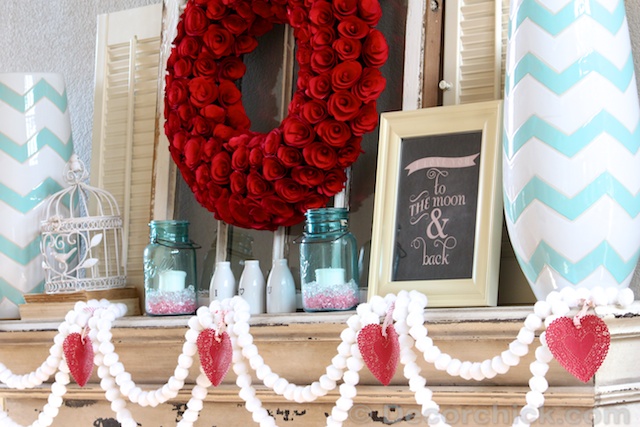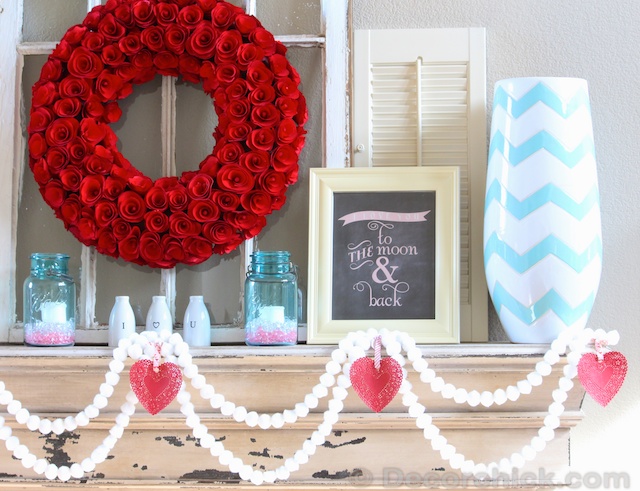 And that's a wrap! Whatcha think?  I bet people are going to think I made a cotton ball garland huh? Not a bad idea I suppose! :) Sharing this post at Sarah's Before and After Party.
xxoo,
Decorchick!
Let's Connect!