I need your help again.  I feel like we are about to purchase something major like a new house or car or something, but actually it's just a washer we have to buy because ours broke.  And I've been researching them forever.  Not really forever but several weeks now.  Why can't this be an easy decision?!
First of all, I have decided against a front loading machine so that narrows down my choices quite a bit.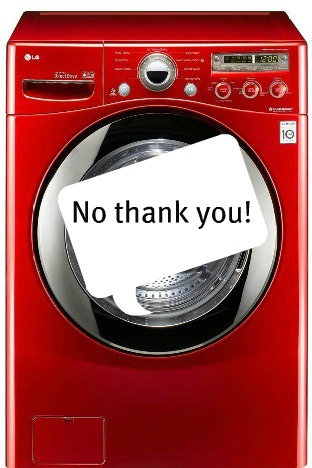 Why did I decide against front loaders even though they look really pretty?
Since we don't need to buy a new dryer because ours is only 3 years old and perfectly fine, our dryer has the back panel where all of the controls are.  It's not flat on top like the front loaders with the control panel on the front. So that would look like a really mismatched set and it would drive me nuts.
They are a pain if you don't have the pedestal base that makes them taller, and that's an extra $200-250. And I'm not going to DIY one.
They require more maintenance and I'm lazy and know myself and know I wouldn't do the stuff you're supposed to do.
They get stinky and some mildew if you don't care for it properly.
That rubber ring inside the door has to be cleaned all of the time, and well, like I said, I won't do that.
I'm not hating on you front-loader washer lovers I promise. I think they look so pretty and expensive and they actually were my first choice until I started doing more research on the new HE top loading machines.
Now that you know my reasoning, this is the washer I want after much researching and reading reviews.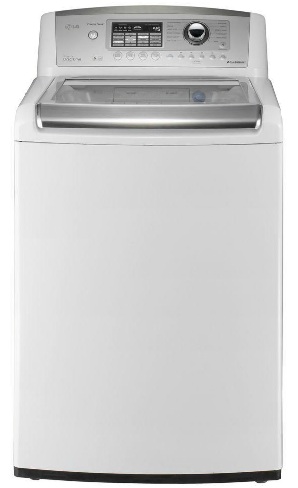 That is the actual one I am thinking of and it's made my LG, and it's the Wave series. I have done quite a bit of research on them, but like with anything you read reviews on, you can read those few horrible reviews and second guess your choice all over again. Overall, this one has really good reviews though.  And I did a poll on Facebook a while back and it seemed everyone was cheering for the new HE top loaders, yet, people still loved their front loaders too.
But here are my dilemmas:
Are these new HE top loading machines just a new fad and the new cool thing to have?
Do I really need a HE one without an agitator, or should I just get the $300 old school machine with an agitator?
Should I spend the extra $200 and get the HE machine with a 4.5 capacity vs. the 3.7 capacity? The 3.7 looks tiny after you compare the 2 in the store!  And the thought of doing less loads of laundry is very appealing.
Do I need to go to therapy since I struggle with all of these crazy things in my head? Mercy.
Goodness, sometimes I hate that I'm not the impulse buyer I once was. I feel like I have to read every single review out there before buying anything now and it's annoying!  I do this at stores too, even when I buy clothes.  I annoy myself. Ugh.
And special thanks to my sweet momma who's been doing our laundry for the past several weeks.  She washes and folds, and they smell so good!  I know, I'm a brat.  But I hope to buy the new machine this weekend or next, so I won't be spoiled much longer.
So will you help me choose? Should I go with the bigger HE top loader or save the money and get a cheaper regular ole washer? To me, appliances are like furniture.  You want it to be good and last a long time.  And some things you have to spend more money on to get better quality, and I'm ok with that.  But in this case, does the $800-$1000 HE top loader get your clothes more clean than the $300-$400 machine with agitator?
And if you have a top loader or a front loader, what do you like/dislike about it?
See, I have issues and I need help. Admitting it is the first step.
*UPDATE: See THIS POST to see which washer I chose.*
xxoo,
Decorchick!
_________________________________________________________________
Also find me on Facebook, Twitter, Pinterest, Google+, and RSS.