I just have to get something off of my chest.. And I want to talk to y'all about it so grab a cup of coffee or a glass of tea and join me.  Plus it distracts me from the chaos our house is currently in. :) Okay, so it has been 6 months since I had the baby.  And ohhh what a doll she is.  But this pregnancy really did a number on my body.  They say it gets worse after each kid, and I am here to say that the shape definitely does change after the first! My stomach! My rolls! My thunder thighs rubbing together! Gahhhhhh!!! And when your "fat pants" don't even fit good……ugh, I am grossing myself out.
And here's the thing. I haven't really wanted to lose the weight until now. I mean, SURE I would have liked to, but I haven't really tried.  I love food. I really enjoy cooking.  But I've been eating too much.  Not necessarily terrible things, but just too much.  And I have eaten plenty of cookie dough in the past 6 months than what you will probably eat in your lifetime, so, uhhhhh, yea. And if I'm being really transparent here, I gained more with this last pregnancy than the first one. What in the world?? How does that happen?  I even told myself I would NOT gain that much the 2nd time around, but my body did otherwise. Each person's body does pregnancy differently, and I obviously am no spring chicken! I wish I could bounce back in 3 weeks like others, but that's just not in the cards for me.
So in order to get the ball rolling, my good friend invited me to join this 8 week weight loss accountability group (there's a jackpot for the winner!).  And I did. And I was scared at first because I didn't know if I was really ready. But after day 1 was over, I knew I was ready.  And it's only day 2 and I'm writing this. Haha. But I'm a competitive person at this type of thing and so being in the group will really help me.  Plus we get the added bonus of supporting each other.  It really makes you think twice about putting that cookie in your mouth when you know your friends will be seeing your food journal and knowing you won't earn points for that day.  It's also a very humbling experience sharing your weight with other women.  I mean come on, no woman I know loves to flaunt her weight number around.  And if she does we probably would not be friends.  But I'm an all or nothing kind of gal and take things like this very seriously.  I WANT to do this and I WANT to look good and be healthy again. And not curse at every picture I see of myself.
I have about 50 more pounds to still lose (yes that means I gained MORE than 50 pounds with this pregnancy).  I hope to accomplish that by early summer if not before.  The last time I really started to lose weight (when I was ready mentally), it came off really quick. Not an unhealthy quick or anything, but just a motivational quick.  When I see the results and those numbers drop is when I want to keep on keepin' on. Otherwise, I'll get discouraged.
(could not find the correct source for this image on Pinterest. Argh)
For the curious minds, here's a peek into what my daily food journal looks like so far.  Keep in mind I am still nursing, and will be for several more months, but please know I am getting plenty of nutrients for the baby through the food I am eating and the supplements I am taking. 1200 calories sounds like nothing, but when you write it all down or keep track of it on My Fitness Pal, it's actually plenty of food.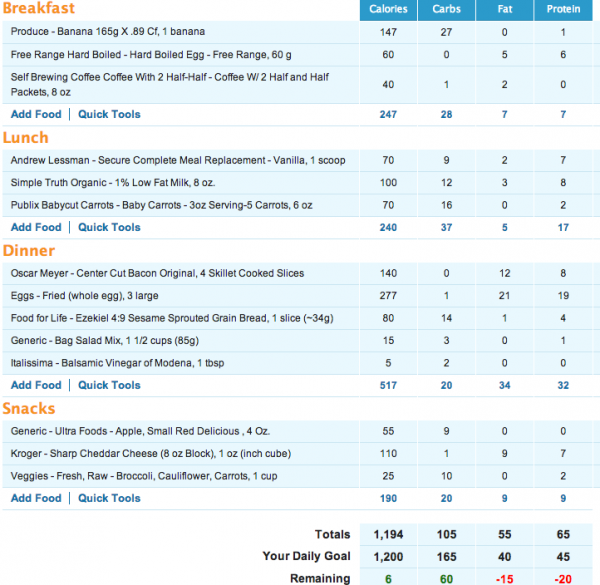 My fitness pal is SO cool I love it! Do you use it? And drinking water has never been a problem for me, especially since I'm still nursing so I drink over and above the recommended ounces per day. Never had an addiction to sodas or anything either so cutting them out is not difficult. And I drank those shakes every day for lunches and made smoothies the last time, and I think that is what really helped me lose the pounds. Hoping that happens this time as well.
The thing I'm worried about? Exercise.  I don't like to do it. Does anyone? I want to like it. I even did pretty good for about 2 months with my friend and we'd go walking/running together. But once I get off track with that and we skip a week or something, it's SO hard to get back to it! I could make excuses all day about it.  But I won't because well, they are just excuses.  I really enjoyed Zumba when I did that back before I got pregnant again, so maybe I can do that again. And I kind of even enjoyed running sometimes when I did it.  But I want to be one of those people who just casually goes out for a 5 mile jog and it be a piece of cake.  That's highly unlikely though. Ha!
Don't worry–I won't become a weight loss blog or anything and will hardly even talk about this.  Hopefully the next time I talk about it will be when I've lost those 50 pounds. Or since this is an 8 week challenge, maybe I will update you all then?
So I'm curious. What do you like to do for diet and exercise?  What gives YOU the drive?  What are your favorite snacks? My weaknesses are cheese and peanut butter. I LOVE them. And it's amazing how many calories it is for not that big of a portion. I used to eat way more than the recommended serving size, so I have really cut back on that.  And I'm not starving so it must be working.  Maybe you might need that push to start your journey to a better you also? We can help each other! Would love to hear from you…so….let's chat!
And thanks for letting me chat about this stuff. I feel like y'all are my friends and we are just sitting around talking about life. :)
xxoo,
Decorchick!
Let's Connect!