There's something about painting and making something over that amazes me. And it amazes me each time. I never get tired of it and never tire of transformations.  So do you want to know how to change the look of your furniture in 5 minutes or less? I know this isn't rocket science or anything new, but like I said, I still get amazed each time I do it!
And now enters this old painted dresser. The one I did last year and used the white Annie Sloan chalk paint on it.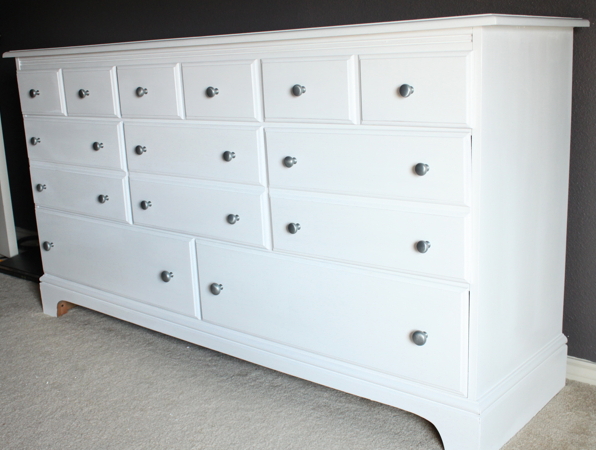 I ended up moving the dresser to the nursery, and since I'm loving all things brassy right now, I wanted to put some different pulls on it. There are SO many knobs on that dresser and the brushed nickel that was on there was pretty ho-hum.
So after finding the perfect ring pulls online, here is what it looks like now.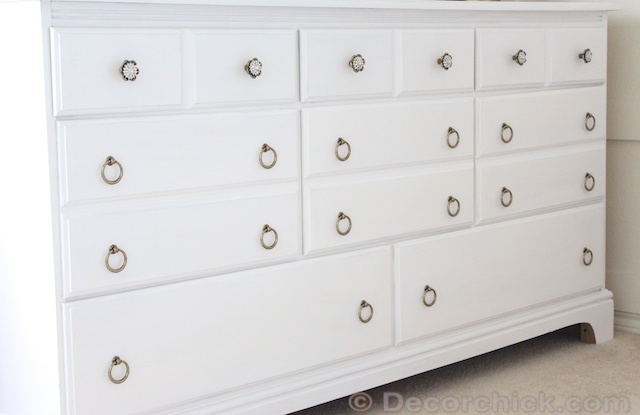 Amazing right??! It's so much more pretty and feminine and interesting than the other knobs. The ring pulls were perfect and I found them at GoingKnobs for $3.42 each. That was the cheapest I could find for the brass ring pulls and that's not a bad price!
And instead of putting the same pull on ALL of the drawers, I decided to mix it up a bit and put different ones on the top row. I'm a rebel.
I got those at Hobby Lobby for $3.50 with the half off discount. They couldn't be any more perfect for this dresser and the nursery. It's coming along SO great and I can't wait to show you. I can't tell you exactly when yet because I have to order a few more things and wait on that to arrive, but soon people, soon.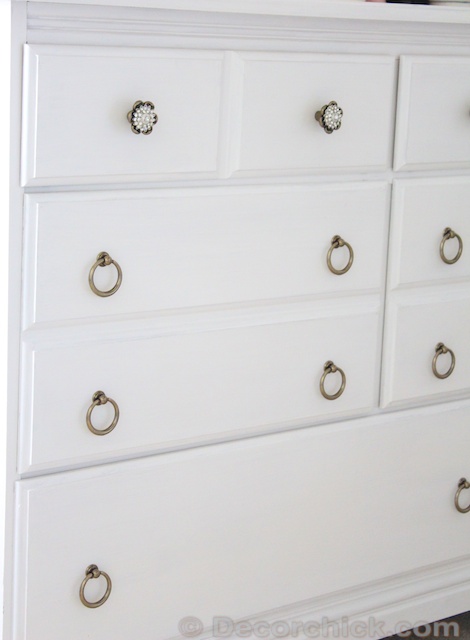 And that's it. Easy peasy. I know most of you know all of this already but I just couldn't help myself. Changing out or even adding hardware can really change the look of something. It's (usually) an inexpensive and quick redo too, and I am assuming most dressers don't have 22 holes like this one did.  :)
Are you a regular hardware switcher outer? Do you have a favorite trick for updating something in a short amount of time and for cheap? Do tell!
P.S.-I really loved all of the comments so far on the weight loss post. You guys seriously are the best encouragers!!
xxoo,
Decorchick!
Let's Connect!