Well I have good news today. If you have followed along in my weight loss journey (I've only talked about it once here, and once here where I lost my first 25 pounds), you all know I gained quite a bit of weight with my 2nd baby. 75 pounds to be exact and tipping the scale over the 200 + lb mark at my doctor's appointments while pregnant wasn't exactly the greatest feeling. But I'm not here to talk about how I gained weight while pregnant, because well, duh that's a given, but I'm here today to show you all how to lose weight and how I lost those 75 pounds of baby weight!
Here is my before and after pic.
I wish I had a full body pic of me right after giving birth but apparently I let no one take a photo of me until 6 months after I had her sooooo…..
But that's me now weighing what I weighed when I got pregnant! When I mentioned before how I had joined that weight loss accountability group and lost 25 pounds, well I had joined again and committed to another 8 weeks and lost my remaining weight. I should preface this by saying when I initially started the weight loss group in January, I had about 45 pounds to lose then. The other 30 pounds had just come off over those 7 months(from July-Jan) but definitely not by me trying by any means. I think more than anything my body was just re-shifting around over those several months and my stomach healing from the surgery. That, and maybe I had several pounds of water weight because I was VERY puffy and swollen all over while pregnant. I know that sounds weird and I don't know that can account for some of the weight loss, but that's my theory. And maybe breastfeeding, but again, I don't believe that whole theory either. ;)
Now for how I did it?
I followed the same guidelines as I did in the first 8 week challenge as well as in the 2nd 8 week challenge. Read that post because it has a lot of details.
I ate tons of veggies. I'm addicted to them and I crave them all the time. More than fruit. And I still stuck to our 2 fruit and 3 veggie servings a day (and I still do).
Still stuck to the 1200 calories (yes, even while nursing and still am) and didn't cheat (or very rare that I did).
I tracked everything I ate on My Fitness Pal every single day. It's so important to keep you in check.
If I cheated it would have been at a mexican restaurant where I ate some chips and salsa. But I still ate healthy for my meal, like grilled chicken fajitas w/vegetables.
My sugar intake naturally was less and pretty much non-existent, only through fruits. I still only add a little bit of raw sugar to my coffee.  I don't even crave sweets. If I want something though I will eat a few of those Annie's organic bunnies. Those are SO yummy! But if I were to cheat, it would be on real food and not sweets like cake or pie. Cookies…now that's another story.
I do still go to the baby boot camp class twice a week and love it. Really want to try and work out at least 3 times a week though. But hey 2 is better than none.
I am not opposed to starches such as pasta and rice, but I just still stay away from them because I don't like how I feel after I eat them. I do love a good sweet potato and eat them often.
I still drink tons of water. Usually about 80 + ounces.
I wanted to show you all because I have a lot of you ask about the PB2(powdered peanut butter). Just google it but it's my favorite snack to eat at night (before 9:00pm of course) with my apple.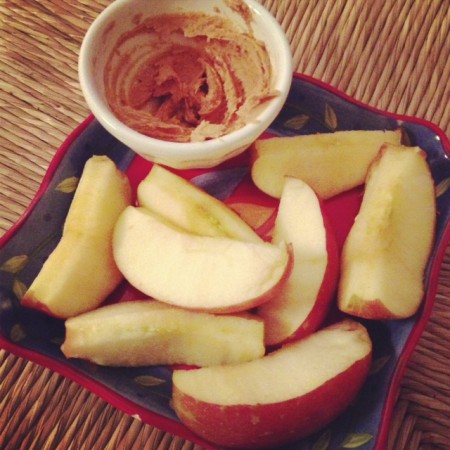 Another favorite meal is organic chicken sausage (yes I know that sounds gross but it's delicious I promise) with sauteed spinach and tomatoes and scrambled eggs.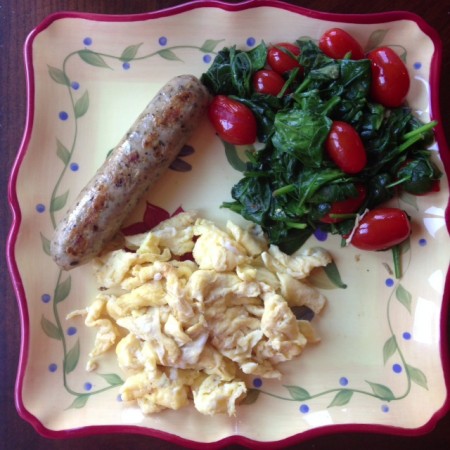 A few things and tips I like to do…
When I eat at Chick Fil A, (I do once a week for dinner), I always order a #7(grilled chicken sandwich) with a fruit cup and no fries. Then I also order a 6 or 8 count side of the grilled nuggets. Then when I take my food home, I load my sandwich up with fresh baby spinach (at least a cups worth) to make sure I get in all my veggies that day. Plus I LOVE spinach!
I just joined a produce co-op and I am so excited about it I can't stand it!  I'll get my first share next week yay!
I like to weigh just once or twice a week and not obsess over it every day.
Watch some of those fat movies on Netflix–if that doesn't get you motivated I don't know what will. :)
When I feel like snacking, I try and reach for a vegetable first like baby carrots or something. I recently got hooked on slicing up a zucchini or squash and topping it with a little salsa. Very easy and healthy snack.
I still like to eat light for lunch like my protein shakes that I talked about in my first weight post, and like to eat a bigger dinner. To some that might seem backwards, but I have to cook dinner anyway for the family so I want to enjoy it as well.
Steer clear of processed foods and any pre-made meals on the go foods. Those are junk. Don't waste your time (or calories).
Plan out meals in advance before grocery shopping.
I roast most all vegetables in the oven. Drizzle everything with a little olive oil, and put in the oven at 425 degrees for about 15-20 minutes and it's delicious. I particularly love doing that with cauliflower, brocoli, and okra. Delish!
I will say that with all of the fruits and veggies we eat, I am at the store quite often. Several times a week. It's annoying yes, but it's important to keep the good foods on hand so you don't slip up.
So the 2nd weight challenge ended a few weeks ago and I actually won for the most percentage lost! I lost 19.5 lbs that time, and I've since lost a few more pounds. I was pretty thrilled and took that money and went shopping immediately because I had NOTHING to wear. :)
Here's me and my fat pants that I should burn.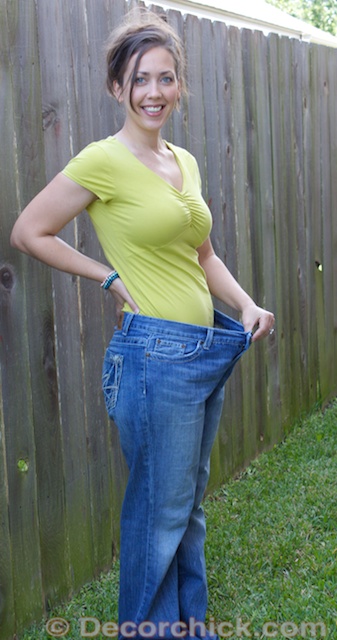 And here's a frontal pic.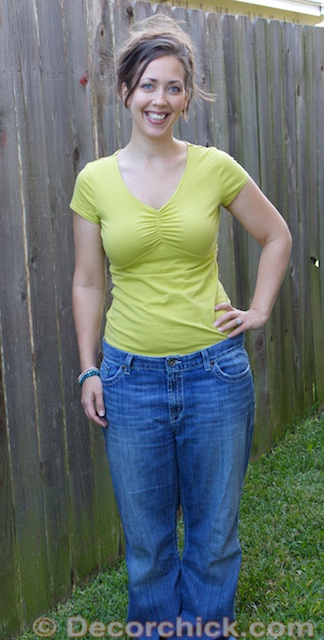 Can you believe those jeans actually used to be tight and un-buttonable? I couldn't even fit in them for 6 months after I had Ellie.
And to compare, here is a pic from losing 25 lbs from the 1st 8 week weight challenge, and then losing an additional 20lbs during the 2nd 8 week challenge for a total of 45 lbs lost.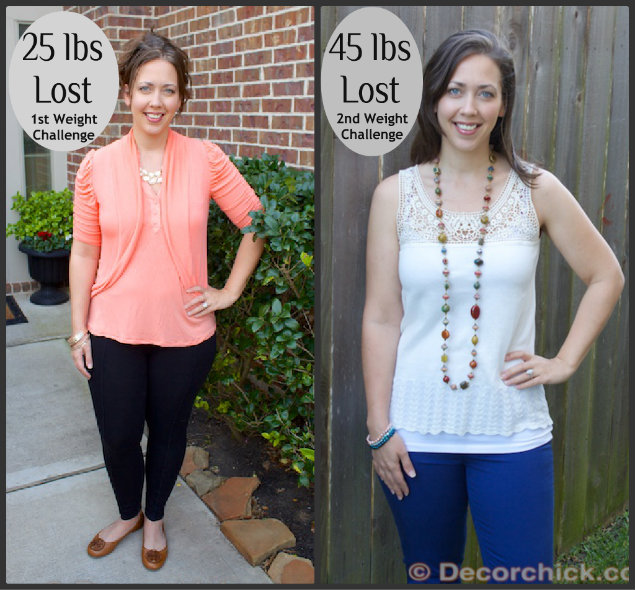 And then the final pic with losing a total of 75 pounds.
And I think that's it! And please know that yes I still have a muffin top (gosh I hate that word so much) and no I'm not rock solid or anything. It would be awesome to get to that though at some point, but for now I am just happy I can wear real clothes again and fit into my old "skinny" clothes.
There are times when you are overweight that the idea of having to lose 75 or more pounds is just unfathomable and seems unrealistic and just not possible at times, so you think "why even bother?" But I swear. You CAN. I feel so good right now and healthy and the changes that I have made aren't a "diet." These are lifestyle changes that will stick with me forever. Healthy eating is essential to how you feel about yourself. And I do believe that what you put in your body, is what you will get out. Even if you have 1000 calories left for the day, and you choose to go get a burger and fries, you aren't going to get the most out of it. You are going to feel bad after eating all of that grease and then your skin will just look bad too. My point is, you can't eat crap junk food even if you stay under your calorie range for the day and expect the same results. Why would you even want to? I can't tell you the last time I had a fast food burger. The thought of them makes me a little ill actually.
I'll get off my rant and just want to close with…YOU CAN DO IT TOO!!  And NO EXCUSES! (I feel like Jillian Michaels yelling). Thanks for all of the support along this journey everyone. Besides the weight loss accountability group I was in, I think having my blog where I talked about it too also subliminally held me accountable. I didn't want to let you all down and I wanted to come back with another good report. And, it worked!
xxoo,
Decorchick!
Let's Connect!