Have you inherited an ugly piece of furniture whenever you got married?  I have.  It was our dining room buffet table.  I've lived with it for 4 years now, and it was time for an overhaul when I found this hutch at Goodwill to go on top of it.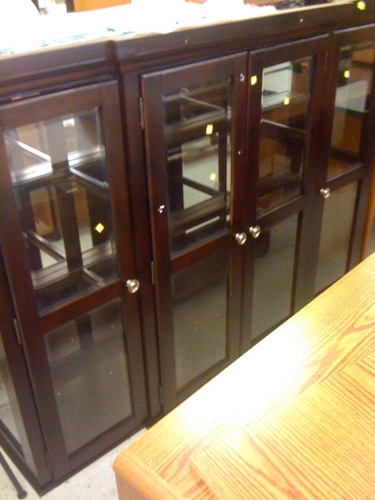 Goodwill had it marked for $99, and I got it for $65.  It was in perfect condition.
So I brought her home, removed the cabinet doors, and put some of my accessories in it to see how it looked.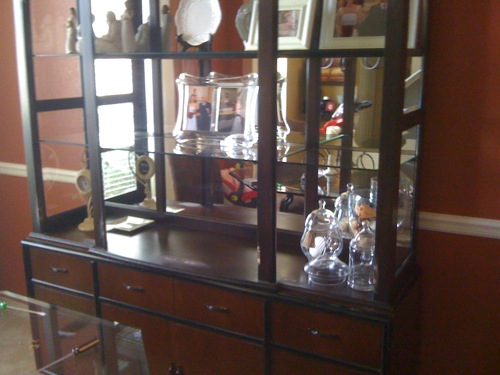 Uhhhh yea, not good.  See the buffet table that I've lived with for almost 4 years now?  How did I?  I.have.no.idea.
If you can tell in the above picture, mirrors were all over the back of the hutch.  Not a good thing when you want to display pretties in there.  So I took them all out, moved both pieces out to the garage and got busy.
And here are what my prized possessions looks like now.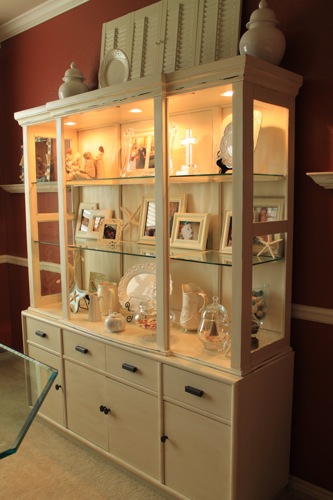 Can you believe it?  I can't.
Here is how I did it, and then I will just show you a bunch of pictures. :)
First I lightly sanded the buffet table because it had that super glossy finish.  I really don't think the sanding did much though.  Sorry I don't have any "during" pics because I did all of this at night in the garage.  That makes for awful pictures.  After wiping the dust off, I sprayed a few coats of polycrylic to seal in the wood finish, then I primed both pieces with spray primer.  When that was dry, I spray painted them with Rustoleum Heirloom White.  I went through SEVERAL cans of spray paint.
Then when both pieces were painted, I lightly distressed the hutch to reveal the dark finish underneath.  After that, I applied a glaze mixture of raw umber acrylic paint and faux glaze to give it an antique finish.  I did this all over the hutch and the buffet.  I just wiped on the mixture with a rag, then wiped off with another clean rag until I got the finish I wanted.  And lastly, I finished off the hutch and buffet with a few coats of Polycrylic for durability.
Since I removed the mirrors in the back of the hutch, I lined the back of the hutch with beadboard wallpaper and spray painted that Heirloom White as well.
Now here are lots of pictures!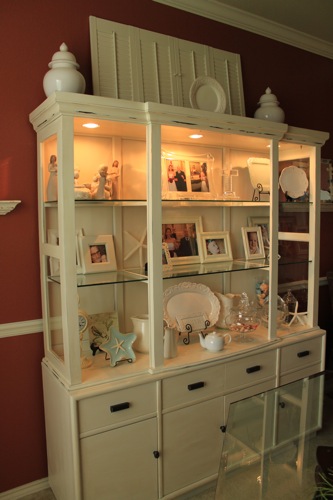 I decorated the top of the hutch with some shutters I found at the thrift store that I painted Heirloom White as well, and a few urns from Homegoods. :)  Got new hardware for the buffet too.
A close up of the distressed finish.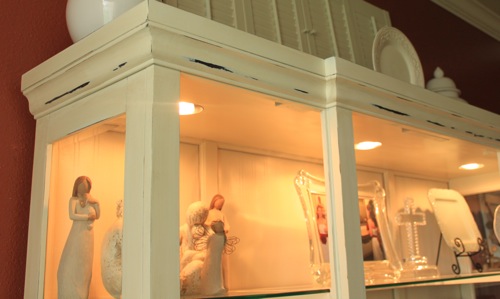 A close up of the antique finish…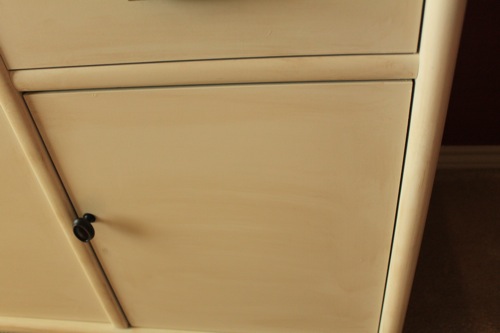 A close up of the beadboard wallpaper lining the back of the hutch now.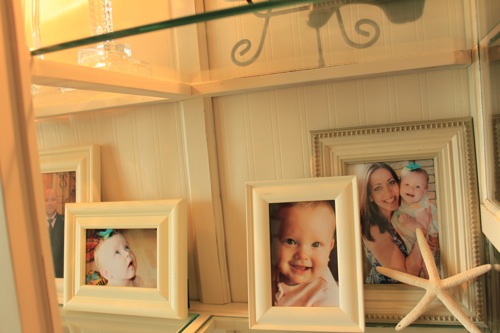 Isn't that better than the mirrors??  I know mirrors are supposed to reflect light and stuff, but when you are trying to have your accessories be seen, it just doesn't work and they get lost.  And isn't that little girl a cutey??! :)  She's about to be 1 year old this month.  *Sniff sniff*
Just some more pictures with my accessories.  I know hutches typically house dishes and whatnot, but I would rather have it hold pictures that I love and other pretty things in there, rather than just dishes that I'll never use.  I do love dishes don't get me wrong, but I wanted this hutch for another displaying purpose.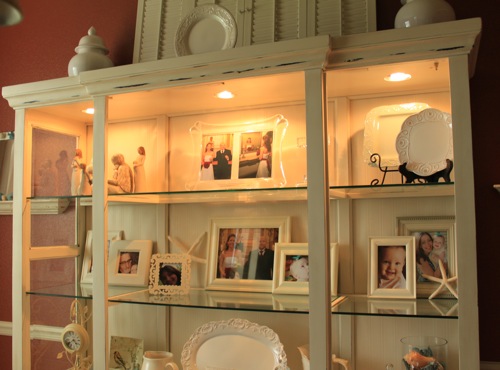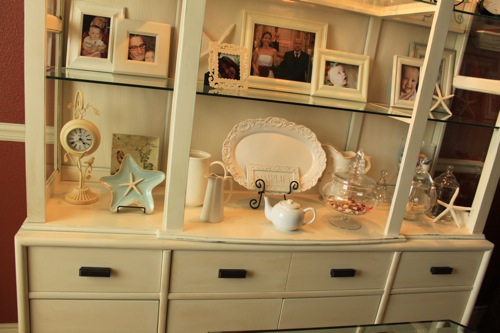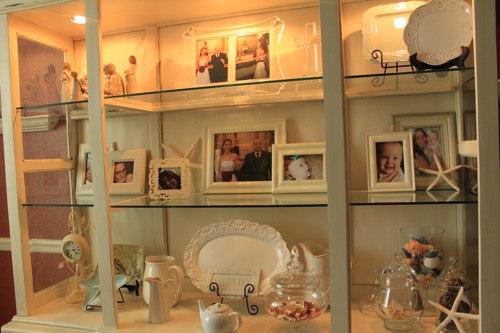 And another repeat picture just for good measure…
So whatcha think?  Every time I look at this I can't believe what it looked like before.  Our dining room has been through lots of "looks" since we've lived here.  I'll have to post about that sometime if I can muster up the courage to show you the previous hideousness.  Oh don't worry, you know I will because I want to keep it real here. :)
Thank you for reading and I hope you enjoyed my redo as much as I do!

xxoo,
Decorchick!