I am sooooo excited to show y'all how I decorated our front porch for Fall!  I've had some Fall decorating ideas floating around in my head for a while now, and it was fun to have it come to life! We don't have a big porch or anything, but I try to make the most of it and I'm thrilled with how it came out. :)
I got that little wagon a few weeks ago when we went to a city-wide garage sale, and I snagged it right up and knew what I was going to do with it right away.  I envisioned some hay in there, so I got the straw bales at Hobby Lobby. So cute!  And that metallic pumpkin is from Hobby Lobby too and it's the only fake one.  The rest I got from a local nursery that's AMAZING!
I stacked some pumpkins to make a pumpkin topiary on top of the big pots I already had.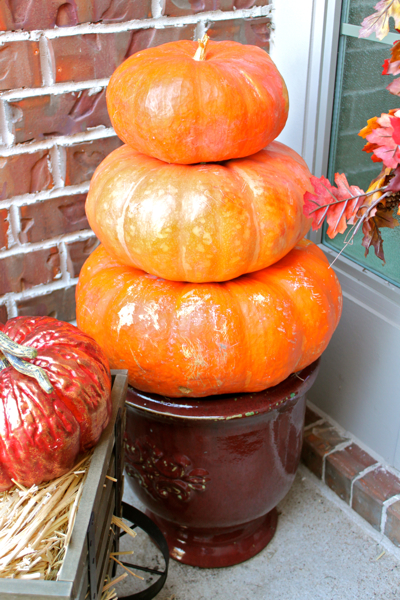 They just stacked right on top of each other. Me and my mom hand picked the perfect ones so they were even. I considered spray painting them a metallic shade of something, but the orange was just so vibrant and pretty against the house…
Ack I love it!!
I hung up the garland using command hooks…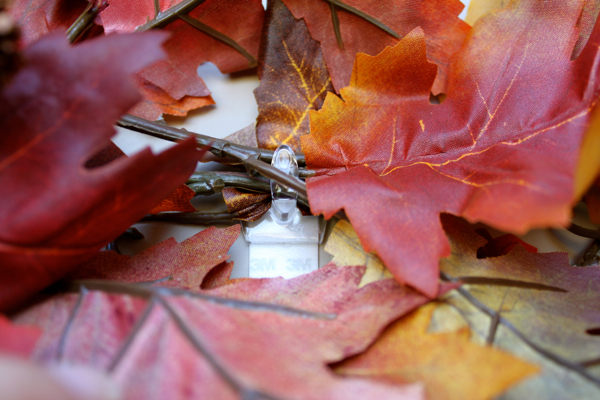 So easy and worked like a charm.  I did double up the garland to make it thicker and more substantial, so there is a total of 5 strands of garland up there.  And to connect the strands, I just used floral wire. Easy peasy.
The wreath I had from last year, but I just added some red leaves to it to blend in with the garland.  The wreath was primarily yellow and orange before.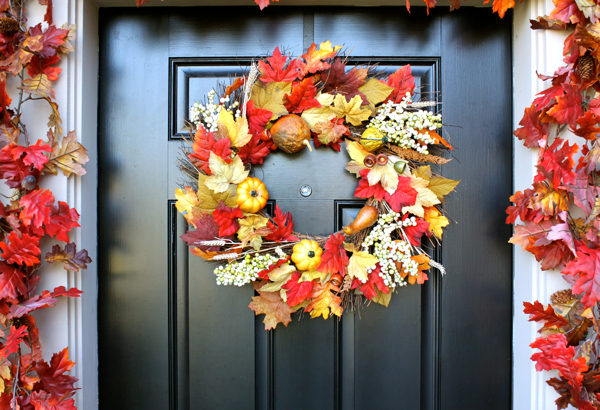 Now just enjoy the rest of the photos. :)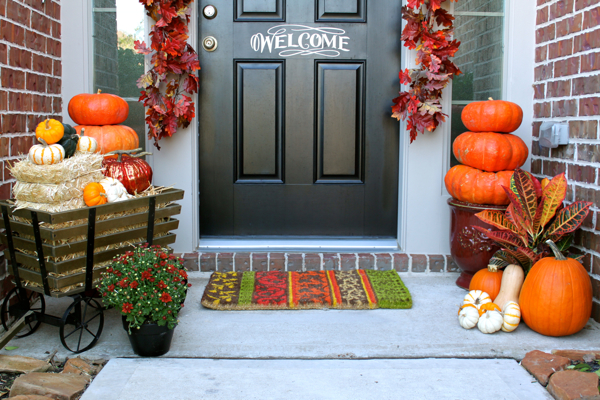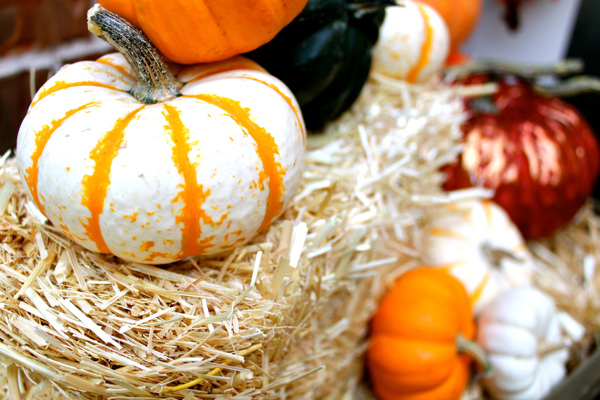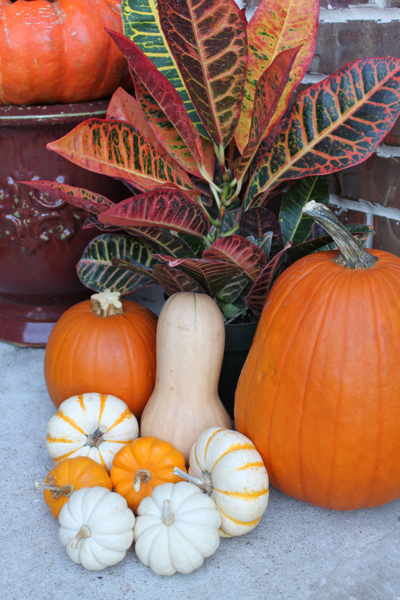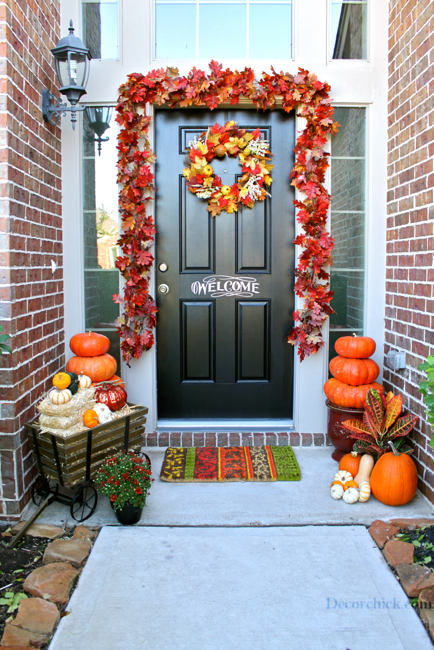 What do you think?!  Sometimes I walk out of the house just so I can walk back in to check it out.  But I also do that to make sure no one has stole my wagon or pumpkins. ;)
It's so fun coming home though and walking up to our decorated porch.  I think the Fed-Ex man was even impressed today, and that's always a good sign. Now, if I could just get the little girl to stop picking up a pumpkin (or 2) on our way in or out of the house, all would be right in the world. :)
What have you done to your outdoor spaces for Fall?  Anything yet? Better hurry and buy your pumpkins!
I'll be sharing this post at Rhoda's Door Decor party on Thursday. I'll also be sharing this post at Tidy Mom's I'm Lovin' It Party, Between Naps on the Porch, Sarah's Outdoor Party and Hooked on Houses Fall Party.

xxoo,
Decorchick!
Also find me on Facebook, Twitter, Pinterest, Google+, RSS and Instagram