Wheeeeee!!!  I am SO excited about the new Silhouette machine y'all.  I was so fortunate to receive their new Cameo model, and I have to say I LOVE it!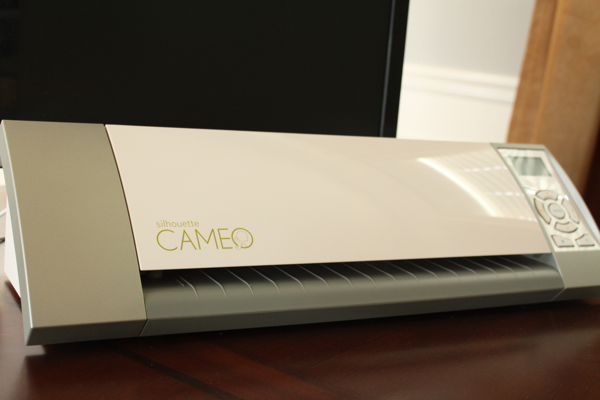 It's bigger, better, quieter, and just plain awesome.  And it even has a pause button! Ahh, it's the little things that make me happy. :)
What also makes me happy is that the new machine comes with just one blade, instead of having several different colored blades where you had to try and remember which was which.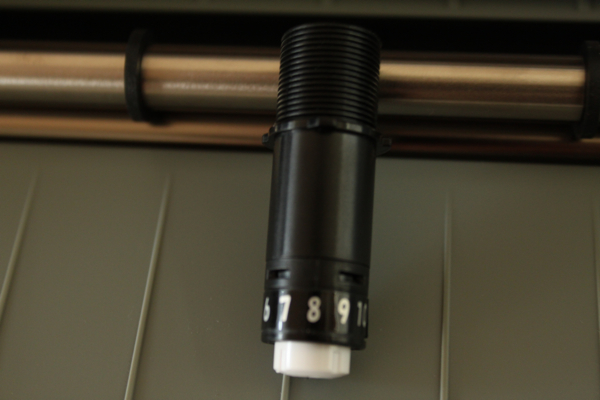 Now all you have to do is just turn the dial to which setting or blade you want, and pop it in.  SO much better.
The Silhouette Cameo will cut paper, cardstock, vinyl, fabric and more up to 12″ wide and 10 feet long.  That's huge!
I received the Fabric Ink Starter kit with the Cameo and it worked like a dream.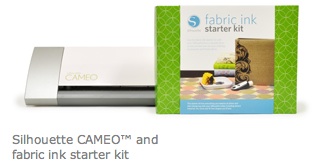 It cuts a stencil out on special vinyl, and then you just apply it to your project, paint, and voila!
I decided to cut out a shark stencil for my stepson, and since I am a rebel, I decided to try it out on a piece of leftover wood I had from my wagon that I put on the fall front porch.  It was actually the lid that I just took off so I could decorate the wagon.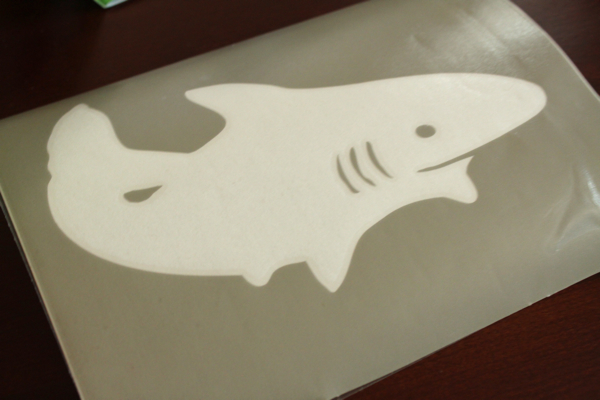 Then I applied it to the leftover wood,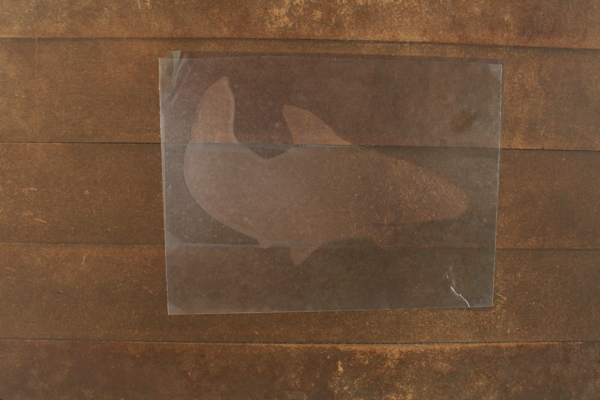 Removed the transfer tape, painted it in a grey paint, then removed the vinyl stencil and I had my shark.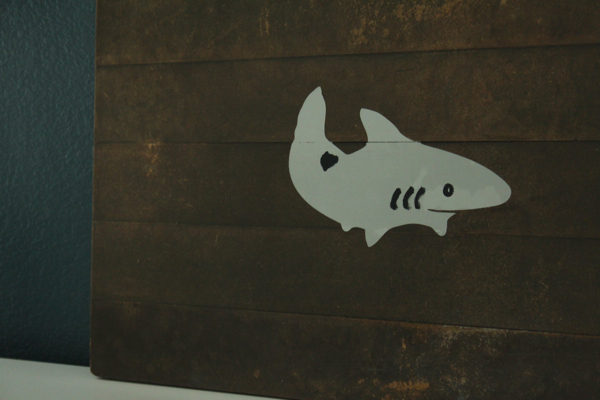 I think it's so cute! We just painted on the eye and the gills in black so they'd show up more.  And I know the shark is kind of small for the piece of wood, but I'm going to let the boy finish this piece of artwork by painting and drawing and add his special creative touch to it!  But I can't wait to actually try the fabric ink set on some actual fabric too. *giggle*
SO ARE YOU READY FOR THE PROMO?
From Oct 25-31 you can buy the new Silhouette Cameo with your choice of starter kit (for free), for just $299.  You can purchase here, and just enter the code DECORCHICK at checkout and your discount will be applied.
Your box will include the Silhouette Electronic Cutting Tool, Silhouette Studio® software for Windows XP/Vista/7 and Mac® OS X 10.5.8 and higher, 51 exclusive cuttable designs, Power cable, USB cable, 12″ cutting mat, Cutting blade, $10 gift card to the Silhouette Online Store, Basic Instruction Guide
Choice of starter kits are Fabric Ink, Vinyl, Heat Transfer or Rhinestone.
Hurry because this is their brand new launch date, and these will for sure sell out.  Go ahead and make that crafty person a happy crafty person for Christmas!  Or, just treat yourself, both will work. :)
And again, I have said in the past I've had a few mishaps with the old Silhouette machine when I was first starting out, but it's a piece of cake with the new machine now.  The price, although is not cheap, is totally worth it.  And I wouldn't lie to you.  There is a big difference in the 2 machines I think, and so it justifies the upgrade. Just my thoughts!
So are you excited or what??  Have you been waiting for the new Cameo to come out?  You're going to love it!!
xxoo,
Decorchick!