Let me tell you a little bit about how I operate as a person, in life, in general. When I get my mind set on something, I make it happen. Usually. Lots of times I wake up feeling totally inspired to repaint a room or use my miter saw. And it has to be done that day. Or at least started. Then lots of other times I won't do anything major for a month or 2. I go in spurts. I write my posts the night before because I'm inspired to do them at that time. I'm not much of a scheduler.
Soooo, with that said, the other day, Friday to be exact, I woke up hating our breakfast table. Like, even more so than I already did. I am SO over the counter/bar height of it, but most importantly, the table and chairs are way too big and bulky for the space. One of the main reasons I dislike it so much is because it has 4 legs, 4 corners, and sharp edges and it kills me when the baby runs into them. ALSO, the other horrible thing was the upholstery on the seats. I shouldn't need to explain that part, but not good for kids. At all. I have been on the hunt for a new one for a year now. Yes, really a year! So don't think this wasn't a planned out expenditure because it was. It just happened to be that I needed it yesternow. :) And receiving an email from World Market that day that their furniture was going to be 25% off all weekend (with code SCURRY), ummm, that might have added to the current breakfast table hate and force me to get in the car and head there.
But can we talk about breakfast tables for a minute? I don't like them. I do, but I don't. Why? Because they end up all looking the same. You look at 100, you've seen 1000. There is nothing unique about them usually but that they are just either square or circle and lots of times come with those windsor type chairs with the spindles. You know the ones. Especially the light oak colored ones. No offense if you have those–I had them too. I just knew that our breakfast room could be so much more you know?
Besides my taste in furniture having evolved and really finding out what I truly love, the breakfast table did not make the list. I wanted something DIFFERENT and not all matchy. I liked the idea of having a bench, but those really just go with the rectangle tables and I wanted a small round table this time. And not all matching chairs. And for reference, here is the old table we used to have in our room.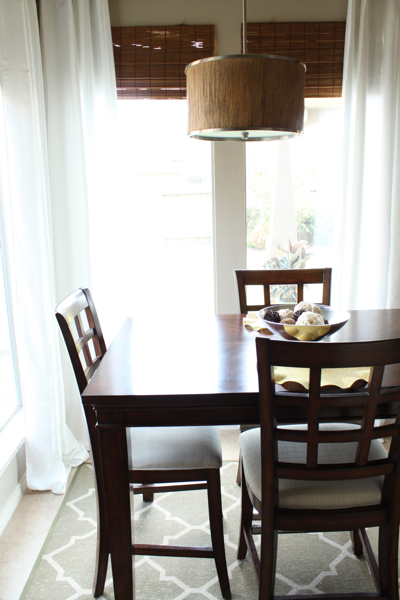 Wow, this is a long background about a table! But really, everything has a story right? And the moral of this story is that we bought this before I knew what I was doing. Just like our all leather furniture in the living room. ;) Okay, so what did we get? We got the Cooper Round Table from World Market.  I saw it online and knew it would be perfect, went to the store and it was doubly perfect so it came home with us. With the 25% discount it was $299, which I think is a fantastic price for a good looking table like this…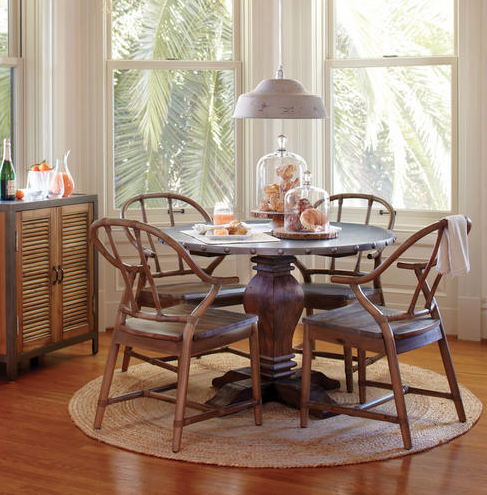 That's it and how they styled it on World Market's site. I can't show you it in our breakfast room yet because I need to do a few things. Of course, right? But isn't it perfect? It's the right size, cleans easily, and is just my style with it being traditional and modern with that metal top. It's unexpected and I haven't seen anything like it before. They have a bigger version that's a long rectangle (more for an actual dining room) that has a metal top too that I think looks fab.
I am just so excited I don't have to climb up into chairs anymore to eat! This table can be used to play cards and board games too so I think it will suit us well.  And I know I don't usually post on Sundays, but I wanted to get this out there in case you wanted to take advantage of the 25% off sale too at World Market! It ends on Nov 3 and the discount code is SCURRY. Everything non-furniture is also 15% off.
So, what kind of breakfast table do you have? Do you love it or is it just meh? It's hard to find a good one! That's why I love WM because their stuff is different, and good prices. And seems to be made well. And no this isn't a sponsored post by WM, I just love them and want to pass on deals. Even at the full price I'd buy that Cooper table! I'll tell you about it more and show it in our space as soon as I can, promise.
xxoo,
Decorchick!