Well, I'm finally going to reveal my stepson's room today.  I started his room pretty much exactly 1 year ago, but that doesn't mean it took me that long to finish it.  It's actually been done for quite some time, but I just haven't written about it yet. :)  He is in the tween years too, and I think this room fits that age point without being too young or too old looking.
Anyway, here it is!
Here is the before of his room.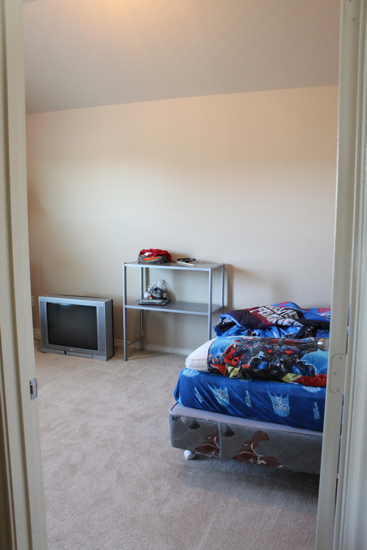 Big difference, eh?
The room started out by us putting up the $40 paneled wall.  That alone made the room so pretty. Uhhh, I mean, manly. :)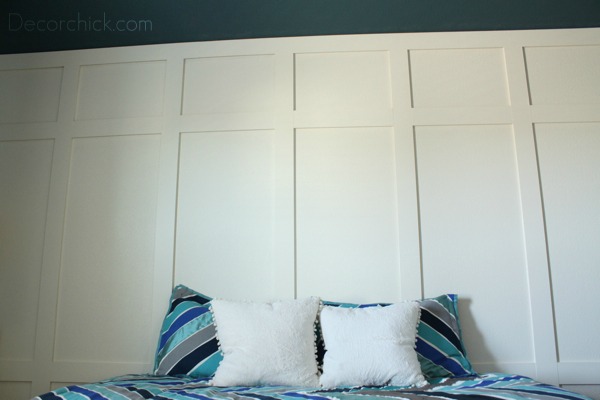 And then I made him the chalkboard wall and framed it out with the same MDF I used for the paneled wall.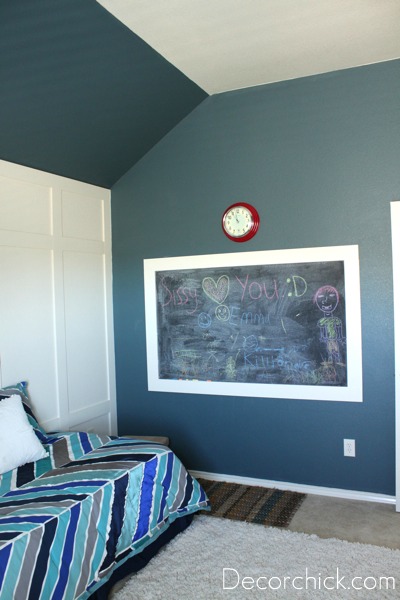 Yes I could have cleaned the chalkboard for my photos, but I didn't want to erase his artwork.  And you'll notice the ceilings are really high in here too, so I painted the slope the teal color and the top of ceiling white just because I thought it would look cool. And I think it does! :) Oh, and I'll add a source list at the bottom of this post for everything I used.
We used the bed he already had but I just pushed it against the wall like a daybed and to make the room more spacious.  The chevron bedding is from Wal-Mart. I bought this one in the store, but it's a miracle it's still online because I got this a year ago! My how time flies.
Curtainworks sent me the hardware and the curtains to hang up in here and they look great.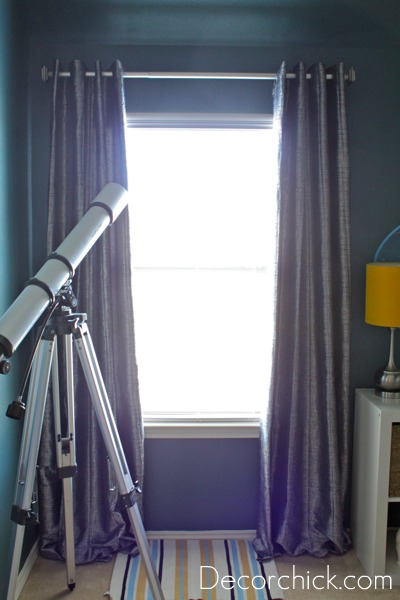 They are a silver/grey shimmery color but it's kind of hard to capture that against this bright window. Gah!
ETA: The curtains are NOT purple. The lighting is weird in here. I can assure you all they are silver/grey like I originally said above.
And the telescope we already had because we are space geeks, but I thought it looked cool in here so I left it.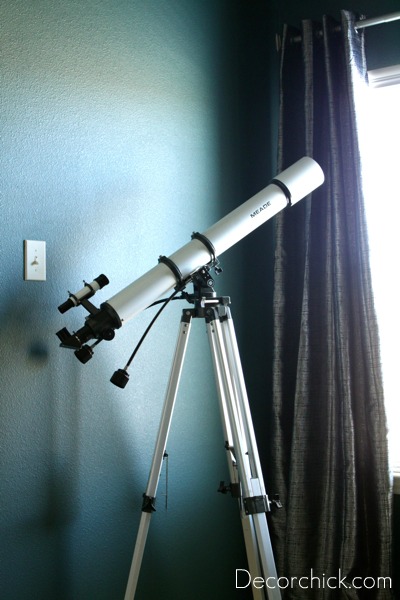 The Expedit shelving unit is of course from Ikea and it stores his toys, legos, and other miscellaneous things that end up in here.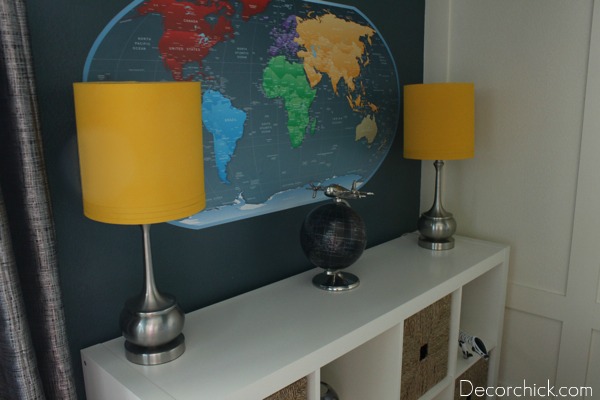 You can read about the spray painted yellow lampshades in this post too.  They are still holding up fabulously! And the cool world map decal came from Curly Q Wall Decals and Decor, which I talked about in this post.
Here are a few more full room shots to complete the reveal. :)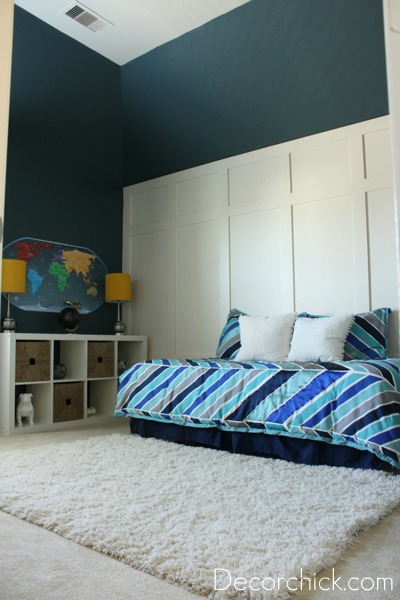 And that's it!   We're very happy with how it turned out.  Just wish I would have showed you all sooner!  I didn't want to add many accessories in here because I didn't want to take away from the paneled wall or have the room be too busy.  The wall alone makes enough of a statement.
So what do you think?! Have any of you tried the paneled wall yet? It's so easy I promise!
Source List:
Paint Color – Behr "Underwater" (Gorgeous color)
Shaggy Rug – Garden Ridge (and it's soooo comfy)
Small accent rugs – Big Lots
That should do it.  I'll be sharing this post at Sarah's before and after party tonight, Tip Junkie and Weekend Wrap-Up Party. :)
xxoo,
Decorchick!
_________________________________________________________________
Also find me on Facebook, Twitter, Pinterest, Google+, and RSS.