Hey hey hey, I'm still here! No exciting "I went into labor over the weekend" or anything like that so I might as well write a post right? I want to at least show you what room the nursery will be and what progress I've made on it thus far.
We've had lots of changes going on around the house lately that first started with my daughter getting a big girl bed which I'll show you soon, and then the big kids are now sharing a room.  They have a daybed in their room now and it has a pull out trundle, so that just stays on the other side of the room so they have plenty of their own space. And if either of them really just need their own space we still have the gameroom they can escape to as well. But the new arrangements have worked out great so far and they are just great kids that are very understanding of everything.  I can't have the baby share a room with Emma right now because Emma is SUCH a light sleeper.  She is a GREAT sleeper however (still sleeps 12 hours every night and has since she was 4 mos!), but she will just pop up at the drop of a pin.  Seriously.  I haven't ever been able to be one of those parents that goes in and checks on their sleeping kid or put a blanket back on them because she wakes up!  So until the baby is older and they get on the same sleep schedule, we may see about having them share a room at that point, but that all depends on a lot of other things as well.
Anyway, just wanted to give a little rundown of the new living quarters because I show you our lives pretty much every day and feel sort of like it's my duty?  It's not really my "duty" but I like to be honest with y'all about everything.
Ok, the nursery. :)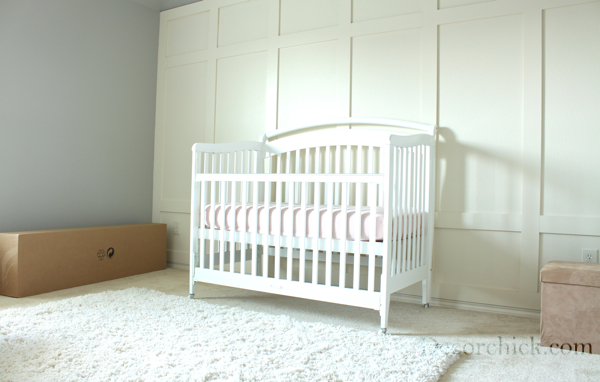 You'll notice I painted this room because it used to look like this.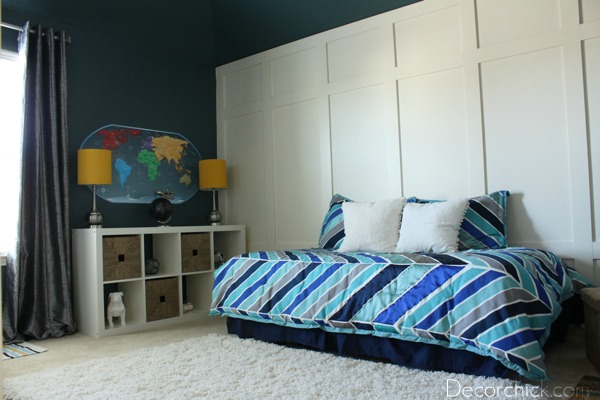 I still loved the teal room and of course still love the paneled wall.
The new color however is a very pretty grey and it's called Ashes from Behr.  You know how many times I've talked about grey paint on this blog.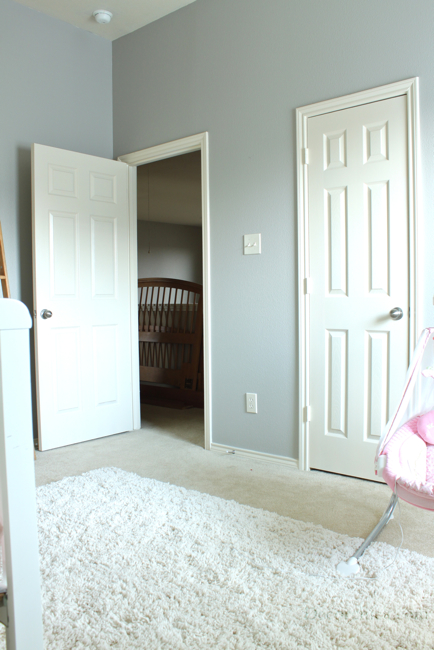 Thanks to my cousin Rachael for telling me about this color!  I wanted a neutral wall color for either a boy or a girl, and I will just do the decorating once we actually have the baby and know the gender. :)
I also just painted right over the chalkboard wall I had made too.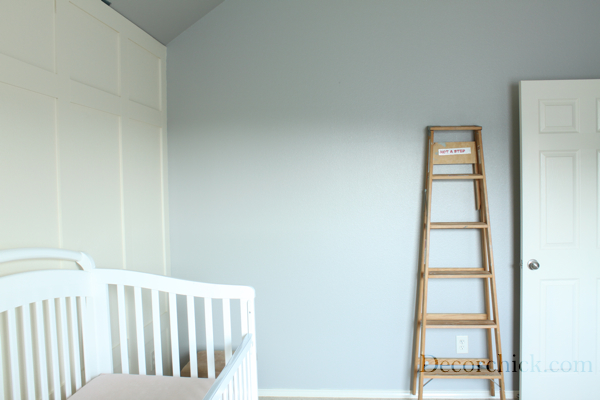 I did that because the chalkboard paint on textured walls just didn't end up working out well.  It was used maybe a few times, but it was a pain to actually write and draw on.  I want to do another chalkboard project, and next time I'll just put the paint on a big piece of smooth wood or something and hang it on the wall.  I'll figure out a better solution next time.
And the crib of course was the one Emma used (hence the reason we had to get her a big girl bed and kick her out of the crib even though she loved it still), and I got that off of Craigslist for cheap when I was pregnant with her.  So I'm glad the new little one is able to use it too!
I still have to cut in around the ceiling in these 2 spots.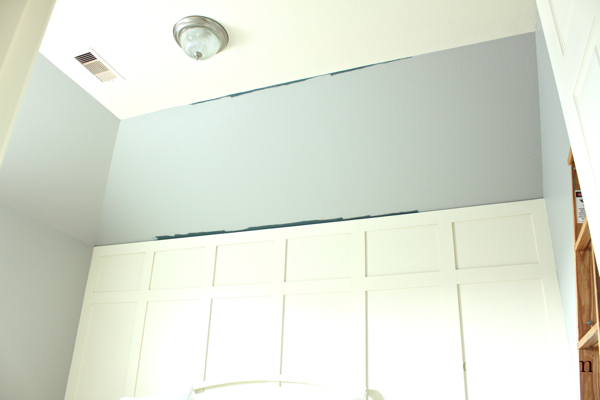 The ceilings are just way high in here and I was getting scared and tired so I'll try again another day.  And that's why I didn't bother to move the ladder out of here for pictures, sorry!
I wanted to show you another shot of this room with the exact same camera settings as the above pictures, but the sun was shining in the window.  The paint color looks completely different.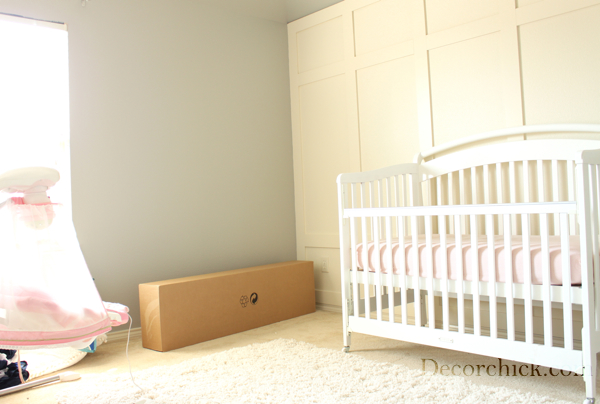 Crazy right?  So if the paint in the other photos look a little differenton your monitor, that's why. Oh yea, I didn't move the big box either because it's heavy. It's just another Ikea Expedit we need to put together. :)
And that's the progress folks!  It may not seem like a lot but soon I can really start to work on it and order bedding and all that fun stuff!  So will I be adding pink or blue stuff to the room? Hmmmmm…..to be continued.
xxoo,
Decorchick!
__________________________________________________________________
Also find me on Facebook, Twitter, Pinterest, Google+, RSS and Instagram