Y'all know I love me some chalkboard paint, yes?  And the only request my stepson had since I've been redoing his room is to have a chalkboard wall somewhere in there.  But something about painting black on the wall scared me a little bit.  But, I got over it and got to work, so therefore I'm calling myself "cool" for painting part of a wall black. :)
And at first, I was just going to paint a really big piece of thin wood or something and hang it on the wall, but then it probably defeats the whole purpose of kids being able to actually write on the wall.
The first thing I did was tape a big section of the wall with painter's tape.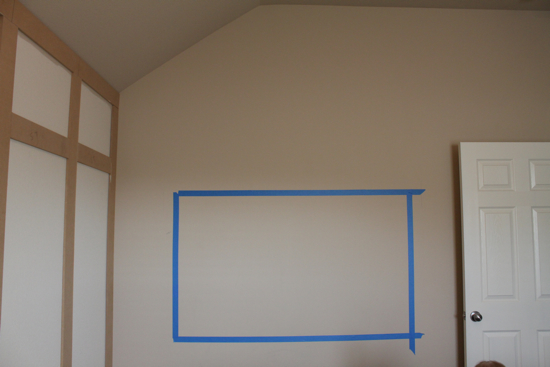 Then I sanded that area lightly with some drywall sanding mesh stuff to try and loosen and remove some of the texture, but I don't think it did much good.  I didn't want to sand it completely smooth because then it wouldn't match the rest of the wall if we ever paint over it.
The rest is pretty self explanatory:
Painted 3 coats of chalkboard paint in the taped off area
Painted the wall color (Behr Underwater) so I wouldn't have to cut in around it.
Then just made a simple frame around it with leftover MDF that we had from the Paneled Wall. I painted the pieces before I nailed them up. We didn't even miter the corners, just made a big box so it was cohesive with the paneled wall.
And then we had this!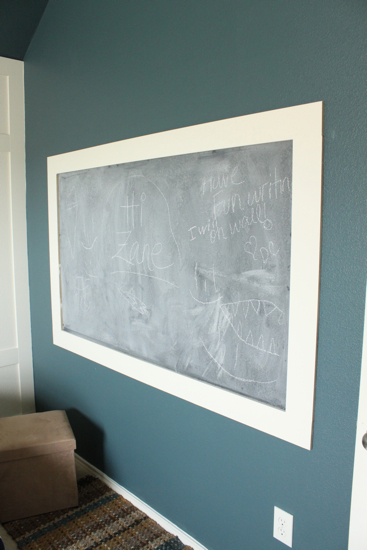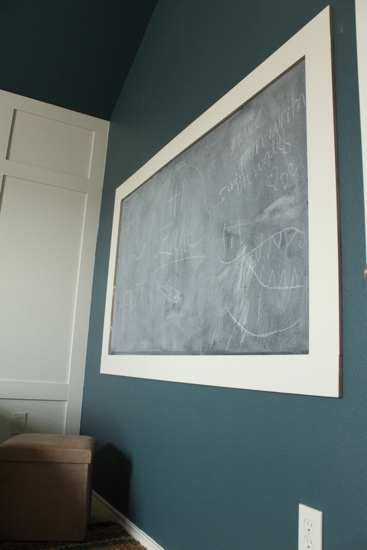 Yes, the chalkboard already needs to be wiped down. :)
I put a little storage ottoman that I got at Garden Ridge for $20 over there so he has something to sit on while doodling. And I found the cute little rug that matches from Big Lots for $5!
So, painting chalkboard paint on textured walls of course will not be a smooth writing surface, but, it works, and the little fella likes it.
But isn't it cool?  Am I cool now? :)  Maybe I'll print out his name in vinyl or something and put above the chalkboard?
What do you think?!  Just a few more things to do in here.  Still waiting for some yellow lamps to show up somewhere too…
Sharing this post at Centsational Girl's Paint Party and Sarah's Before and After Party.
xxoo,
Decorchick!