*Update–the office now has wood floors!*
Dining rooms are so overrated right? :)  Since I had been wanting to redo the dining room for quite some time now, the hubby and I decided to turn it into an office.  Because in all honesty, the formal dining room was used as an actual dining room maybe  twice since we've lived here?  We always eat in the breakfast area, at the bar, and when we are entertaining, everyone congregates in the kitchen that's open to the living room anyway.  Yes dining rooms are beautiful and all, but that's mostly it…to look pretty.  We needed functionality.
So let's take a look back at the old dining room in it's final stage…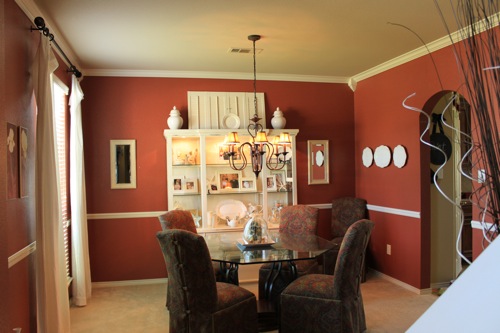 Wow, that is such a strange feeling seeing all that rusty red again.
And here is the new office.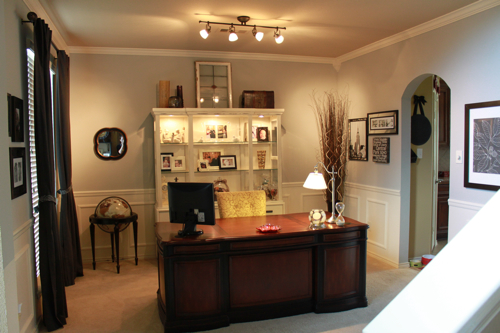 Yowsa!  What a change right?  And I have to apologize because most of my pictures will have a part of the staircase rail in them. No getting around that!
So since I was nice and showed you an after picture at the beginning of my post, now I can chat a bit. :)
The vision I had for this room was gray walls with yellow/gold/mustardy accents.  Apparently that's a new trend I didn't know about?  But glad I'm on the ball. :)  There is a lot of the goldy/camel color in our home, so I needed to bring a little of that into this room as well.  And since this room is the first room you see when you walk in the door, I wanted it to be formal, but not too stuffy, pretty but not girly and cute, masculine, and traditional with a little modern mixed in.  So basically, the office would be considered eclectic since different styles have been mixed together. And I have to say that this is my favorite room now. :)
We bought the desk brand new, delivered and all, with the cash we made from selling the dining room chairs.  I told you I made a nice profit from that!  And I even kept one just because they are such great chairs.  The desk is huge and it's so nice to have everything in one spot (like bill paying things), and a comfy place for me and my husband to work.  There is even a big cabinet that fits our printer inside so it's hidden, and I don't have to pull it out anymore to print. Yes!!  And the desk falls under the traditional/transitional category and I love it!
The wall color in the office is Sherwin Williams "Mindful Gray."
Okay, so on to the room…One of my favorite changes in here was doing the fake wainscoting.  It brings such elegance and class to any room.  And it's SO easy to do, I really hope y'all will try it!  Here is how it connects to the entryway/living room wall with the other wainscoting…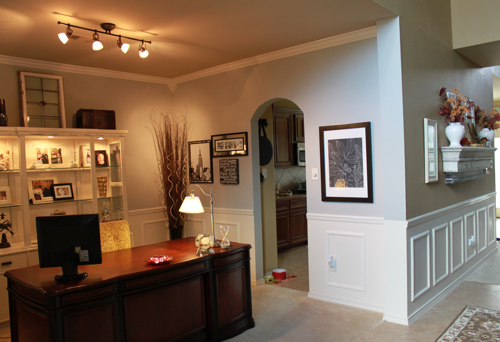 I'm slowly adding that all around the house.  Another favorite thing we did was replace the chandelier with the track lighting.  You can read about that here.
I did have all white frames in my hutch before, so I just swapped them out for some darker frames that I already had, and put a few different accessories in.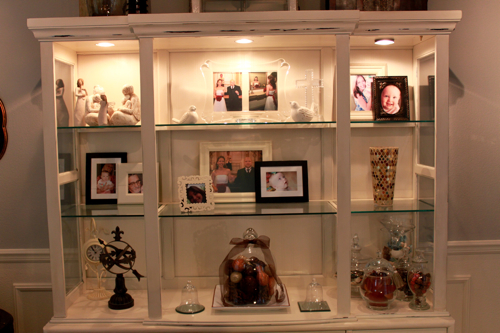 I dressed the top of the hutch with the old window that has been dying to get used since I found it at a resale shop months ago. The other vases are from Homegoods, and the trunk was on clearance at Garden Ridge.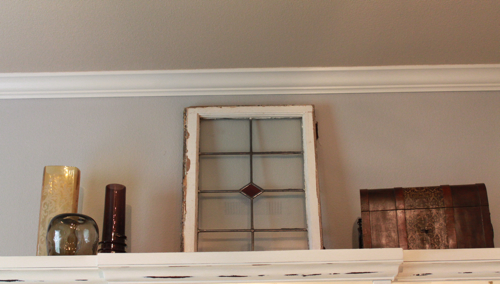 See, I even threw in a little purple accent!  It worked out perfectly since that little piece of stained glass in the window is a plum color. :)
My new chair that I found at Homegoods for $69.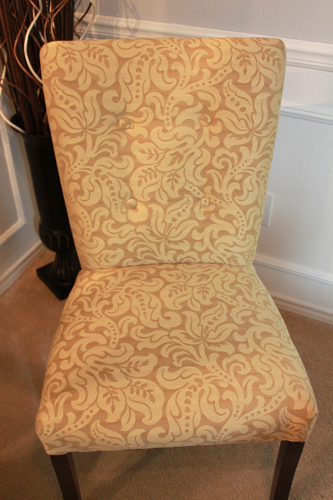 The color was perfect and I needed a little bit of a pattern in here too.
The curtains are from Ikea and they are a dark charcoal gray.  Only $20 for the pair!
The tiebacks came with the curtains, but I took some leftover fabric from my framed fabric project and just covered them.  I used fabric glue. Fancy.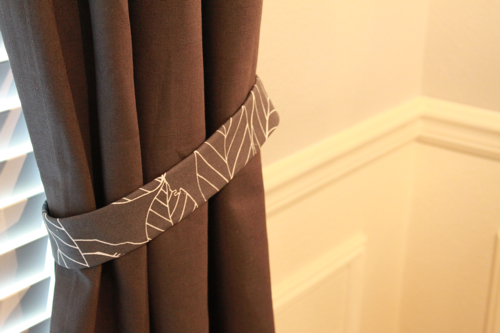 Our new desk lamp that we got from the Pottery Barn Outlet.  Love it!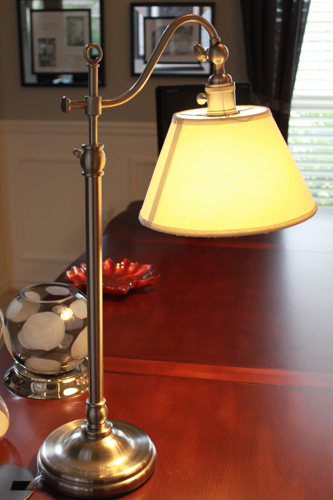 I was a little worried about mixing the metals since a lot of other things are bronze in here, but it's really grown on me now and I love it!  I think I'm slowly coming out of my bubble. :)
And here is a wall dedicated to all things New York.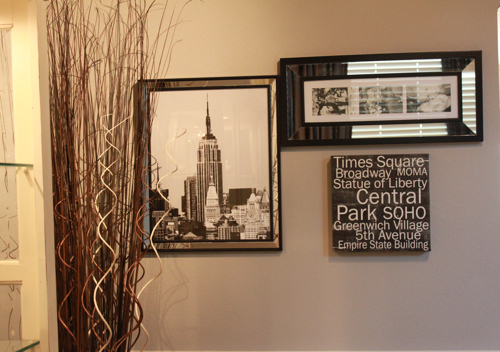 I'm still working on the grouping placement don't worry. I will be adding pictures of our trip to NY in that collage too.  And I will talk more about that canvas print you see from Red Letter Words soon! :)  All of the mirrored collages you see around the room are from Garden Ridge.  They were in the 75% off section so they were all $3 and $4!!  That picture of the Empire State Building was $6. Sweeeeet!
Everything else in the room I already had somewhere in the house.  Just did some switcheroos.
Here are some more pics of the room. :)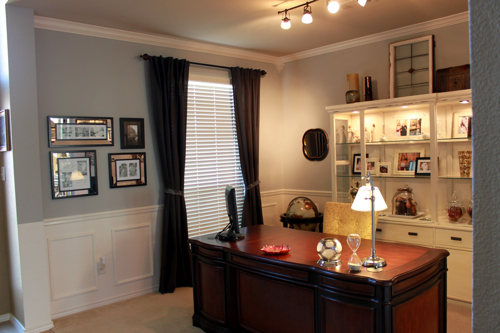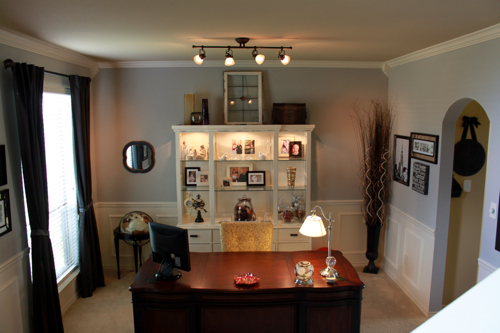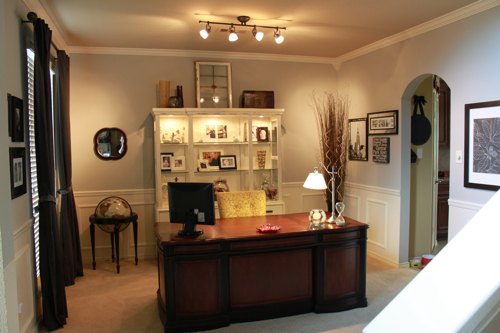 And these were taken at night…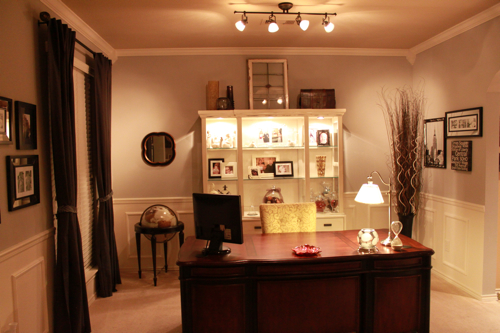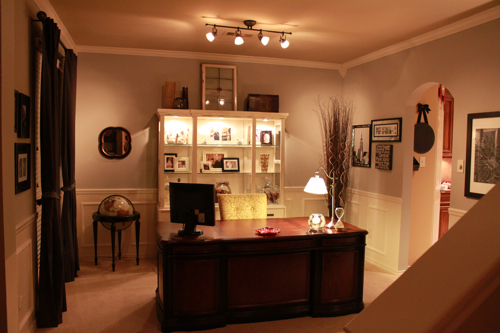 Here is the view while in the living room…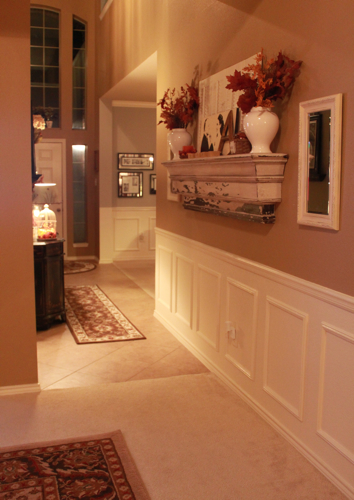 My worries I had about the gray and camel color walls not working together are gone!  Hooray!  I'm pretty much in love with the combo now. :)
I do have dreams of putting big french doors in the office doorway one day, but that will be quite costly.  So, it's a dream that's far away. :)
So what do you think of our new office?  Would you consider getting rid of your formal dining room (assuming you don't use it much) to create a space that would bring more functionality to your home?  It's one of the best decisions we've made that's for sure!  I'd love to hear your thoughts.
*Update–the office now has wood floors!*
xxoo,
Decorchick!