People have dreams, people have ambitions. People often think those dreams aren't achievable or their goals are too far fetched. I'm here today to debunk those silly myths because they really are possible. How so you ask? Well, because I am in a real magazine!! And not just any ole magazine. It's Better Homes and Gardens' Kitchens + Bath Makeovers magazine!!!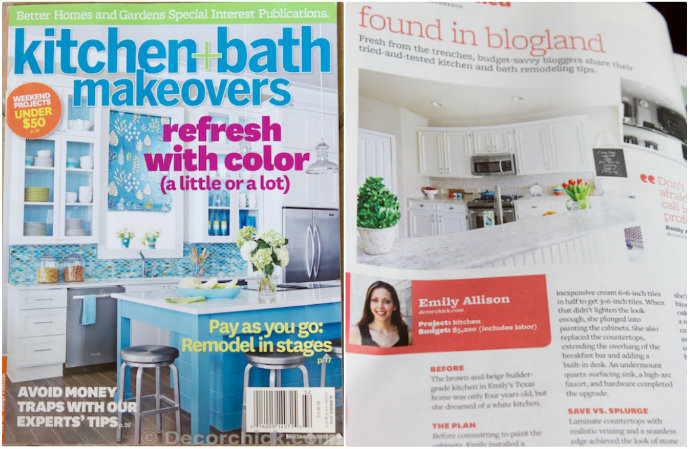 It's still hard for me to believe that our white kitchen is published. It's been a dream of mine. A big dream to be published. I've had many online features before which I'm so thankful for too, but there's just something extra special of being in print. You know, like a REAL magazine that you actually read and flip through the pages. Not scroll with your fingers on your ipad with.
And don't be surprised if you see this magazine and article framed and matted in our house somewhere in the future because you better believe that will be happening. :) And no it's not to brag by any means. People frame their diplomas because it's something they are proud of right? Well I am pretty darn proud and humbled about this. Who would have thought 3 years ago when I started this blog this would happen? Definitely not me.
I received my comp copy that BHG sent to me, and I will have to go buy 10 more copies now and save for a rainy day. ;) But the magazine is out on newstands today (Summer 2013 edition), so go pick up a copy!  If I ever happen to run into you while out and about, I'll sign my autograph on your copy. KIDDING. :)
I'd like to thank Karran for my gorgeous quartz sink and Formica for being integral parts in my kitchen makeover again. Their fabulous products are what makes my kitchen special!
Thanks for all of your support and keeping me going friends. This is the best "job" ever and I'm so grateful. Don't think I take any of this for granted any minute of any day. God is so good.
xxoo,
Decorchick!