Well, this is my very first post, so I'll just get right to it!
I have to give a little background on our home. We moved into a new construction home at the end of 2008. It's a 2-story, open concept floor plan. I loved it, and knew it was ours when we came to look at it. I like 2-story homes because of the extra space you gain, like a powder room downstairs, game room/bonus room, bigger yard etc. One problem with the house though was that beige was everywhere. Every wall, all of the ceilings, and carpet were beige. It was beige overload.  The color the builder used was Sherwin Williams Nomadic Desert, in case you are interested. Or as I like to call it, builder beige. Did I mention there was a lot of beige?
The first room I decided to have painted was the kitchen. I chose a color that was used in one of the HGTV dream homes (Sherwin Williams "Sequin"). Didn't test it on the wall or anything and just went off the internet picture. BIG MISTAKE. Wanna See?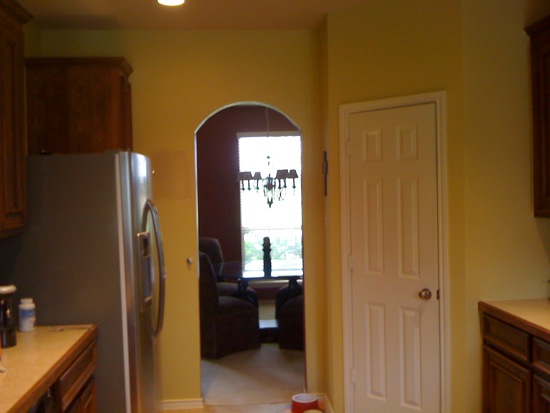 Yep, that's it in all its yellowy glory goodness. Yikes, right?!  I swear it was fluorescent yellow on the walls, especially at night. So, living with this color for fifteen minutes a day, it had to go. Why I didn't stop the painters when I saw the first stroke put up I don't know.
So then I began my online quest for the perfect neutral color. Not a beige, not a yellow, but a perfect medium. Then I came across The Nester's blog, and found some posts talking about the paint color Tobacco Road.  Immediately I was intrigued by her blog, and the paint color, so I went on the hunt for this famous color and got 5 different samples of it all in different formulas. Came home, tested them all, and settled on a formula from Sherwin Williams, just tweaked it a bit.
Here is my very messy Tobacco Road paint can.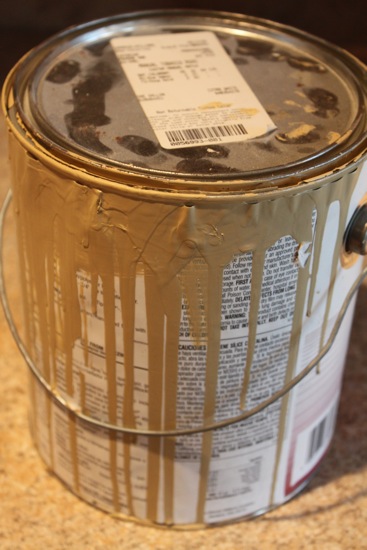 Here it is in our kitchen now.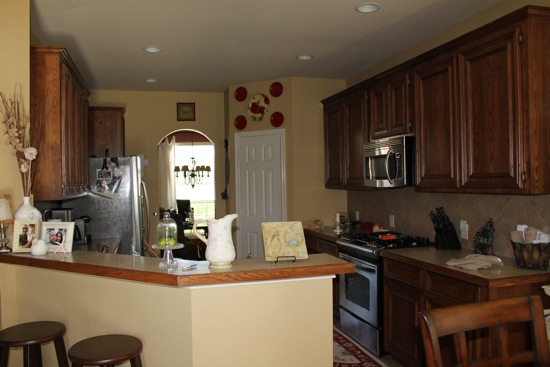 Ahhh, much better right? My heart skipped a little beat when it was all over with. I heart Tobacco Road! Here's a close-up…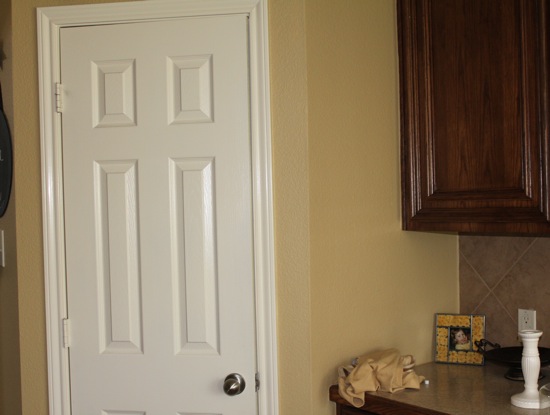 It might be a little hard to tell in the pictures, but it is the perfect mix of a golden neutral without being a boring beige. At night it's definitely more golden. And sorry about the kitchen counter mess.  I was working on some other projects. :)
So, there you have it! I found out about this massive home decor blog world by trying to find the perfect paint color. I've been addicted to these fabulous blogs ever since, and finally took the plunge in having my own. I need someone to show off all of these projects to right?
And before I close, I have to give a HUGE thank you to my awesome husband. He designed and built this site all by himself. Isn't he brilliant? I think he is a genius. He spent many, many long hours and sacrificed much needed sleep in order to get me up and running. Thank you honey, I love you, and I love my site.
More projects to come!
xxoo,
Decorchick!