Raise your hand if you love mason jar projects! I'm pretty excited about this one because it came out so cute! I was trying to think of a new and easy valentine craft I could make, and this DIY Heart Mason Jar is what came to mind…
That's pretty cute don't you think? And the best part is that it's original! And if there is another one like it I don't want to know about it so don't tell me. :)
And it couldn't be any easier to make this. I started out with one of my aqua mason jars (I have tons), and just stuck on my heart shaped stickers.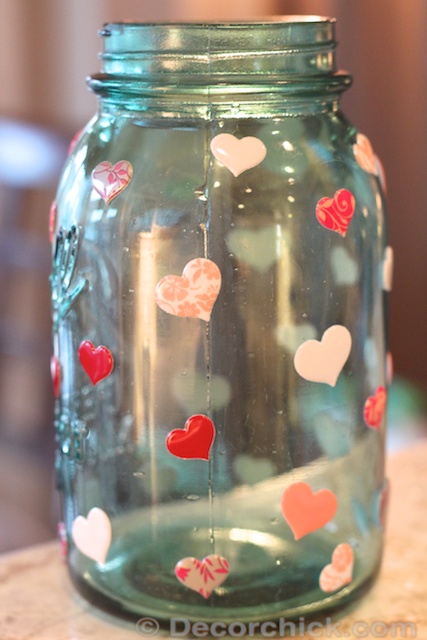 I used this kind from Michael's.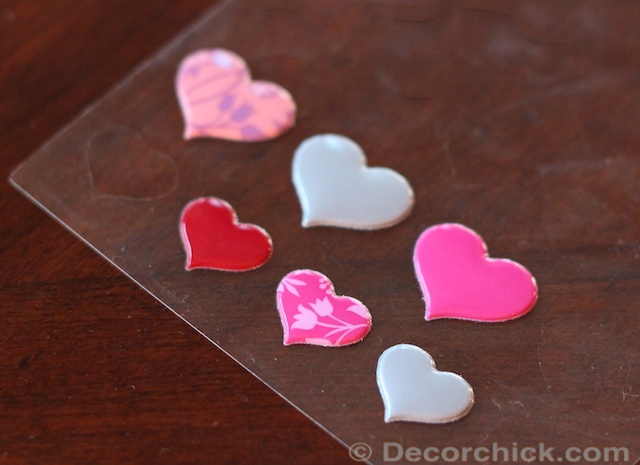 I think it is kind of important to use those plastic stickers instead of foam ones, and definitely not paper ones.  These plastic ones will peel off without peeling the paint off.
Then I just took it outside and spray painted in some gloss white paint.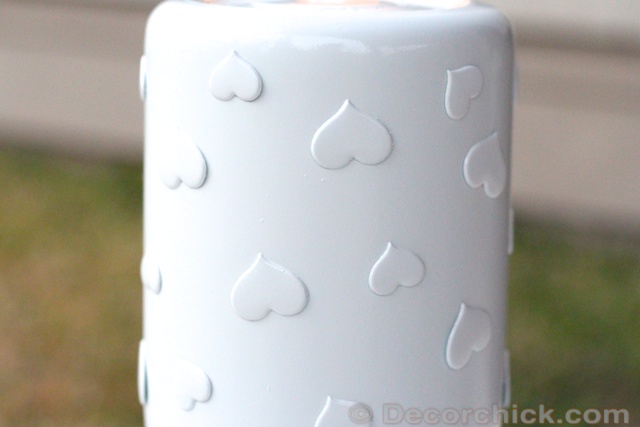 Now one thing about this part. Make sure before you paint that you stick on the hearts VERY good. I pressed mine hard, but I should have done it a bit harder. The day I spray painted it was about 80 degrees outside (crazy Texas winter) so when I took my jar outside, some of my stickers peeled up from the sides because of the humidity. I should have done this on a dry day, but it just didn't occur to me. And even if I had occurred to me, I probably would have done it anyway because I am that impatient. :)
So with that, it left me with a bit of overspray when I peeled up some of the hearts.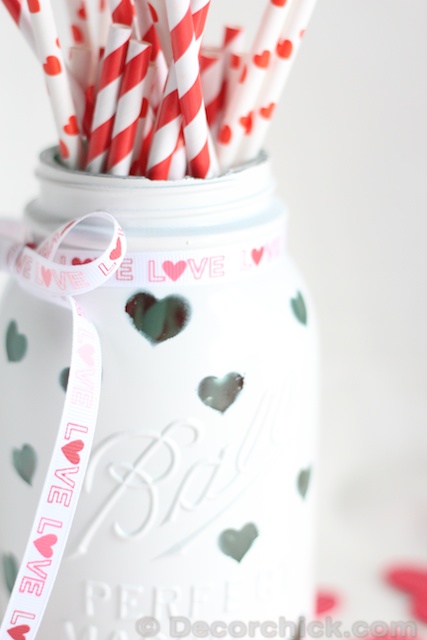 Not a huge issue and if you're patient you can just scrape off that overspray with your finger. I did that on a few. I peeled up my stickers when the jar was dry to the touch so I could handle the jar, but the paint was not totally dry or anything. Just be careful and take your time when you peel them up. :)
I bought the cute paper straws from Michael's. And we are having a Valentine-ish baby shower for my sister in law in a few weeks, and so this is what I will serve the straws in. :)
This is what the "Ball" side of the jar looks like and I love it too.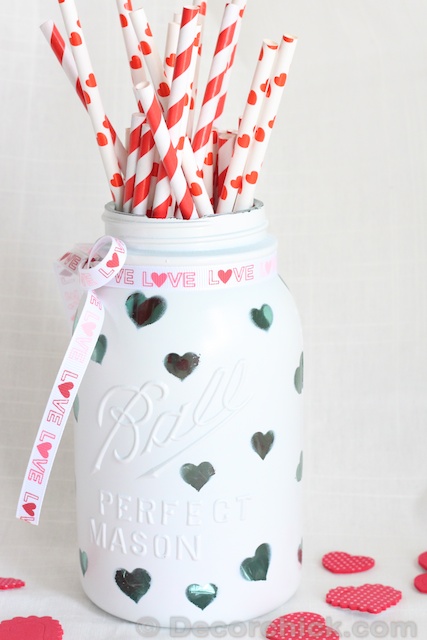 And remember you can use whatever color of paint you want for this! I chose white because I wanted to be able to use it year round for things and not limit myself to pink or red.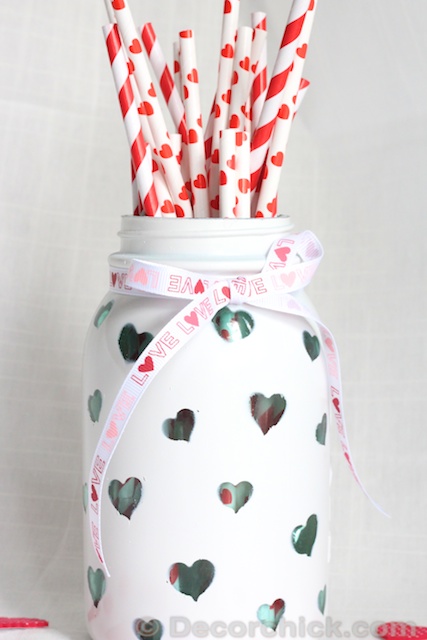 Whatcha think? There are SO many great uses for mason jars. I just love them and decorate with them all the time. I hope you aren't sick of seeing them. :)  You can check out my DIY Aqua Mason Jar Vase here, and my Mason Jar Soap Dispenser here for other ideas.
What crafts have you done for Valentine's Day? Is something you think you might try? Stick some flowers in this one too and it would be super cute! Sharing this post at My Blessed Life's Valentine Party and Sarah's Before and After Party.
xxoo,
Decorchick!
Let's Connect!