…until I did a search on Google and saw that these have been made…like all over the place!  I should have never searched to make sure.  What a buzz-kill!  It was just too clever that someone other than me thought this idea up.  Haha.  But, I'm still going to show you!
So, remember one of my mason jars I just scored recently from the resale shop?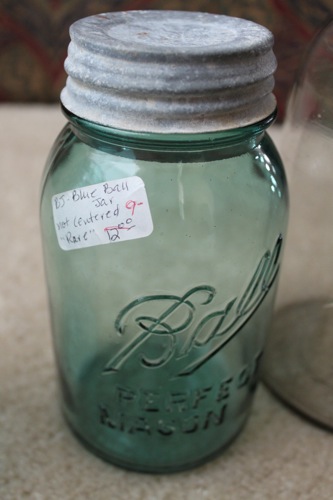 Well, I came up with the idea to make a soap dispenser!  :)  Well, my idea until my dreams were crushed via the internet, but oh well.  :)
First I drilled a small hole in the zinc lid and finished it off with a little hammer and nail.  On these types of lids, underneath is hard ceramic stuff.  It ended up breaking into pieces anyway.  I tried to remove it first, but couldn't get it so I just broke it up.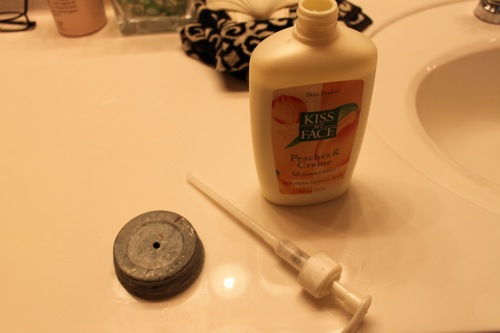 Then I took an old pump from a bottle of lotion that's been under the cabinet for I don't know how long, and carefully fit it through the hole.  I had to work around the lid and cut a little bit here and there so it would fit.  The original zinc lid is very fragile.  But you could make these with any mason jar lids.
Then, assembled it and admired my someone else's creation.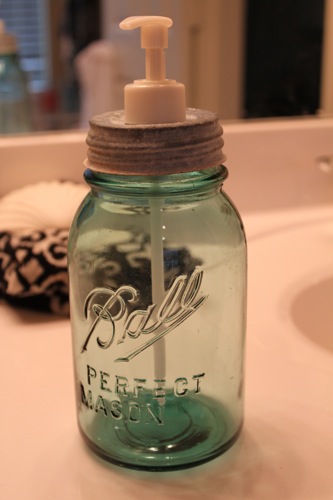 And then added some soap!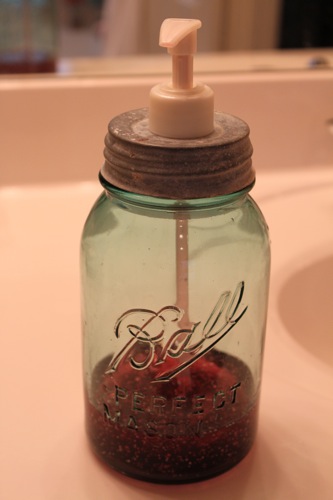 I promise that is pomegranate soap and not strawberry jam…
Then I had it in the kitchen where it lived for a short while, but now it's in our master bath since it matches our master bedroom.
Isn't it cute??  It's a big jar and would hold probably a gallon of soap, so that's why it's not filled all the way.  I'll have to buy 2 huge bottles of soap to fill it up all the way.  But I probably won't do that either since I like to switch out my soaps.  :)
You like it?  :)
I have a moral to this post.  Don't do a google search on something you think YOU thought up, before you do the project.  Haha, just teasing.  :)
*Please click here to see the parties I will be linking to*
xxoo,
Decorchick!