So I mentioned in my last post I've been doing quite a bit of cleaning up around here. I mean, like thorough, going through the stuff you always put off kind of cleaning up. And this craziness all started a few weeks ago. All because of THIS book my friend recommended (Thanks Jill!).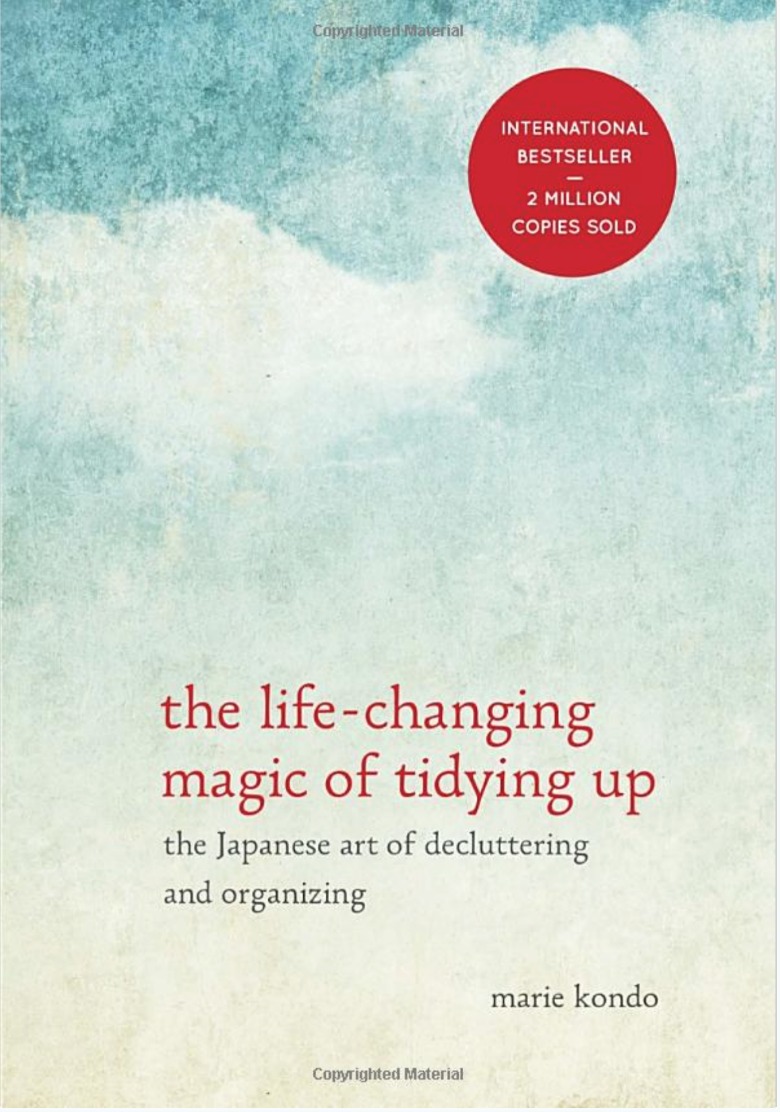 But it's started a hustle in me like never before.
I decided that once and for all, it's time to get our lives in order. And by that, I mean to have our HOME in order. I don't function well when things are a wreck and cluttered and disorganized. But yet, it's human nature to just sit on it, longer and longer, until you just explode. I wouldn't say I exploded necessarily, but something changed in me once I started reading this book. All I could think about while reading was "YES, YES, YES!" "I NEED THIS IN MY LIFE!"
And then I got busy getting our home in order. REALLY busy. I started a few weeks ago and have been going ever since.
But the most important thing to realize here before going any further is this: the purpose of doing all of this and tidying up a certain way is so that the clutter never returns. That's what usually happens, when we all just do a big purge with no real purpose other than realizing we have too much stuff then get rid of it, and then sooner or later, you have accumulated more stuff. More CRAP. More crap that causes you to be in the situation you were a month or a year prior.
I don't want that y'all!! And probably neither do you. And this book has really helped me to realize some basic fundamentals of items you bring into your home, and how to figure out which things to discard of.
The basic principle is this:
discard of anything that doesn't bring you JOY. That can be clothes, shoes, decor items etc. Anything really!
But I won't tell you everything here, because honestly you just need to read the book. It's a short and easy read I promise! And you won't want to put it down.
And only work on YOUR items at first. Or things that would be considered community property, like old dishes and such that your husband may have no idea about. ;) If your kids are too young to distinguish this idea, help them out too by hustling on their things. Kids love a clean and clutter free space just as much as you do! But again, you need to read the book so you can really understand the proper order in which things to discard of first. She has a method for this, and I have stuck by it.
Now, I will say, some of the things in the book are a bit quirky. But you can take it or leave it. I haven't spoken to my clothes or shoes or thanked them for serving their purpose each day, but hey, maybe I should.
I have decided I am not holding on to that craft I made 5 years ago and never used again just because I made it. I've decided I'm not keeping those brand new pillows that came with our sofa that I never liked, just because they are brand new. I've decided I'm not holding on to those makeup samples that have sat under my bathroom counter for who knows HOW long (and probably are expired), just because they were free, and maybe from a good brand. I could go on and on.
Those things y'all.
That's what I'm talking about here. And those are the things I've been hustling on for the past several weeks!! And I'll tell you what. I have been a much happier person because of it. There is just something about donating or trashing things that don't spark joy any longer, and knowing that those things won't enter your home again. It's FREEING.
AND, our house has been tidy and clean ever since I started this journey and reading the book. That speaks VOLUMES!!!
I've cleaned out our bathroom cabinets, our master closet, closets upstairs, the buffet hutch, the kitchen cabinets, the garage, and I honestly have forgotten how many trips we've made to the Salvation Army truck.
This is the photo that started it all on Facebook, when I started cleaning out a few closets upstairs. This was all donated. This doesn't even include the several bags of clothes I gave away.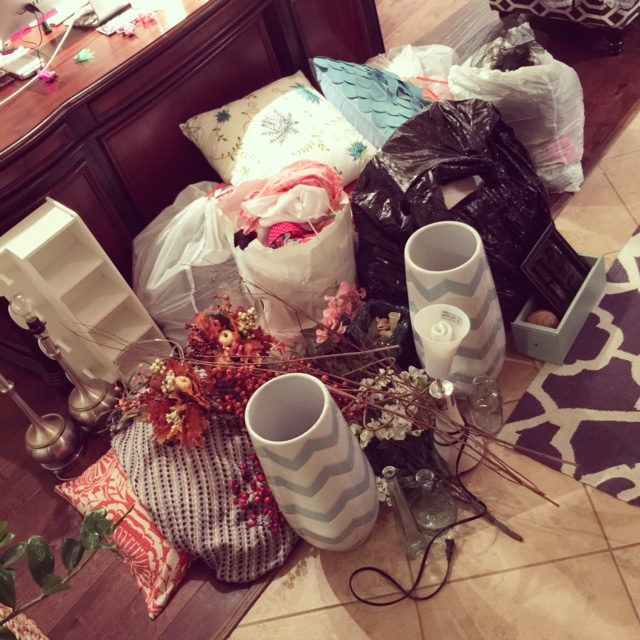 I did that on my own first, then my friend Jill told me about this book. And I haven't stopped since!
I've tried to remember taking a few photos on my phone while in the process, but I have forgotten many times!
This closet upstairs that's in the catwalk that should be a linen closet, but has always been my decor closet, is now pretty empty.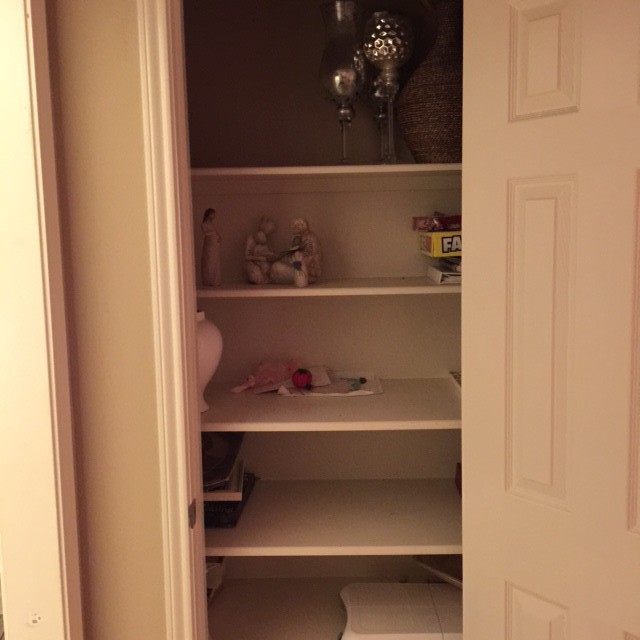 Still need to do a few things and really organize it now. But it was packed to the max!
Remember the desk we had in our bedroom to use as an extra office space? Well it always looked like this, but 10 x's worse.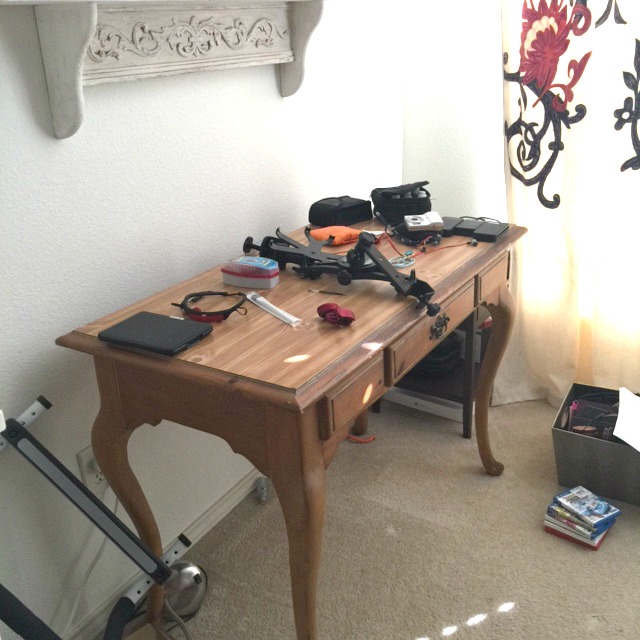 Now that space is clutter free.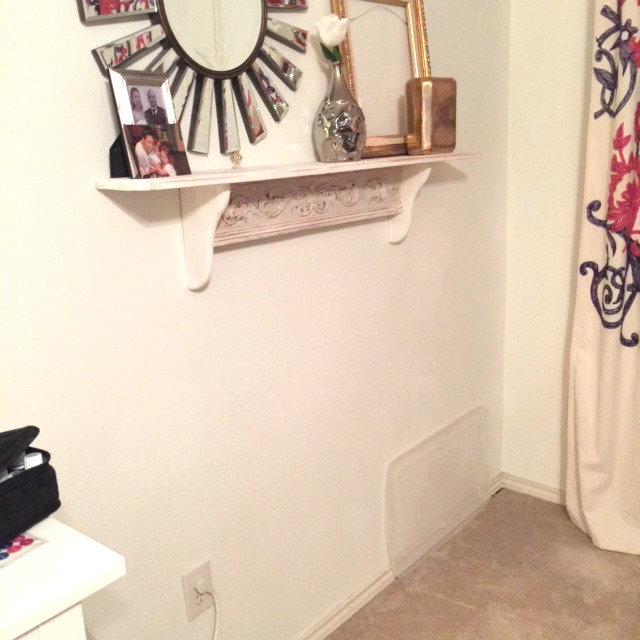 We did not need the desk any longer. My husband has his own office now upstairs, so all this desk did was provide another surface to lay crap on. BYE BYE. It probably went to someone in our neighborhood since I put it at the end of our driveway the other day and it was gone in 30 or less minutes. :)
I totally cleared out the closet is his man room a few days ago.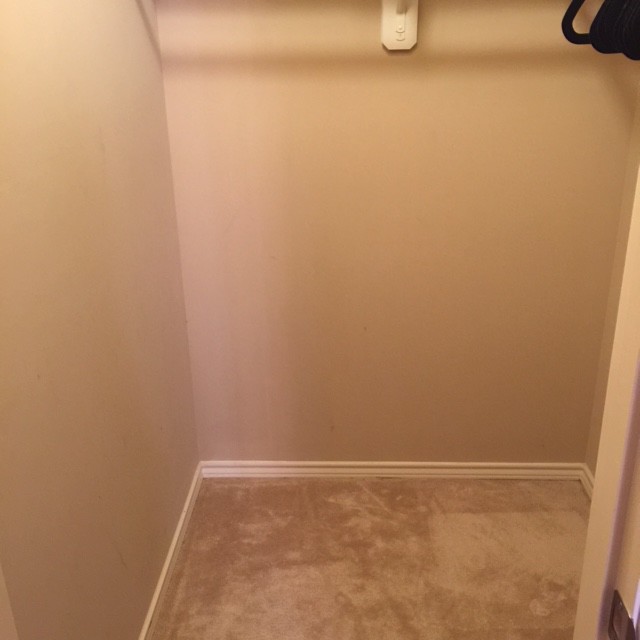 That closet stored a bunch of Christmas decor that could easily be moved into the attic, so that's what we did. Now, he has a place for ALL of his things that once went in our bedroom. Remember he's a musician, so he has lots of instruments, cords, stands, etc.
The book states that everyone in the home should have their own dedicated space for their things, so now he has one! And the kids have one, and I have one (my office).
This is just another van full of items to donate…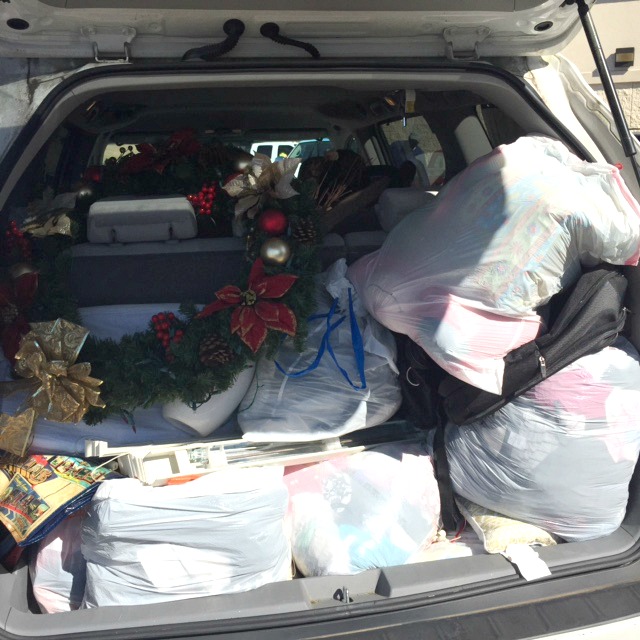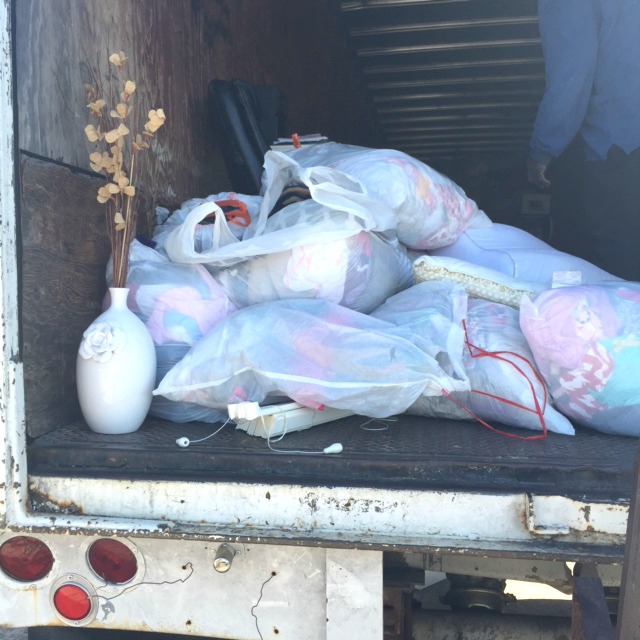 And then the last purge I did over the weekend…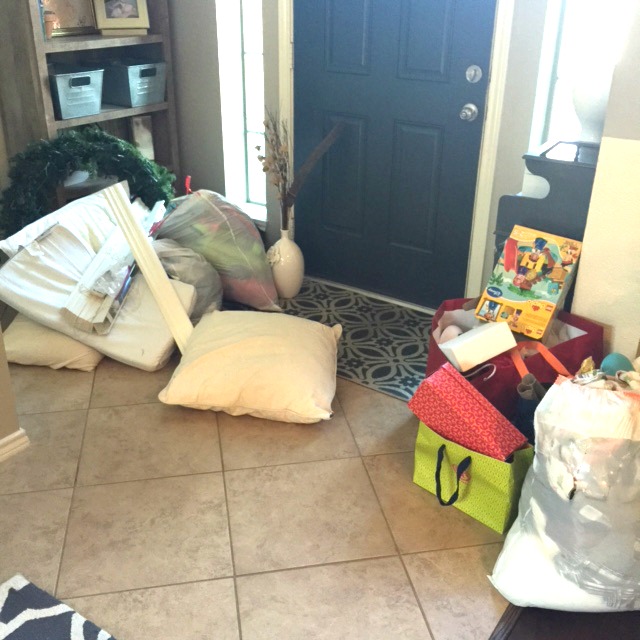 It really is just insanely crazy when you start doing this, and realize the amount of things you have. And things you are holding onto for no good reason. Who really NEEDS that many pillows?? If you start to question yourself and say "but what if we actually do have that guest come stay with us and need 1 of those 10 pillows?" Well then, if they actually come visit, you just go buy one at Walmart. No need to hold onto it and keep the JOY from entering your home because you are using up space.
Trust me guys. Read the book!!! You WILL be a different person because of it. And your life will be changed because of it. I just can't recommend it enough. I am tackling the paper clutter as we speak, and have already done really well with it! She has a very simple method for the paper clutter also….
READ IT! :)
I want less things, and more of life. If you do too, then this is for you.. I feel like a new woman! Not kidding or exaggerating!
Let me know what you think if you read it!!
xxoo,
Decorchick!®