Well friends, today is the day! I'm so excited to show you the latest room makeover that we've been working on for Sherwin-Williams National Painting Week! The orange man room!! And let me tell you something…if you are afraid of lots of color, don't be! Sometimes the things you are most afraid of, like orange walls like I originally was, it works out even better than you anticipated. And now I think it's my favorite room in the house!
So my husband did a lot of this room too and had his own ideas for what he wanted in there. Remember he's a musician, techy guy, and the creative type. So it's a very eclectic room with lots of his own old treasures, and some new ones.
This room needed to function as an office, part studio/music room, have TONS of storage for all of his music and cords, and overall a man hangout place.  Of course complete with a big tv and every gaming system out there. :) (we had all of those already)
So you ready? Here is the man room reveal!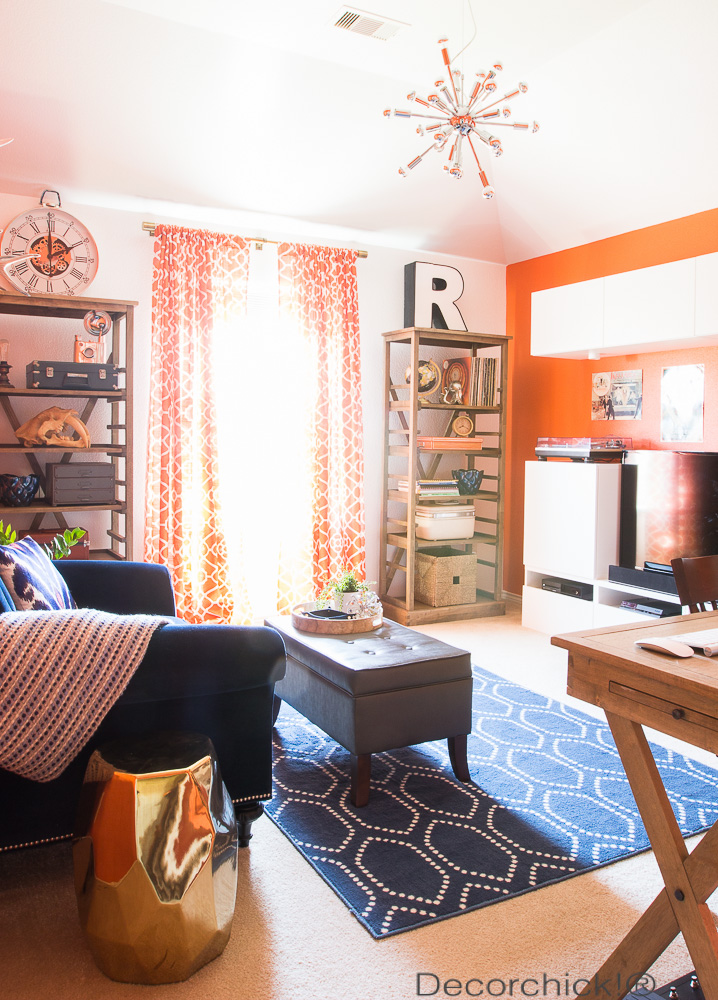 That blue velvet loveseat paired with the bright orange…love at first sight.
Before I get too ahead of myself, let me show you the before pictures of this room. You might faint, so get prepared.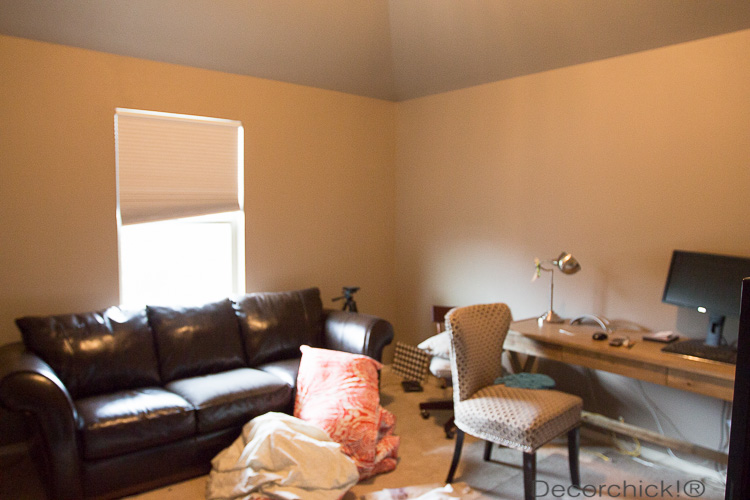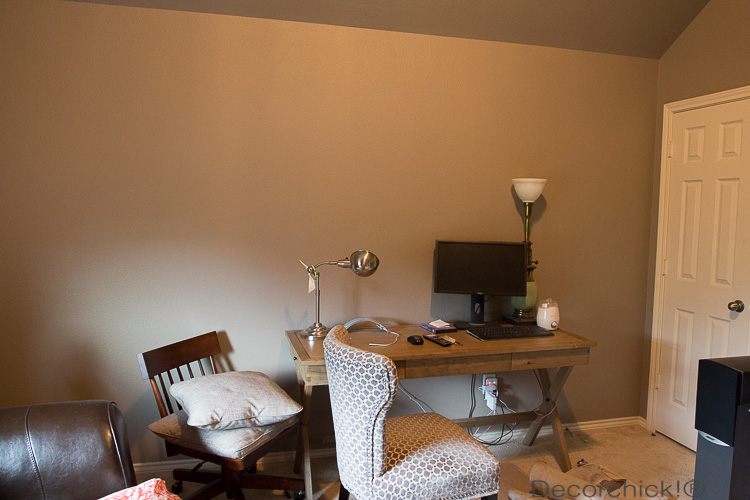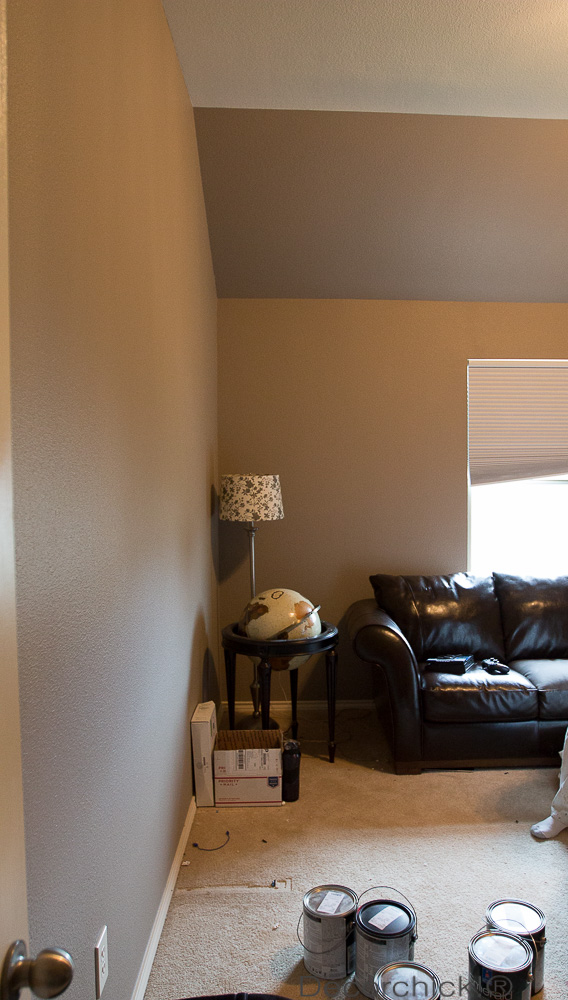 Don't judge us. I know you have those rooms too. Moving on.
Here is another shot of the much improved room. :)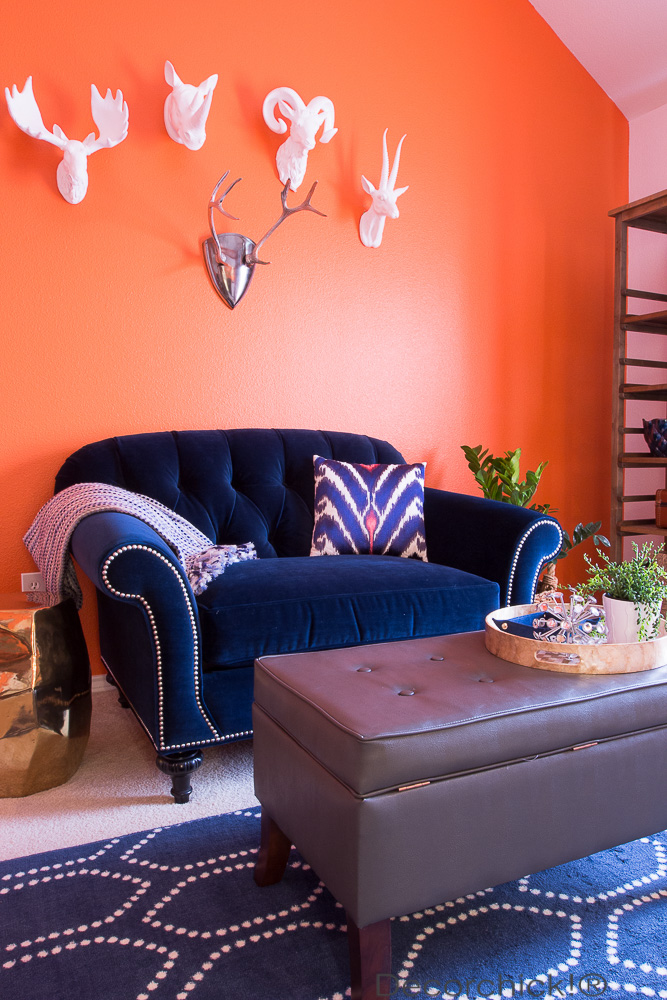 We paired old and new, traditional and modern, and it just worked!
The paint colors used in here:
We did try the Shoji White on that one wall, and we ended up repainting it and just used the same ceiling paint on the wall. The 2-toned whites and the orange just didn't look right, and Randy wanted a very clean and bright room. Their Emerald paint line is my favorite because it covers amazingly well and has the low-VOC.
Randy did want all of the walls orange. I fought him on it and got that one white wall. I'm so glad too because those curtains were made to be against a white wall! There was a time though (when I kept going back to return different curtain panels because they didn't work), when I almost just painted that white wall orange too and was going to just hang up white curtains. But I'm so glad I found these!
I'll include a source list at the end of the post for everything.
So I'm just going to share lots and lots of pictures. Whenever you see weird looking figurines and things of that nature, that's all him ok?
He's always wanted one of those Besta media units from IKEA, so he put all of that together and it looks great in here!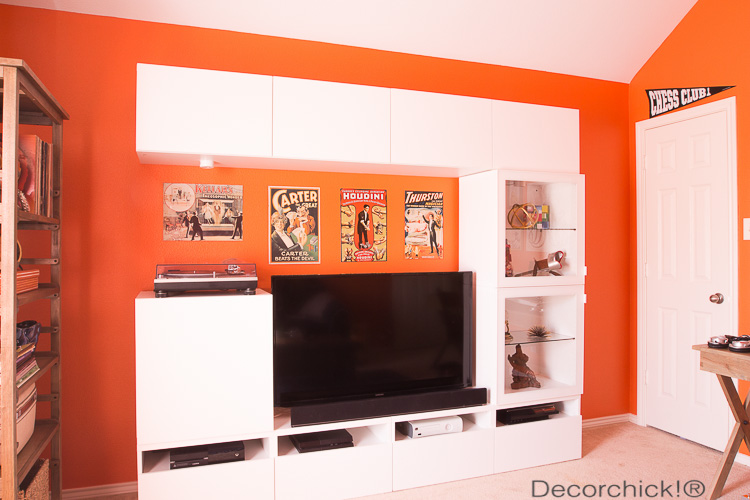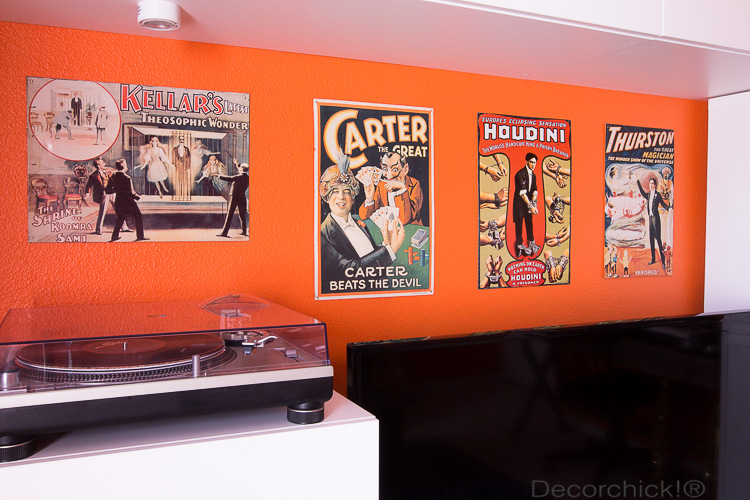 Then he also installed the lighting kits and inside that display case, and it looks so pretty when turned on.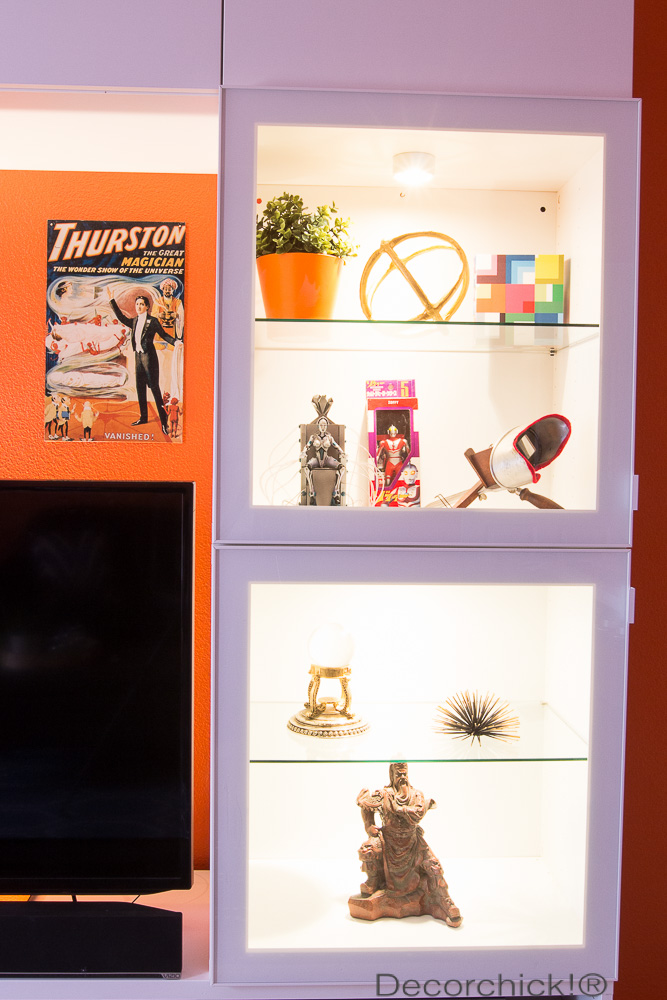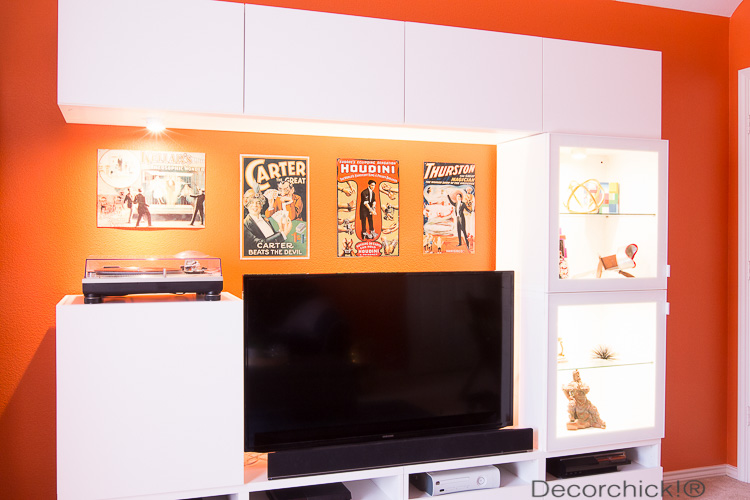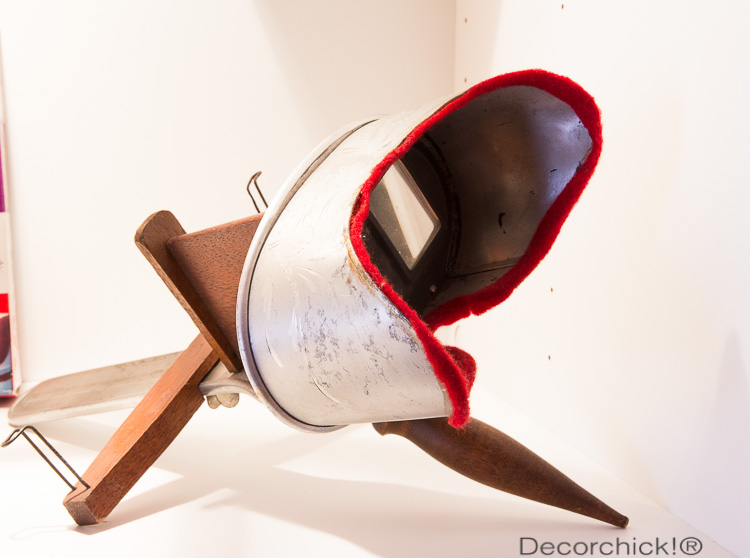 And now he has plenty of room for his record player and records in here!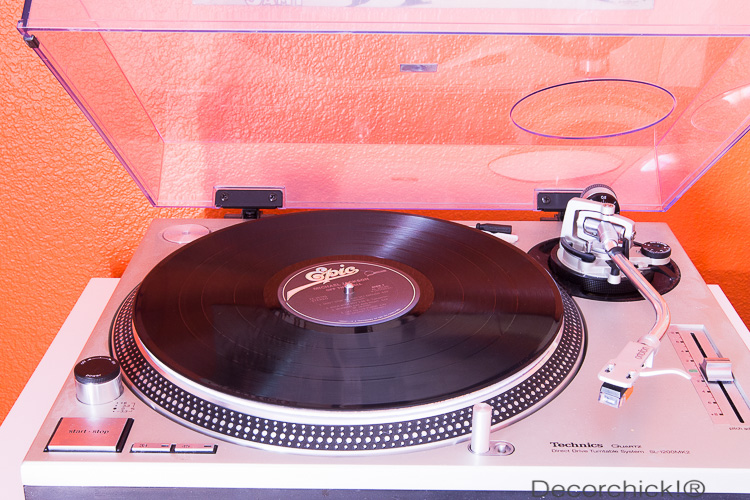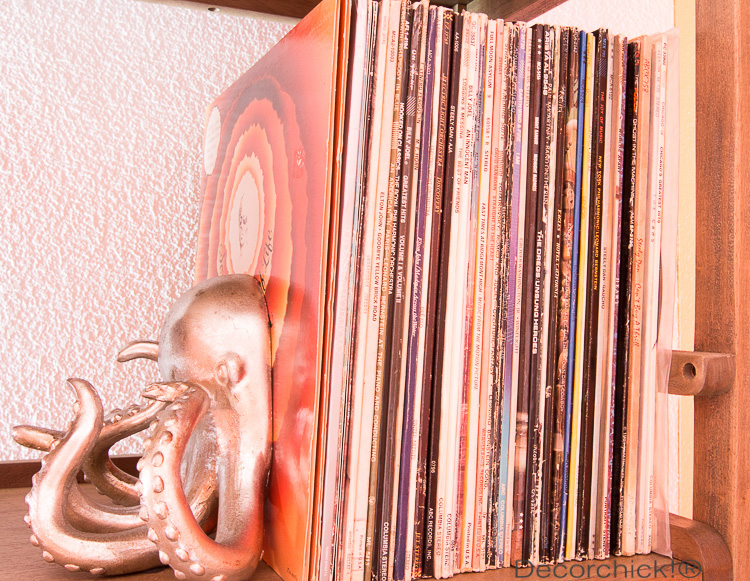 The opposite wall of the media unit has the blue velvet loveseat (more like oversized chair) complete with a few animal heads.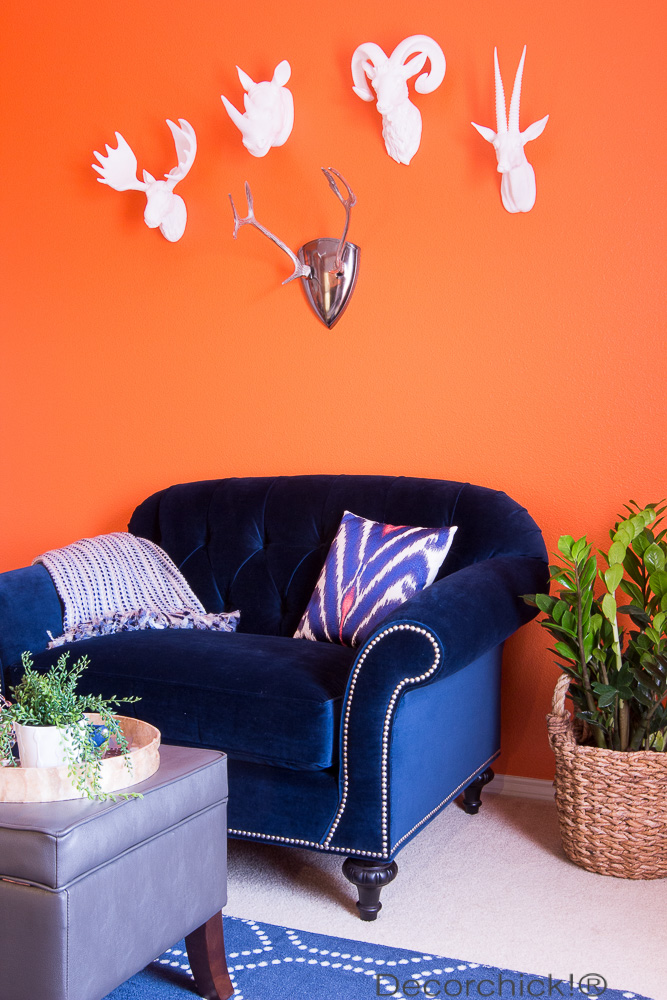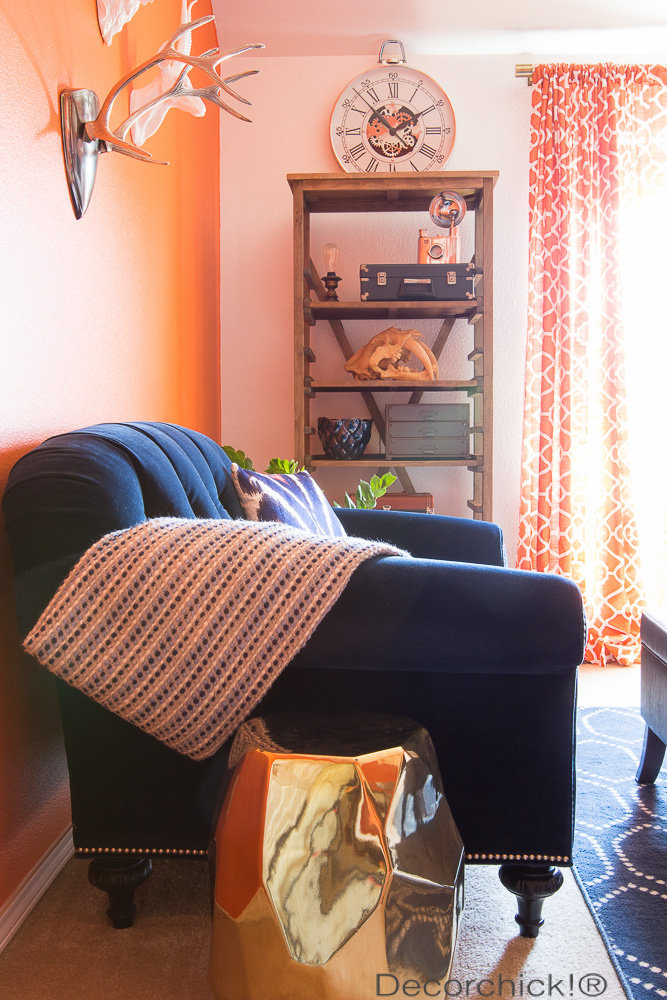 Over on the other wall opposite of the window, is the work area.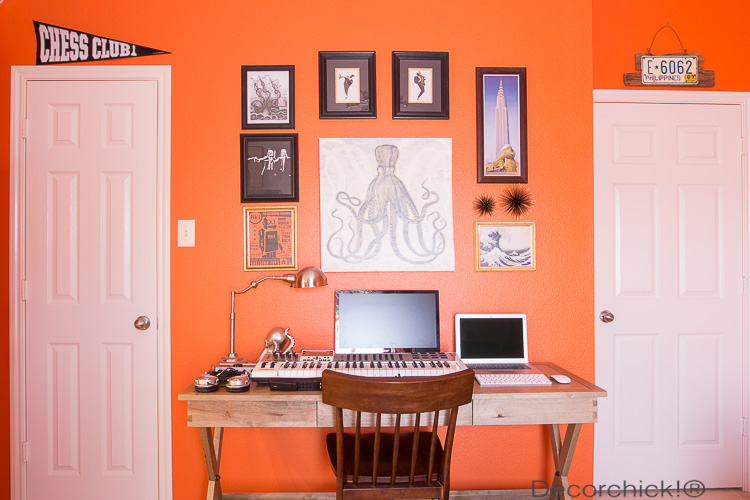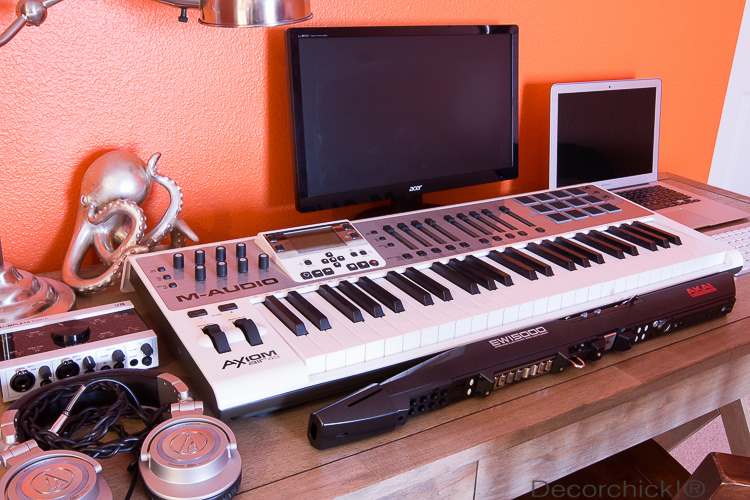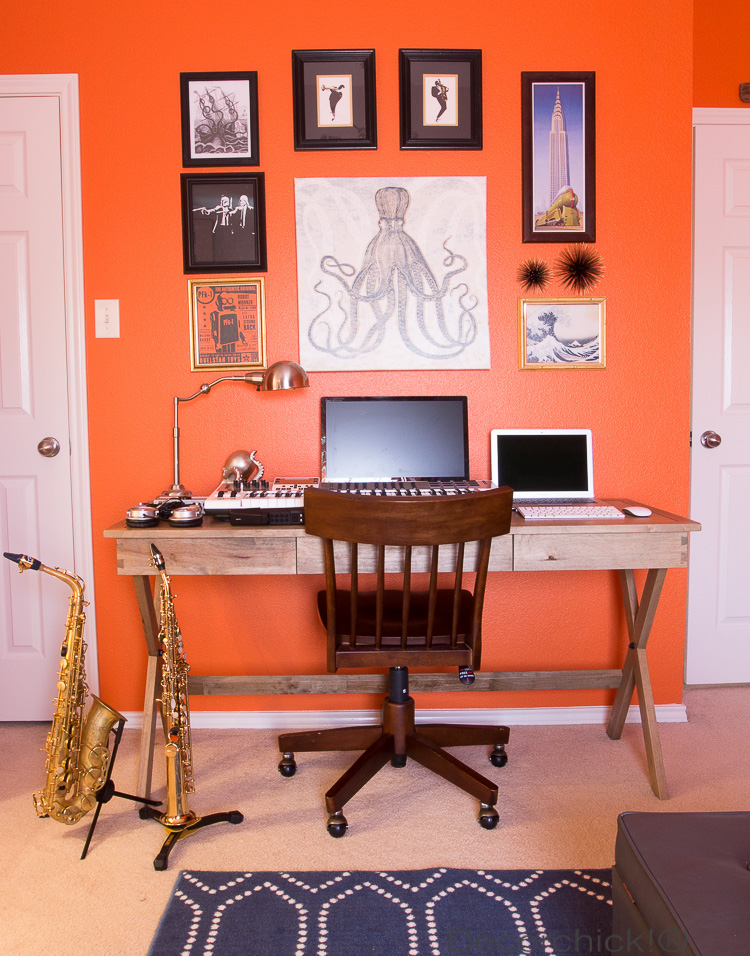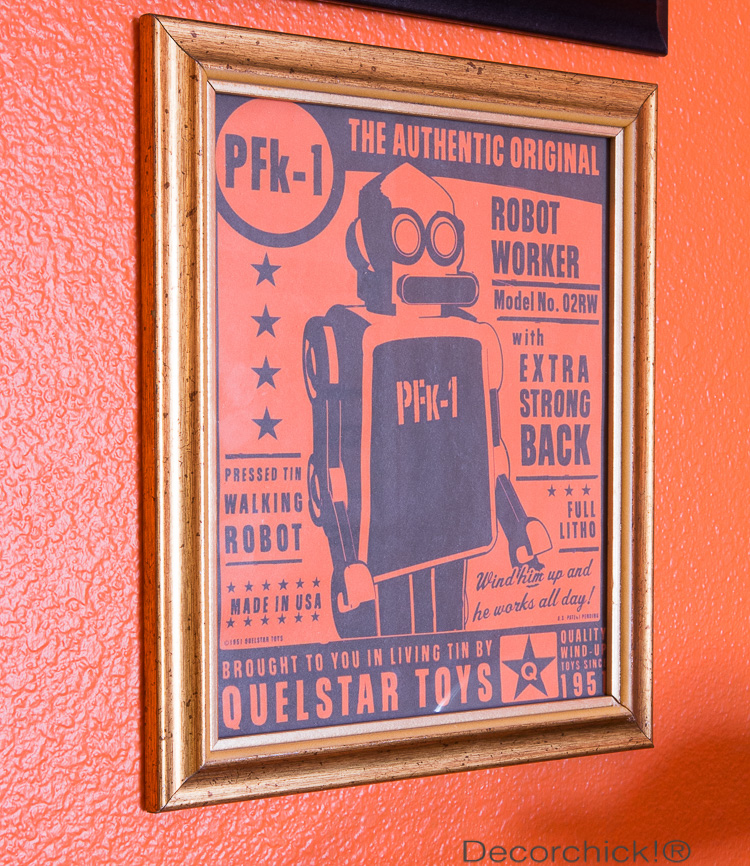 And then we have the 2 bookshelves flanking the window.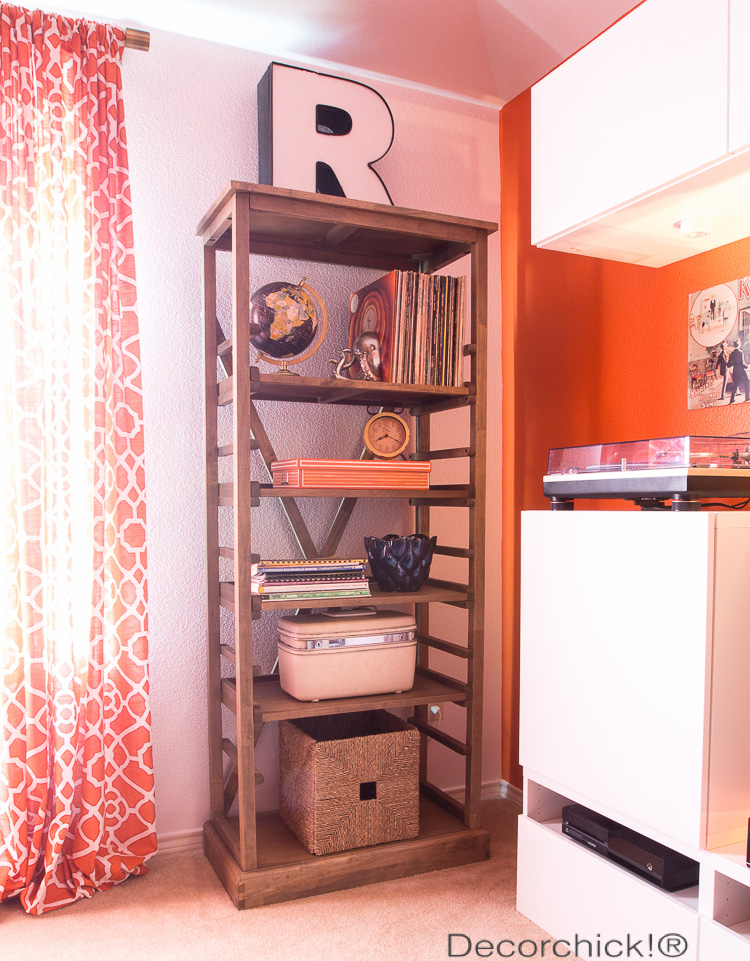 Randy found/had most of the accessories on them too. This freaky thing is new though.
A Sabertooth Tiger. Every man's dream come true.
This light also completes the room.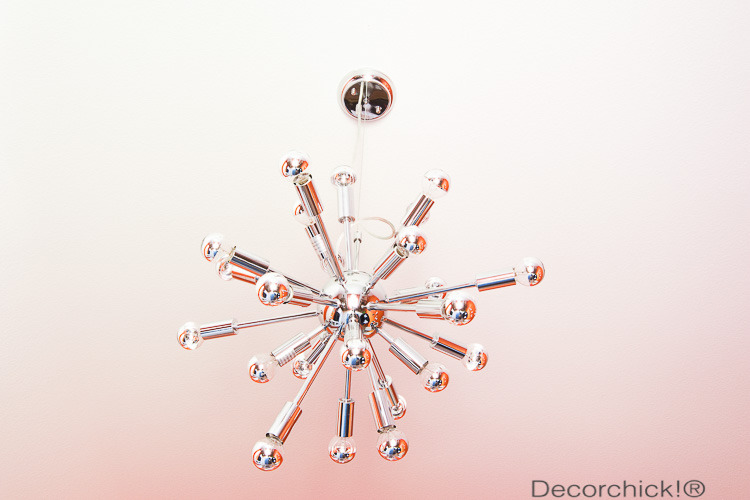 It is SO gorgeous, especially when turned on. It does put out some heat though.
Here are a few more room shots.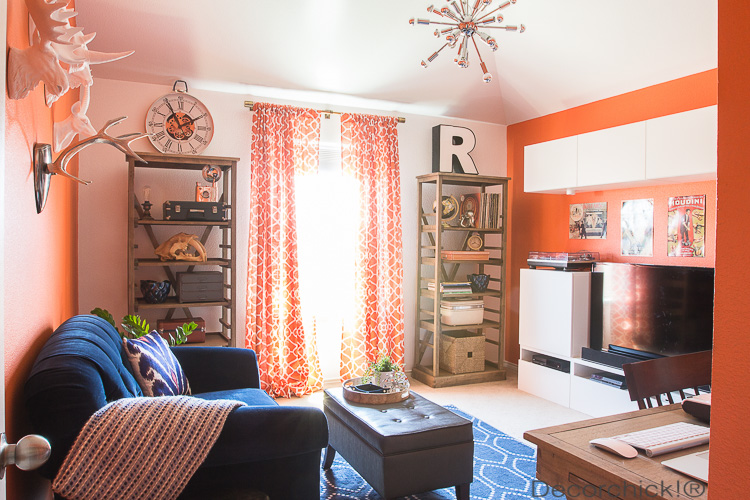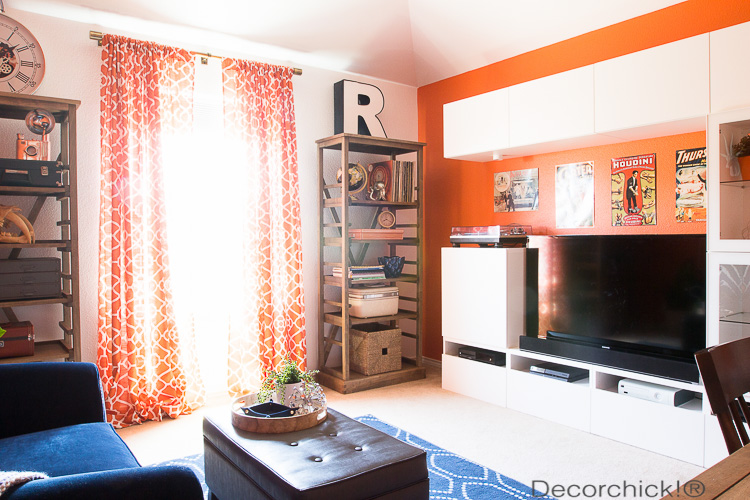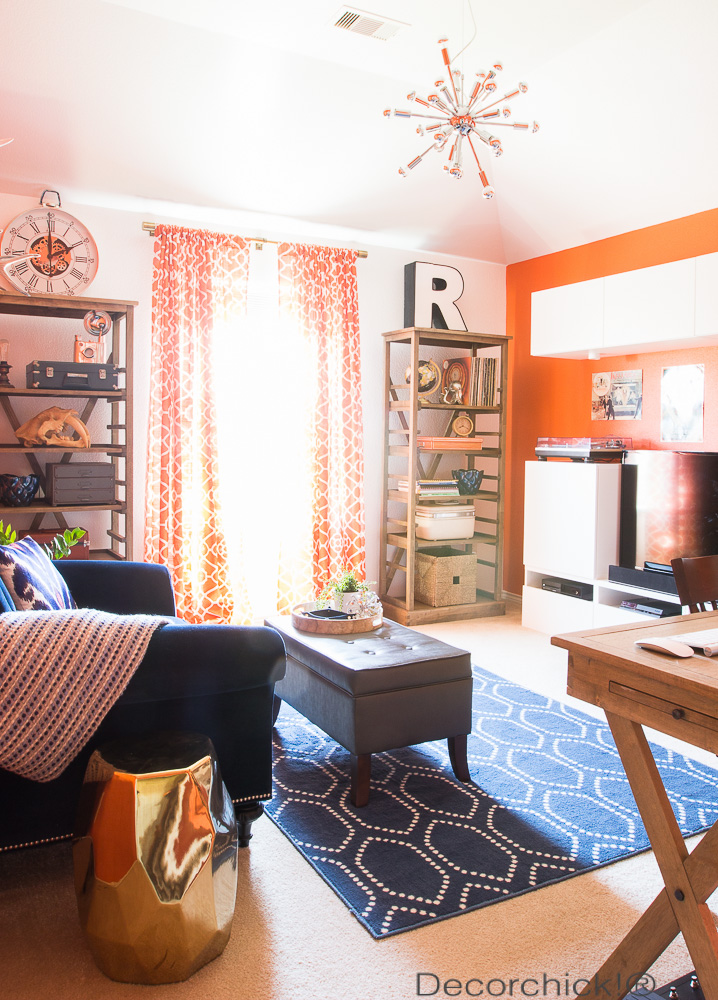 And I think that's about it! It really is my favorite room right now. It just feels good and happy when you walk in. Like every room should fee! But most importantly HE loves his new room and is happy to have his own space.
It's such an honor to participate in Sherwin-Williams National Painting Week, so head on over to their site to see tons of other great projects completed by other bloggers. They all are amazing!
After visiting tell us how National Painting Week has inspired you to maybe start your next painting project? Don't be afraid of color! :)
I hope you love the room makeover as much as we do. This is one I definitely can't all the credit on, because he did a ton in here! Yay for teamwork.
Source list:
Blue Velvet oversized chair – High Fashion Home
Blue dotted rug – Target
Grey storage ottoman – Target
White animal heads – Z Gallerie
Metal antlers – Homegoods
Orange geometric curtains – Z Gallerie
Curtain Rod – West Elm
Besta Media Unit – IKEA
Campaign Bookshelves – World Market
Campaign Desk (already had) – World Market
Gold garden stool – Homegoods
Sputnik Chandlier – Z Gallerie
Octopus Print – World Market
Octopus Bookends – Z Gallerie
Round tray on ottoman – Homegoods
Big round clock above bookshelf – Homegoods
Sabertooth Tiger – Z Gallerie
Then most of the other accessories he already had and are really old, and some he found at antique stores and such. The artwork he already had and then printed out a few new ones.
And I think that's about it. Really this time. :) Tell us what you think!
xxoo,
Decorchick!®
*I have partnered with Sherwin-Williams and am participating in National Painting Week 2015. I have received compensation and as always, opinions, colors, design ideas are always my own. And my husbands.