I don't think I've ever shown you all our patio, and we actually have a nice one!  We had it added on about 2 years ago.  Having a patio is pretty much a must in Texas, and when we bought our home all that was there was a tiny little square piece of concrete, and a little bitty overhang that did nothing at all. After the patio was built it was SO nice to have.  But there was a problem and it was this.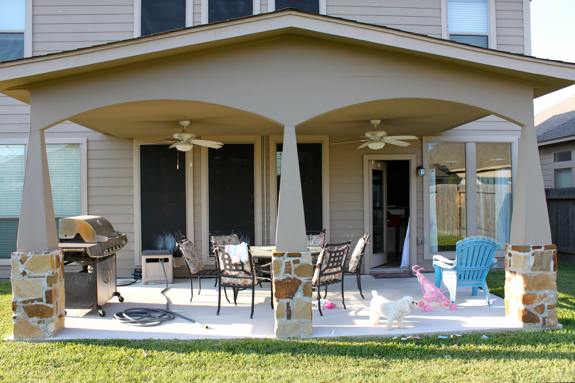 Are y'all singin' Sanford and Son right now?  It's ok, I'll let you.  Besides the obvious that the patio needed to be CLEANED, we had this big table right in the center of it so we weren't able to utilize all of the space. It was a temporary deal from Craigslist, but that "temporary" deal turned into about 1 1/2 years.
See what I mean? Just too big.
But Craigslist to the rescue once again, and now we have all of this for only $250!!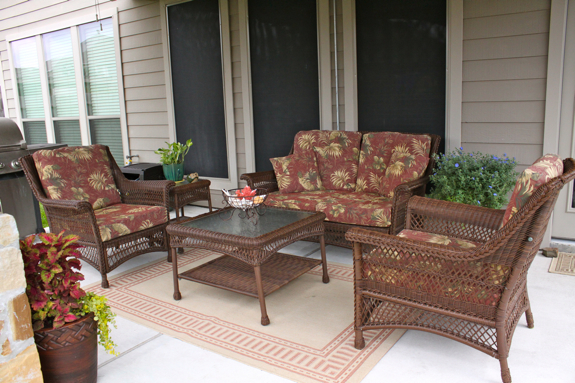 I looked and looked and finally found the perfect set and couldn't be more happy!  This is heavy wicker too…not like some of the other wicker sets I've seen where it seems they will blow away with a gust of wind.  Now granted, the cushions are not my first pick, but that's what came with the set and they are still in great condition.  I hope to find some on sale this year, but gosh, patio cushions are amazingly expensive!  And I can't even find some big enough that fits this set.  These are like extra wide and deep seats.  Even the deep seat cushions that I have found at a few stores aren't the same size as these and wouldn't fit right.  Weird. But the faux coral centerpiece looks great out here!
Here's the full patio all cleaned up.
Better, right?!  Can you believe I never have had any plants out here until now?  Now I can't stop and want more.  It just adds so much life out here.  My mom recommended I try some Coleus (I have 3 now!), Blue Daze and some Creeping Jenny.  She was right, and I LOVE all of them and they have held up exceptionally well.  I've had almost all of these plants for 2 weeks now and they still are alive and kickin.  I feel like such a gardner. ;)  Oh, and I also bought a rubber plant and put some ivy in a little pot on the side table. I'd like to eventually add a few hanging plants as well.
And a few more because it's just so pretty now!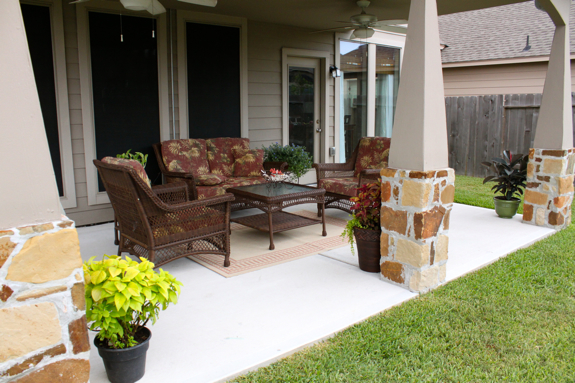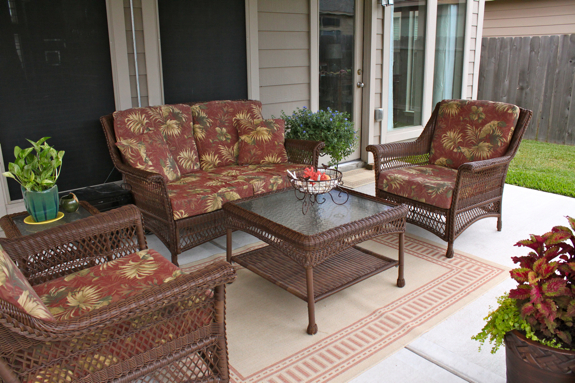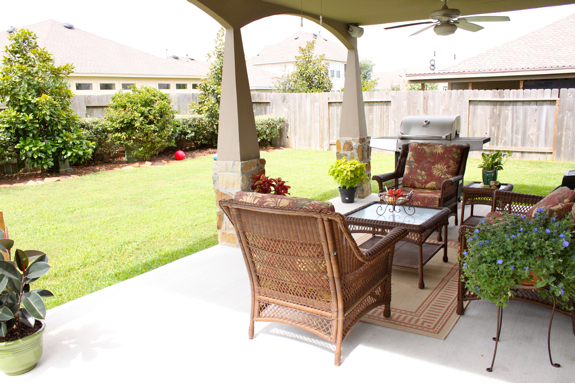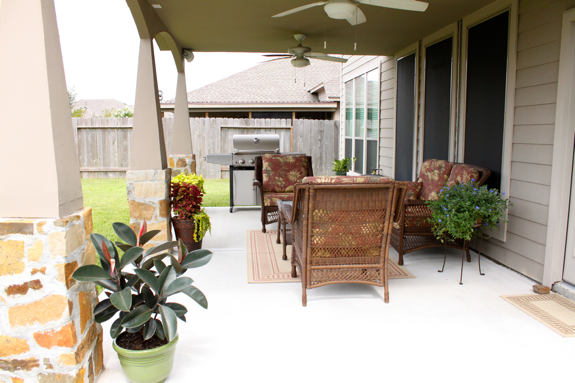 And did you know you can even buy a hose reel that is somewhat decorative?
We needed a new one anyway for the front yard, so I had my husband switch them out so we can put the "pretty" one back here. :)
And just for grins, this is what our patio looked like before we even had the patio built.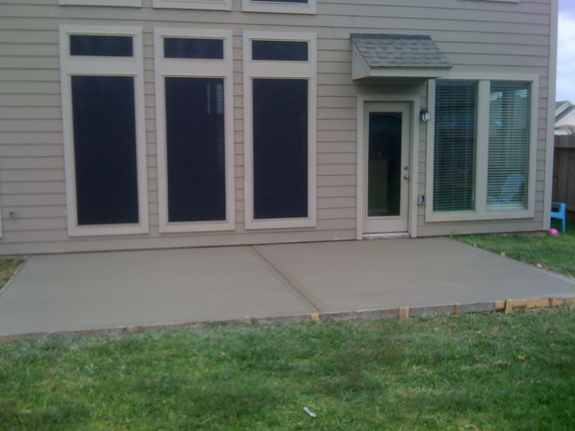 This was taken right after we had the new slab poured.  See that tiny overhang?? What's the purpose, builders?
And here it is today!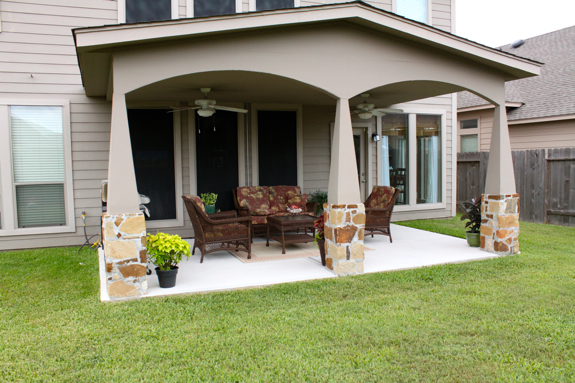 It really is a blessing to have a covered patio and we are so grateful!  And I'm grateful to Craigslist for an awesome deal on patio furniture because outdoor furniture is expensive!
Oh, and the little outdoor rugs are from Garden Ridge. They have a great selection of rugs, indoor and out.
So have y'all been decking out your outdoor space too?  I'm having lots of fun now and can't wait to go back to the nursery for more plants. Sanford and Son no more I say! :)
Sharing this post at Sarah's Before and After Party and Tip Junkie and Between Naps on the Porch.
xxoo,
Decorchick!