Well I don't know if it's really famous or not, but a lot of you emailed me to please put up the recipe so I am.  It actually is pretty famous in our family though, and quite the treat…a very sweet treat.  Interesting fact: My Grandma got this recipe in 1947 from my Dad's great-Grandmother, and she got the recipe from her sister, so there is no telling how old this recipe is.  It's old, very old.  At least over 100 years for sure.  All good things come from Alabama. :)
Now, all I did was scan the recipe that my Grandma gave me years ago and uploaded to the computer, so this is her original recipe and handwriting, with notes and all.  If you click on the pictures you should be able to print them out.
The first 2 pictures are for the cake recipe.  The 3rd picture is for the icing.
Cake…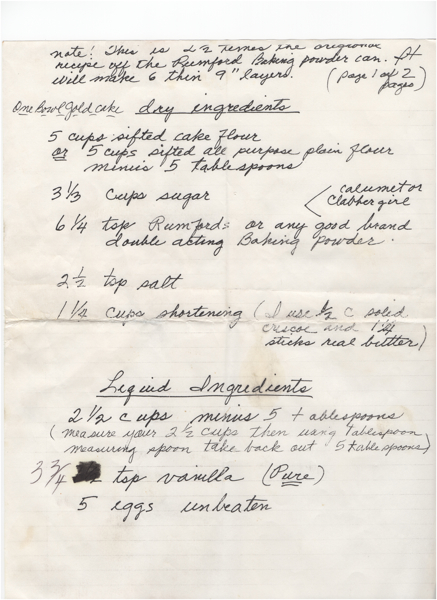 *Edited to add – the 2 1/2 cups liquid ingredient is milk.
And the icing…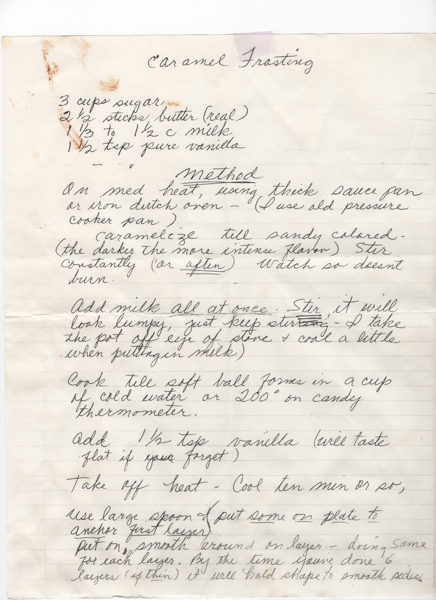 Now, just so you know, when family members have tried to make the icing, it has turned out to be a disaster because the icing will get lumpy at one point and then you think you've screwed it all up.  But you haven't.  Just keep following the directions and it should turn out. :) The icing is the hardest part.
Here is my Grandma icing the cake…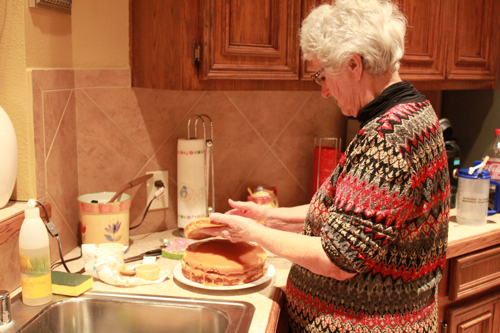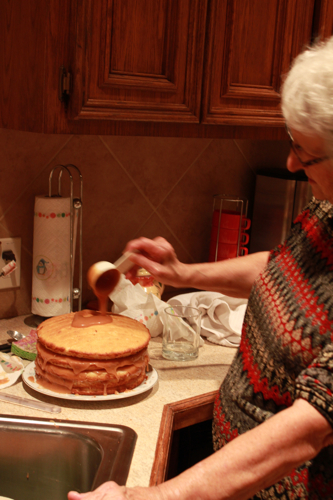 Hopefully your layers won't split and hope your cake doesn't slide. :)  That has happened many times too!  But it still tastes good if your cake does happen to do that. :)
A few other important things…if at all possible, wait to cut the cake until the next day or even the day after that.  This cake gets SO much better the longer it sits.  The first day it's really not all that.  But that second and third day and on and on….Mmmmm mmmmmm!
Now the other important thing to note: DO NOT, I repeat, DO NOT cut the slices like your typical wedge, or how you would normally slice a piece of cake.  You need to eat just very thin pieces, otherwise you will get sick. This cake is very rich and extremely sweet.  My Grandma just slices one end off for the first piece(that piece will have lots of icing and is delicious), and then just continues slicing in thin squares. You'll be cutting directly across your cake until you get to the other side.  So basically, your piece of cake will be lying flat on your plate.
Here is a picture so it might make more sense.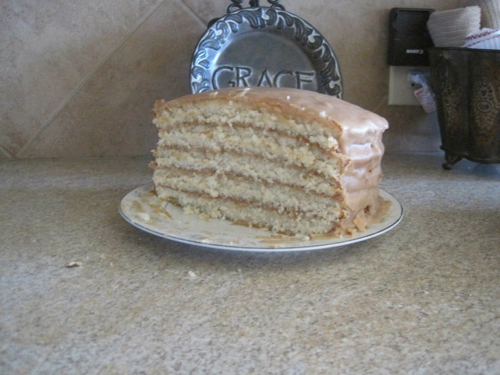 All in all, just pray that you get your cake to look as pretty as this.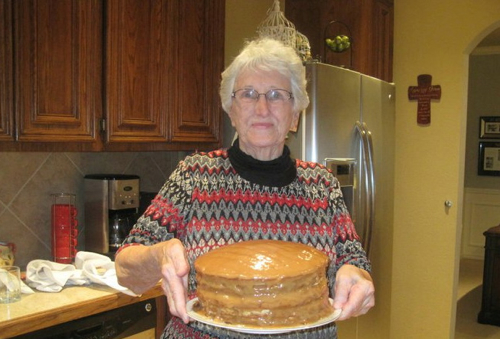 Please let me know if any of you attempt to make this.  I'd love to hear how it turned out and so would my Grandmother. :)  Y'all are very special to get this recipe! :)
Linking to Funky Junk Interiors and Under the Table and Dreaming.
xxoo,
Decorchick!