Happy Monday!  Today I am going to show you all a new addition to the boy's room and I just love it.  It's a huge world map wall decal that my sponsor Curly Q Wall Decals and Decor sent me.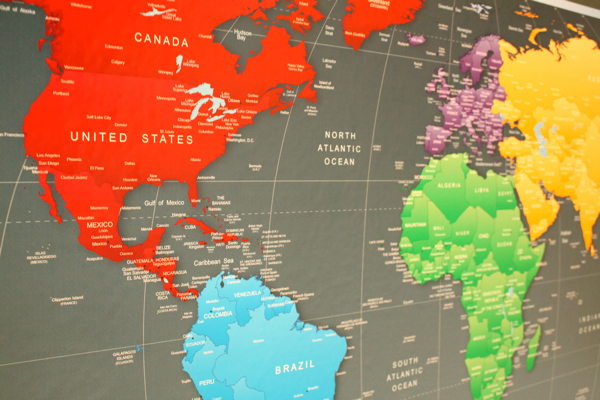 I love the vibrant colors and this map is huge measuring at 26 inches tall by 52 inches wide.  It also comes in 2 different color options which I also love.  You can see those here.
One of the great features about this map  is that it's reusable.  So whenever you want to change up your room decor or move this map to another part of your home, it peels right off the wall with no problems, and adheres back to the original paper it came on. You can either reuse it somewhere else or store it away. Whatever floats your boat. :)
I put up the map by myself and it couldn't have been easier.  Just think of it as a giant peel-off sticker and you just stick it on the wall.  Seriously so easy!
It looks great in his room too which I might as well just wait to show you the reveal next year now. Haha.  You've waited 9 months already so what's another few weeks? ;) But I love how it looks with the spray painted lamp shades too!
Stay tuned this week for a great giveaway from Curly Q Wall Decals and Decor…you'll love their items!  Feel free to go ahead and peek around now too if you'd like. :)
xxoo,
Decorchick!