Well I gave you all a little sneak peek last Friday about the bathroom we've been redoing, and today I'm happy to show you the full meal deal! Welcome to the much improved powder bathroom makeover.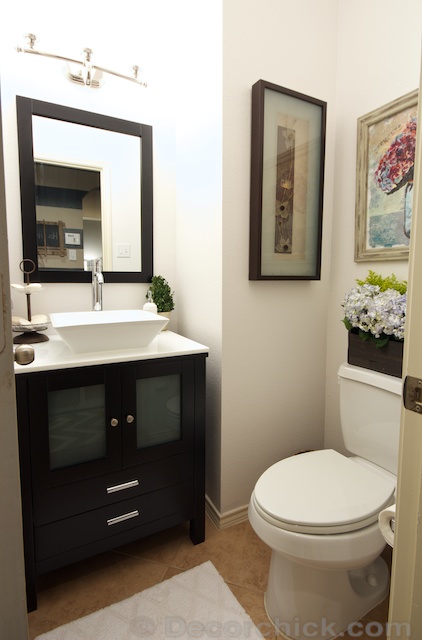 We love it so much and it is so thrilling to mark this room off the ole to-do list.
Like I mentioned last week, myself and a few other bloggers teamed up with Virtu USA to redo our bathrooms using their luxury vanities. And luxurious they are! There is also a great giveaway to enter to win your own dream bathroom makeover too.
Now I haven't shown this room before on the blog, so here is the builder beige before.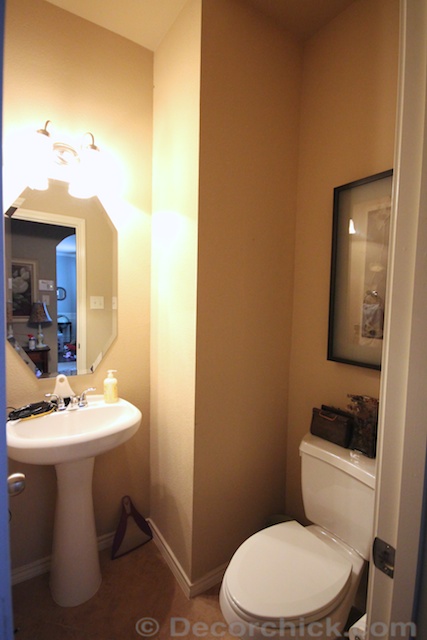 That was a really old picture I took a long time ago too. I cleaned it up for you.
But sadly, this room has been like this ever since we moved in. I hung one thing on the wall and called it done. And I was really excited to have a pedestal sink when we moved in, but now I realize really just how inconvenient they are! Absolutely no counter space at all, no storage, and people always needing toilet paper because there was no where to put it. Just ask my mom.
But now I am so happy to have counter space and lots of storage!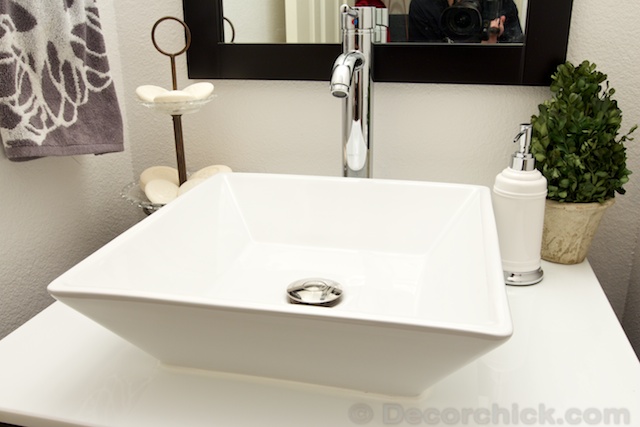 One of the things I love most about this room is that it's a little more modern and clean than what I typically do. I went with that look because the vanity I chose had that style to me. And powder rooms are meant to be fun and different! I still mixed in a little traditional with the modern because that's just me. :)
And hellooooo white walls! That is something new for me too.  The color I used is from Sherwin Williams called Ibis White. Love it! And while I do love the white walls in this small bathroom, I don't know if I could ever do my entire house in white walls. I do love me a little color. Never say never though.
Check out how beige this room was when I started painting on the white.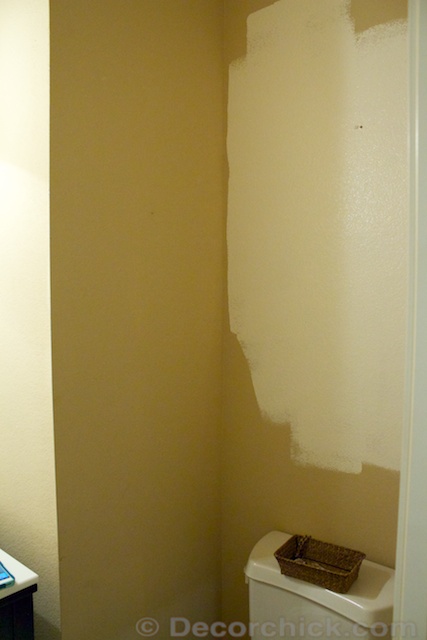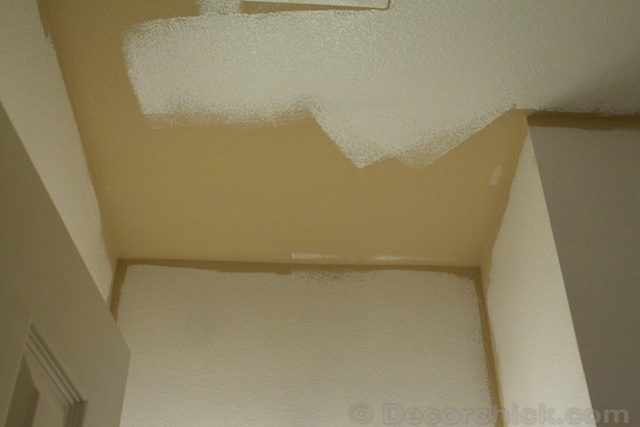 Crazy huh? Even if you can't afford to do a full on renovation at the moment, at least slap some new paint up on the walls and cover up the builder beige. It will make the world of difference!
Oh, and another thing we did in here was upgrade our builder light too. That also, is a fairly inexpensive upgrade.
Light before…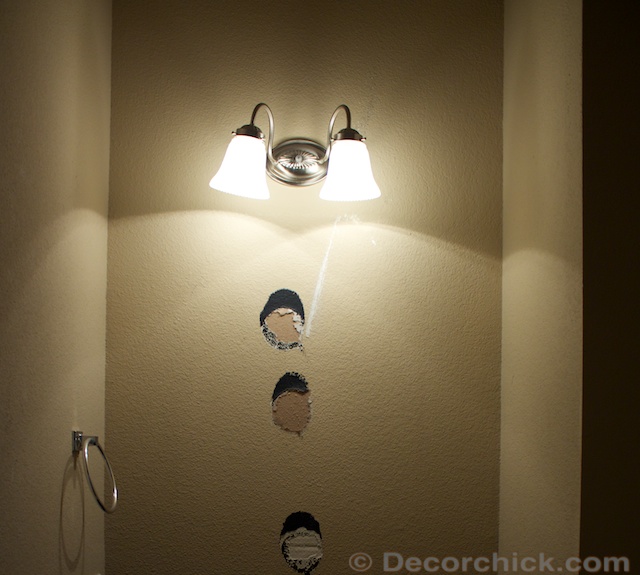 And after.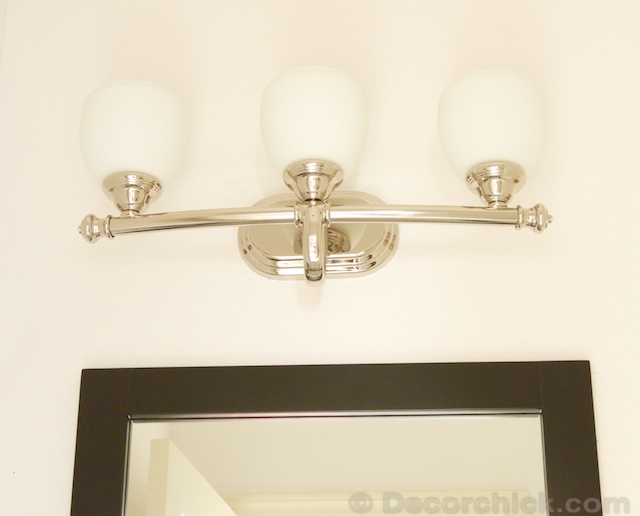 I bought that one at The Home Depot and it's so shiny and pretty. And BRIGHT. I need to take the wattage down a little. :)
I love how the light fixture goes well with our chrome faucet too.
I love love love the faucet and vessel sink!!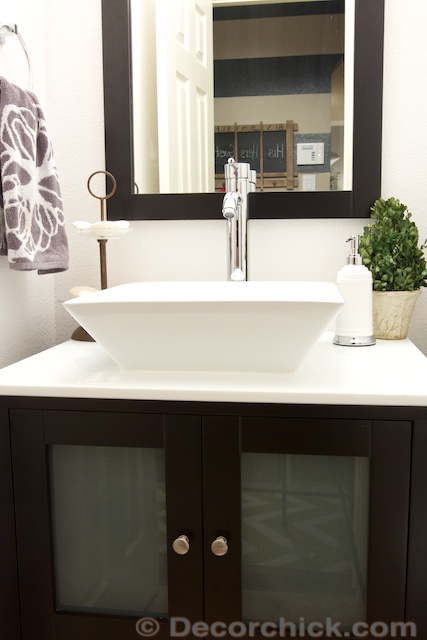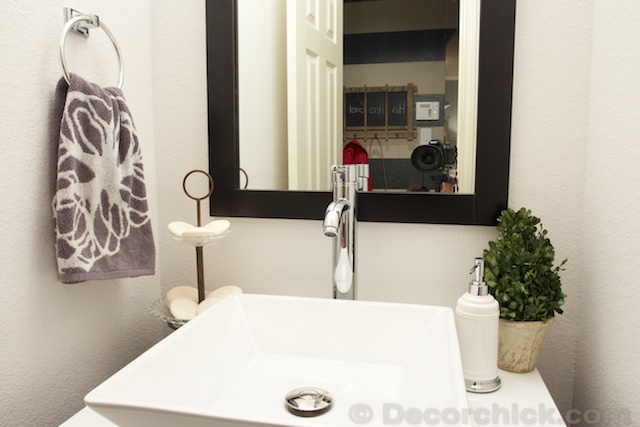 This particular Brentford vanity/basin and chrome faucet is of course from Virtu USA. The mirror also came from them.
And sorry. Some shots I could just not get out of the mirror!  This room is windowless and tiny, so my wide-angled lens was a lifesaver!
For a few accessories, I added a new hydrangea picture from Hobby Lobby, and a little thingamabob on top of the toilet, also from HL.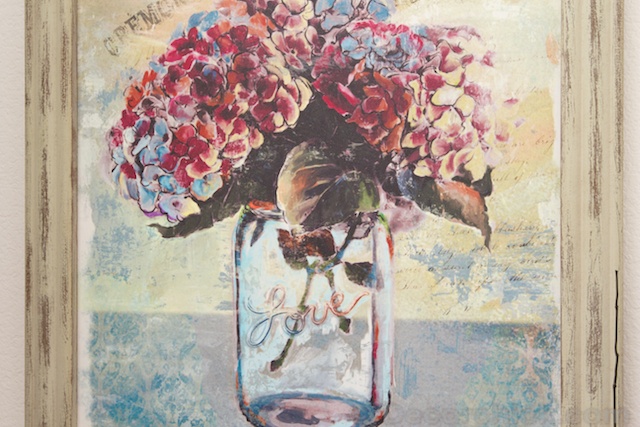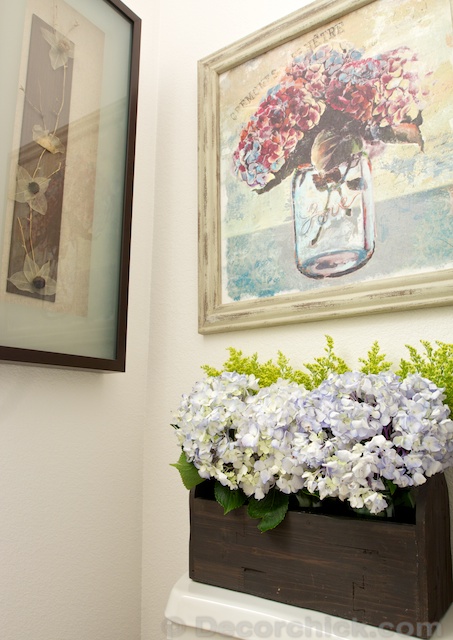 Don't leave the back of your toilets naked. :)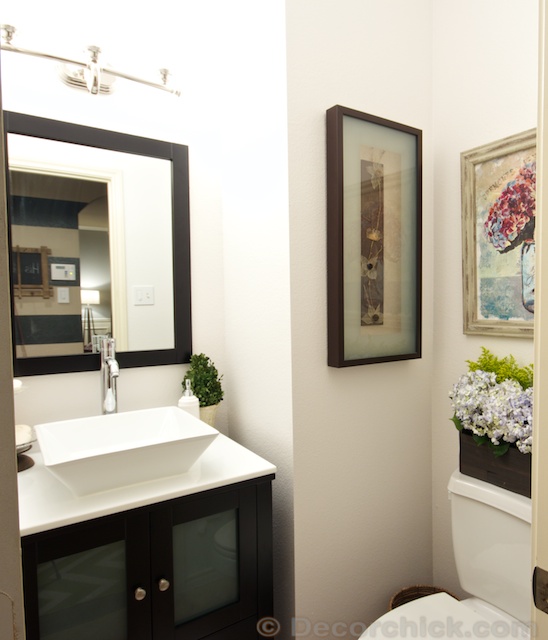 I do have a wicker trash can, and a wicker floor vase on the other side with some sticks.
To see the other bloggers' bathroom makeovers, be sure and check out Sawdust Girl, Funky Junk Interiors, My Blessed Life, The DIY Showoff, The Shabby Creek Cottage, and Remodelaholic.
Here is one more before and after side by side for better comparison.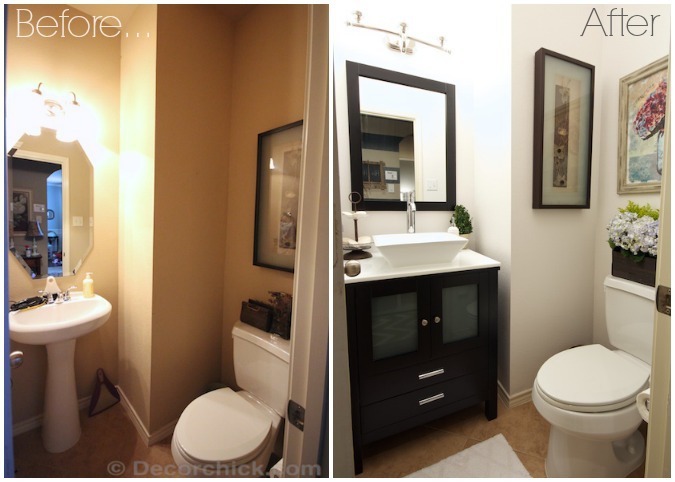 Quite a difference and we are definitely loving it! It feels very luxurious and I am SO happy to have this room completed, especially for when guests come, because this is the bathroom to use downstairs.
Also, don't forget to enter the dream bathroom makeover giveaway at Virtu USA's site.
So what do you think? Do you still have some builder beige to rid of? Need to upgrade your vanity? Sharing this post at Thrifty Decor Chick's Before and After Party.
xxoo,
Decorchick!