Hey hey! Hope everyone is having a good week so far.  I've had a productive one so that's good, yes? :)  And like I told you all earlier this week, I spent a lot of time at our nursery last week.  I was getting some new planters to put at our front door!
Well let me explain…I mentioned how I loooooove those beautiful container gardens right?  So what I did because I don't have a green thumb is that I took my planters up to our local nursery and they did all the work for me.  Yes, I cheated. Why not have the professionals who know what they are doing, do it for me, and for free?  All I had to pay for was the plants.  It was a win win people.
And so here's the porch with my new planters.
And you might be saying to yourself "where's the pink flowers in the planter on the left?" Am I right?  I'm having issues with that particular flower and I don't know why. I think I might have drowned them but I'm not sure so I'm having my mom come take a look and hopefully doctor it up.
But regardless they are still pretty. :)
That wreath on the door is a few years old and is actually the very first wreath I made.  I'd like to make another one but it's not top priority right now.
All of the plants in the planters are shade plants, since we don't get much sun in the front of the house.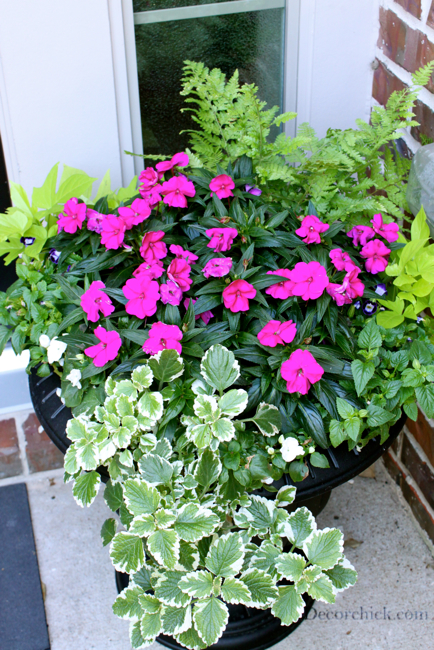 The ones I know of that are in here are:
New Guinea Impatiens (pink flowers as filler)
Fern (used as the thriller in back of pot)
Potato Vine (spiller on sides)
Impatiens (filler)
Iboza Vine (spiller in front)
The only one I do not know is the plant with the little purple-blue flowers on them. If anyone knows let me know!
So anyway, that's about it!  Oh I did buy a new doormat at Target for $11 too.  The Welcome vinyl sign was done a few years ago as well, and I just had a local sign shop print it out for me and I stuck it on. But if you have a Silhouette you can make one yourself!
I'll leave you with a few more pictures now.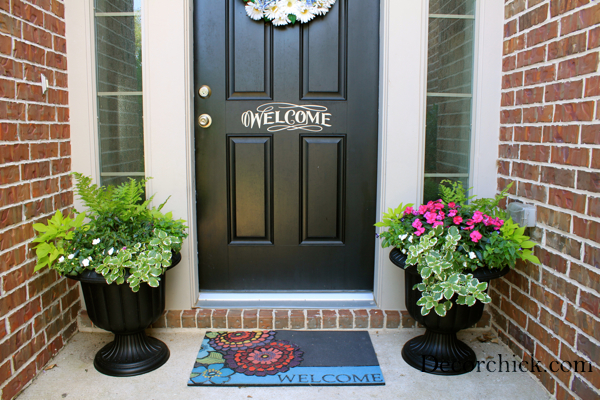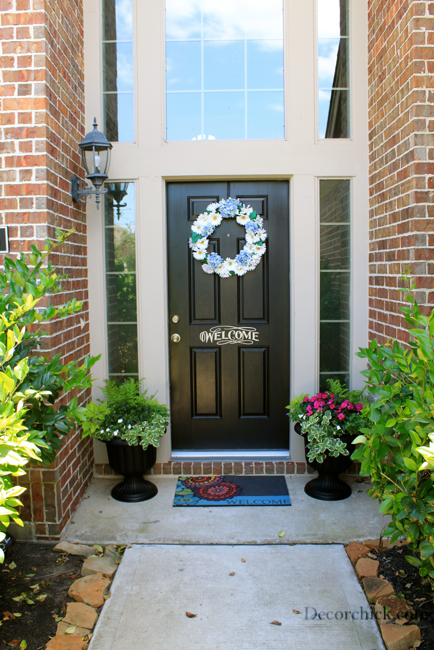 Yes I need to trim our bushes too.  It's not to the point where you get attacked when you walk up, but it's getting there. I should spray paint our light fixture too because it's really faded.  Goodness, the list never ends!  :)
Have you been doing any sprucing up to your outside areas?  I'm trying to get it all done before it gets too hot here! Sharing this post at Sarah's Before and After Party.
xxoo,
Decorchick!