My front door has been so naked without anything on it.  I don't know why wreaths stress me out, but they do.  Then once I do it, it's SO easy.  But all of those aisles at Hobby Lobby with strands of greenery and flowers everywhere just makes me nervous.  I'm a dork, I know.  I guess when there is too much of something, it just overwhelms me.
So, here is what I got.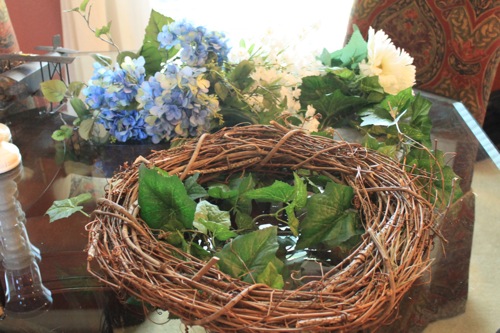 Since I like real hydrangeas and daisies, that's what I got for my wreath (the fake ones of course).  Put those 2 together along with some greenery and you get this…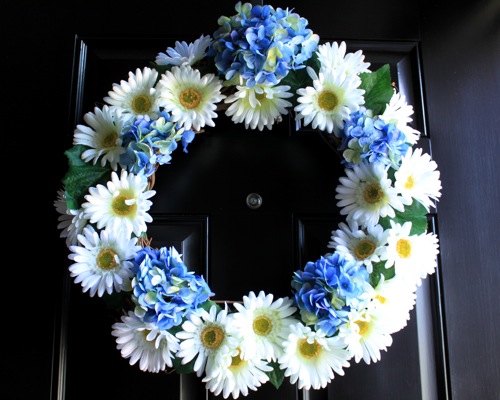 I am by no means a wreath expert and will never claim to be, but I think it turned out pretty!  At least our door is dressed appropriately now.  :)  Wreaths are so easy, seriously.  Just pull the flowers off the stems and hot glue them on the wreath.  And according to this picture, I need to glue on another daisy in that empty spot.  Oops!  And hopefully I will overcome my fear of "too many fake flowers at Hobby Lobby to choose from" one day so I can make seasonal wreaths. :)
Here's one more shot.
I'll be showing you soon our front door entryway area.  I've been sprucing it up! :)
xxoo,
Decorchick!