Hello friends I hope you all had a great weekend. We finally had a cool front in Texas! Today I'm so thrilled to show you all our new living room seating arrangement today! I've been itching to do something different in our living room since we only have brown leather furniture in there (which was bought pre-blog days), and we have always needed more seating in there, but more importantly, something to break up all of that leather.
P.S.-keep reading below for a Homegoods giveaway! Plus, I really need your help at winning this challenge so re-pinning this image from THIS link will be MUCH appreciated and I'll love you forever. (PS-Contest is over now don't worry about that!)
So here's the new seating area, and my new non-leather chair, hallelujah.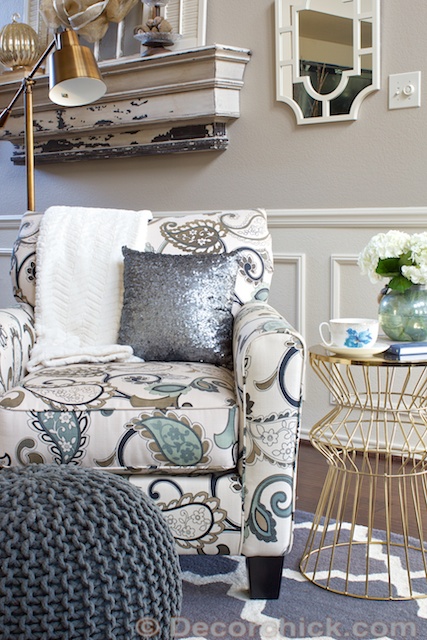 I'm SO glad to have this little area! I have it angled so it's more conversation style in here now and it feels much cozier. I'm doing this little challenge for HomeGoods and their "Happy Home Resolutions", which I touched on previously with my interview with Genevieve Gorder. And my happy home resolution for this challenge is "Personal Style." A survey that Homegoods conducted said half (50%) of Americans surveyed say they have at least one room in their home that feels unfinished or incomplete even though it is fully furnished. And I can totally relate to that! Our living room has been completely furnished for a while now, but yet there was still something lacking. I believe that was more seating options, and more vignettes.
So what's the resolution? A room doesn't feel finished until it feels like you. Choosing décor touches that reflect your personal style will help create a finished look that will make you smile every time you walk into the space, and for me that included more chairs, more coziness.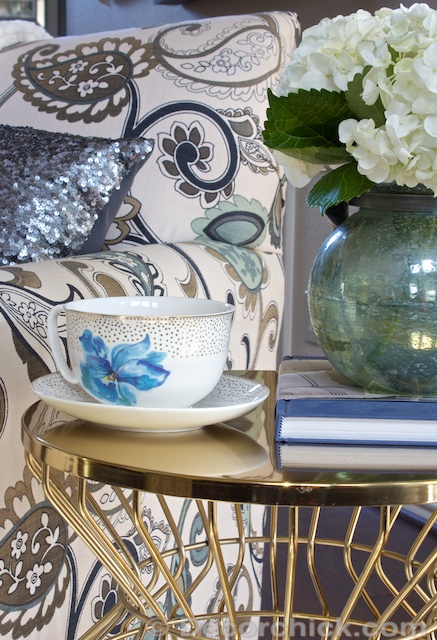 And this makes me smile. Like many of you all know, my style is a mixed variety. I just love everything. Can't help it. So when I saw this paisley patterned chair at HomeGoods it took me a moment (and a few text messages) to say this is the one. I was thinking to myself "what if people hate my choice because it's a paisley pattern and not some modern geometric pattern that's all the rage?" Then I slapped my face and woke up and said WHO CARES because it's our living room and I happen to like paisley, but most of all, it's me. :) Plus, the colors are just perfect for this room.
There are many HomeGoods finds in this little seating area…the chair, the swing arm floor lamp, the sequin pillow, the herringbone throw, the teacup and saucer, and the vase! The other items I already had.
And the chair was a steal of a deal for a nice upholstered arm chair that is SUPER comfortable and well made too. It's actually an Ashley Furniture chair, if any of you are familiar with them.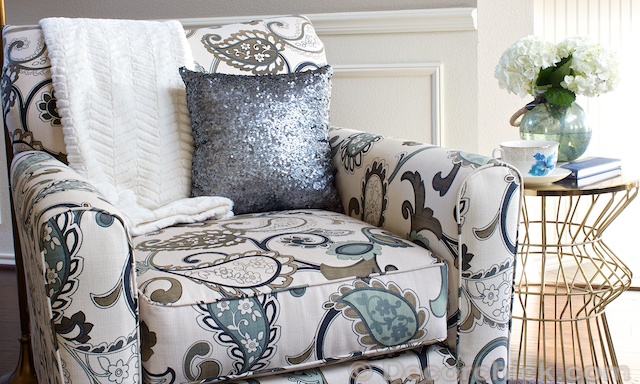 That throw is amazing and so soft and the sequin pillow is amazingly cool. So see, I modernized this set up a little bit with the gold accent table and fancy pillow and cool lamp. :)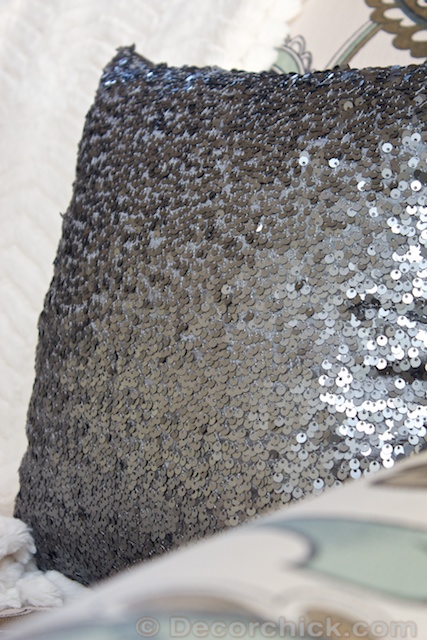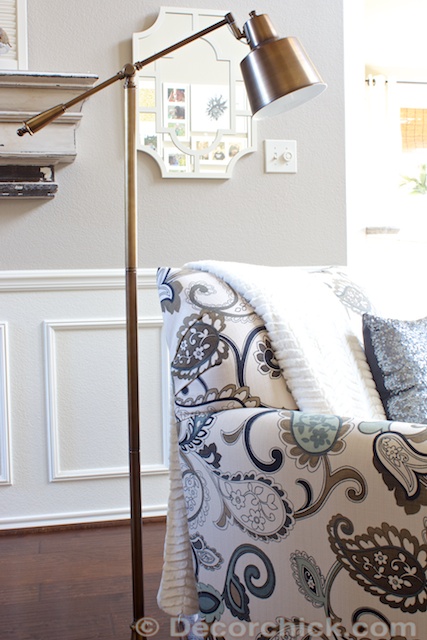 But then the granny came out in me again and I had to have the tea set. The colors were so pretty and that gold on it. Ahhhh.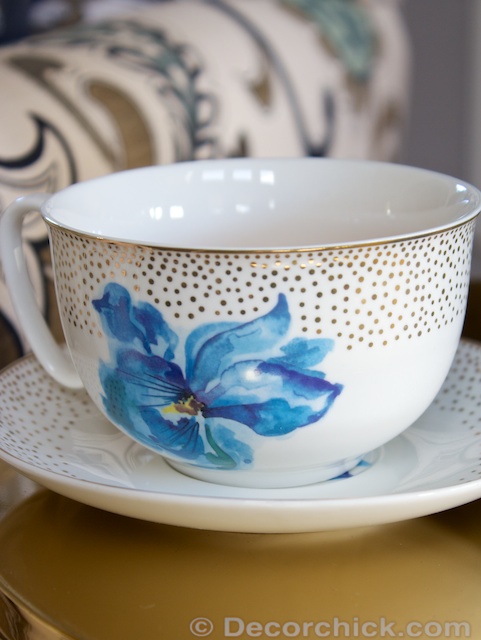 This is actually not a vase but I made it into one and love it as well.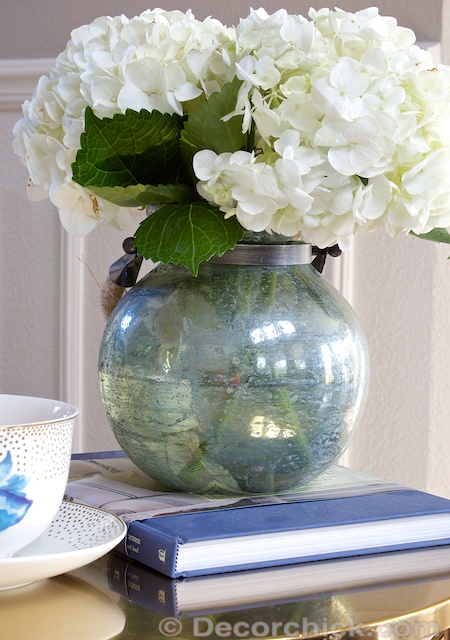 Even though I used to always like the living room more open so the kids have playing space, I'm kind of over that now and wanted to take back our living room since we are done with the giant baby gear and huge jumpers for now. And let's face it, the kids now have another playing space and something new to climb on. Win win.
Here's the space one more time in case you forgot.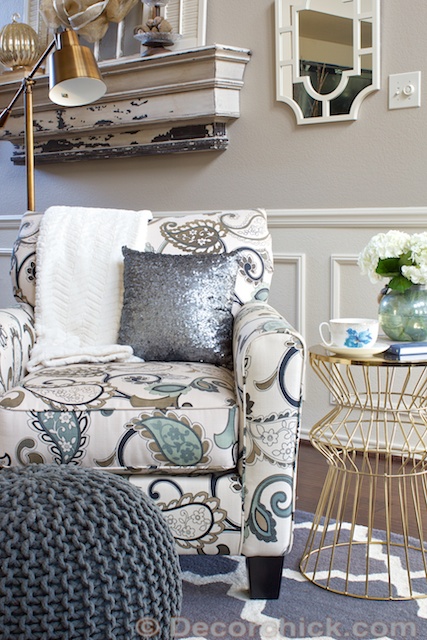 Speaking of giveaways, I'm giving away 2 $50 gift cards to HomeGoods! Just leave a comment on this post and tell me what you think of the new seating area, or tell me what your happy home resolution would be and what you'd use the gift card for. Do you need some new lighting, more organization, more color? The sky's the limit. Giveaway will be open until October 15, 2013 and will be chosen via Random.org.
Thanks for all the support everyone I really appreciate it! Now let's do this! Also sharing this post at Thrifty Decor Chick's Before and After Party.
xxoo,
Decorchick!
Disclosure: I received gift cards for this challenge and may win a prize from HomeGoods if I win the challenge. Woohoo!