Holy moly did you see that post title? Did it sink in? An interview. With Genevieve Gorder!! Oh my. So yes, I was so fortunate to have a little time last week to chat with her on the phone. I KNOW. I died a little. She is a superstar, and my favorite designer ever, so it was a little nutso to get to speak with her, but jumped at the opportunity.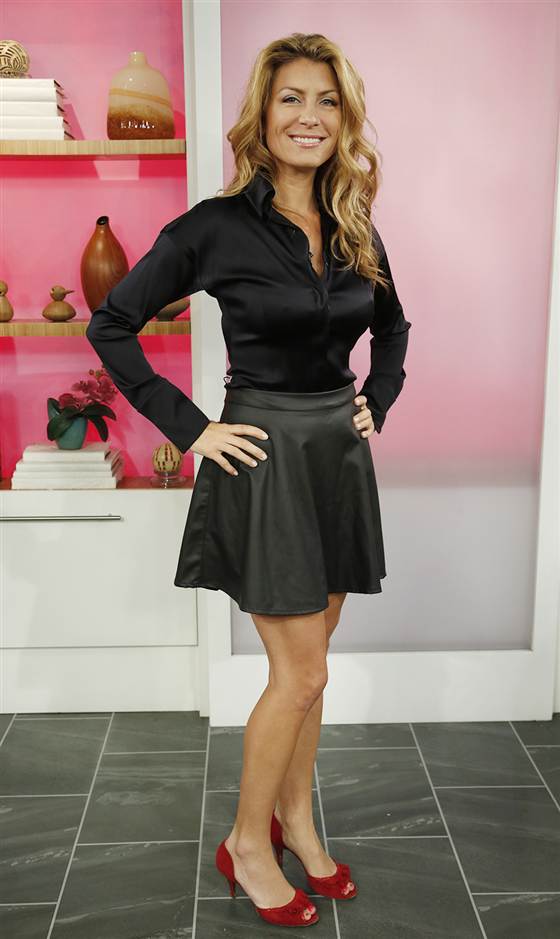 My favorite store of all time, Homegoods, set me up with this and I was truly honored. They were having an event in New York called Happy Home Resolutions, and Genevieve was there talking about the small things that you can do in your home to boost your mood, and went through the 6 different looks/rooms that were there at the event. Here are a few of the spaces that were decorated with special elements: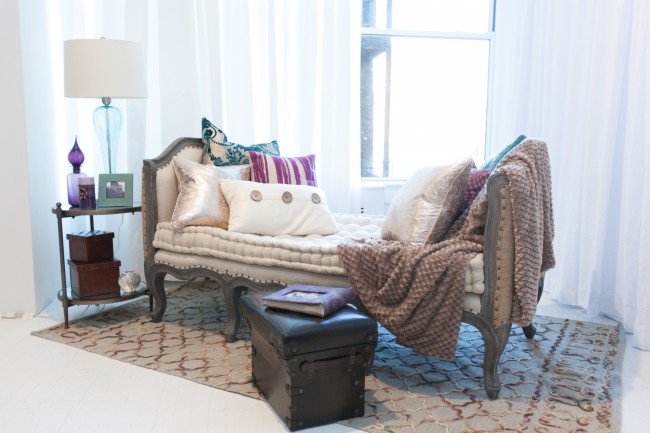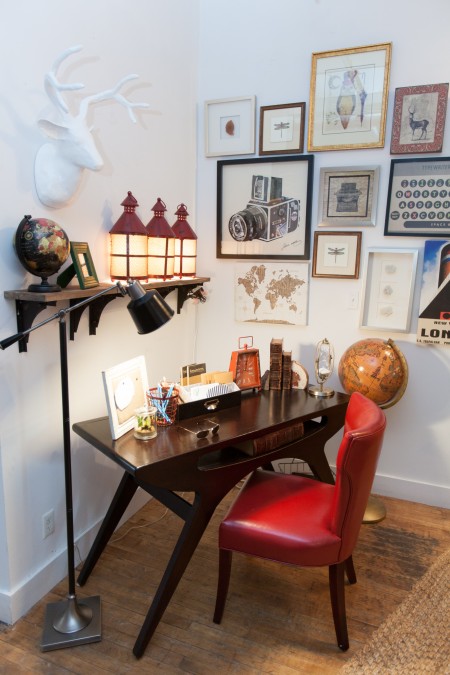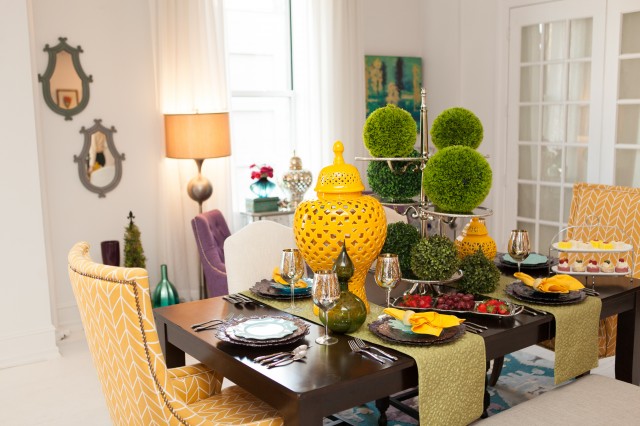 Great spaces right? Genevieve showed how to create those spaces and how small pops of color and cheerful lighting can really have a positive effect on someone's mood, especially for the upcoming winter months. All of these are very cost-effective, simple, and quick changes, a/k/a "resolutions" to make your home a happier place. And who doesn't need an extra dose of happy?
I loved reviewing this information that came from a recent survey Homegoods did and found it all very interesting…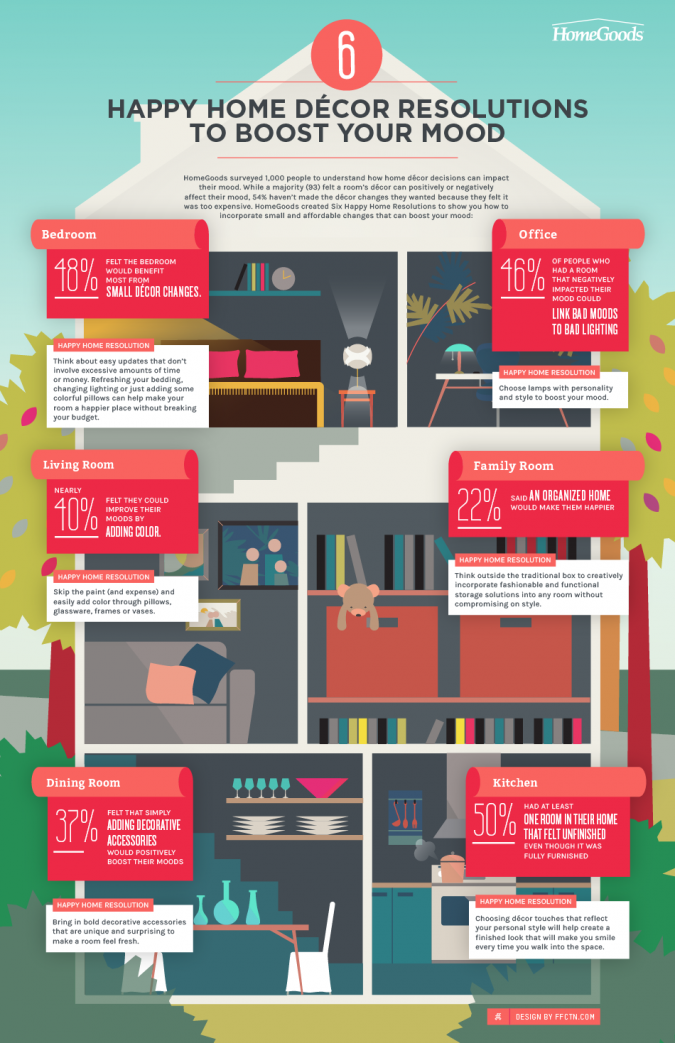 Especially from a blogger's perspective, that's great information to know. Do you all agree with the survey?
Well, I know you all want to know what Genevieve and I talked about so here goes it. I had some questions in mind and wanted to know more in-depth on these little resolutions for the home, and then I had other questions I wanted to ask so I went for it.
Q. I'd love to hear more about these happy home resolutions and the simple changes that can be done that will have a positive impact on people's mood.
A. It's really about creating affordable and stylish options so people can make small changes, that emotionally is a big impact. People tend to get paralyzed into thinking they have to do the entire house all at once, and that it's incredibly expensive to do anything well, and that they underestimate the power of a beautiful landscape and how that affects your mood and behavior towards others.
Then she referenced how when we wear a beautiful outfit we tend to just act different vs. than when we are wearing our yoga pants around. I know many of y'all definitely can rock the yoga pant, myself included, but I do love dressing up too. So the moral, the same goes for your home. When you have a beautiful accent piece or a pillow you love, your mood will improve.
Q. Would you agree that lighting is key in every room?
A. Lighting is by far the most important factor in design in every space. It can ruin a space, and it can make a space. It's one of those underrated things.
Genevieve recommends having several different types of lighting throughout your home, like dimmers, task lighting, lamps, etc. Rotate them and just don't leave the canned lights on! Plus everyone just looks prettier under a glowy light. :)
Q. Are you a regular shopper at Homegoods too? What do you love about them?
A. Oh yea, absolutely. There really isn't a lot of competition for this store. There is no other resource just like it that has an abundance of stuff from so many places at a price point that's realistic and approachable. Homegoods is a good resource to lean on to find those powerful accessories when I'm working with a smaller budget. And I'm all about their cookware.
Ha, that made me laugh! I told her I love their cookware too and that I always find some great Le Creuset pieces there. She concurred.
Q. You have decorated many different spaces, so where do you like to go to be inspired for fresh and new ideas when you start a new space?
A. Every year I'll take myself to at least 1 country that I've never been to. As designers, it's absolutely necessary that we keep seeing, otherwise we stop creating new, and just create what we know over and over and over and it gets redundant, and you have a "style." Our goal is to be ever-changing and accommodating to different client's needs so you have to be able to see harder than anyone else. That's our job. To see harder and imagine harder. And you can't do that unless you get to travel and see and not understand everything, and that's when your imagine unfolds. Beyond that, locally I'll do my museum run maybe once a month or every other month, and I don't go with people I go with headphones and just see. I have to tune out those other senses. Beyond that I go to new restaurants, new hotels, new coffee shops…you have to because someone is always going to be doing something that you aren't, and someone is always going to be doing something that you haven't thought of.
-Wow, that was deep. And I needed to hear that. Anyone else?
Q. How has your style evolved from Trading Spaces days? (You were my favorite btw)
A. I think I understand my clients much better now, and I have more integrity and people trust me more as a designer. I've seen a lot more than I did at age 25. But that doesn't meant that age isn't relevant. I think there's a sense of playfulness and risks that comes along with being a young designer that you have to fight to keep than a more mature designer. You don't risk it because you think you know how it's going to feel when you fall, but you don't always fall…
Q. Your home is gorgeous..can you give us a few sneak peeks or tell us what we can expect to see in your new "Genevieve's Renovation" show starting January 2014? 
A. Everything that could possibly go wrong has gone wrong. So it's going to be a GREAT show. It was the hardest thing I've ever done.
Q. Will you have a white kitchen?
A. I will have some white in my kitchen, but it's not an all white kitchen. My appliances are not stainless steel.
-Ha!
Q. You're a natural beauty, and I know all of my readers want to know if you always look that good when DIY-ing when you're not filming?
A. When I'm doing television I have hair and makeup, but I dont like to wear makeup so I don't wear a lot. In my show in January though you'll see what I really look like when I'm making stuff. And I'm a man!! <surprise!>
-not really everyone.
Q. Is copper the new brass?
A. No. I don't think it's as flexible as brass and doesn't have the same weighty-ness as brass. But do I think it's going to become more popular than brass? I think they can share a stage and work nicely together with pewter.
Q. Chevron: In or Out?
A. Chevron is forever, it's an ancient pattern. Chevron is not going anywhere. I think we've over-used it a little bit. I prefer the chevrons that have a bit of feather to them or uneven line.
-long live the chevron!
Q. Want to tell us anything about your magazine coming out at the end of the year? And when is the book coming out?
A. I have a digital magazine launching in December and that's going to be everything that doesn't fit into 22 minutes of tv. The book will be launching at the end of 2014 which will be in-depth on all of my renovations with all of the geeky details that creative people want.
And that's a wrap for the interview. She was so incredibly nice and sounds exactly the same on the phone as she does on t.v. You know how people sometimes sound different? Anyway, not her. Even if she doesn't remember chatting with me 10 years from now I don't care because I definitely will! We are now BFF's. Such an honor!
And p.s. her show "Dear Genevieve" starts up again with new episodes in October on HGTV. Can't wait!
What would you ask Genevieve? Are you ready to implement some of these "happy home resolutions" in your own home?
xxoo,
Decorchick!
Let's Connect!