Hello hello everyone! I finally whipped our home into a little Fall shape, and can't wait to show you a tour today!  If you are visiting from The DIY Playbook welcome, I am so glad you are here! There are so many beautiful homes from all of these great bloggers participating in Lindsay's Blogger Stylin' Home Tours, and I'm happy to be a part.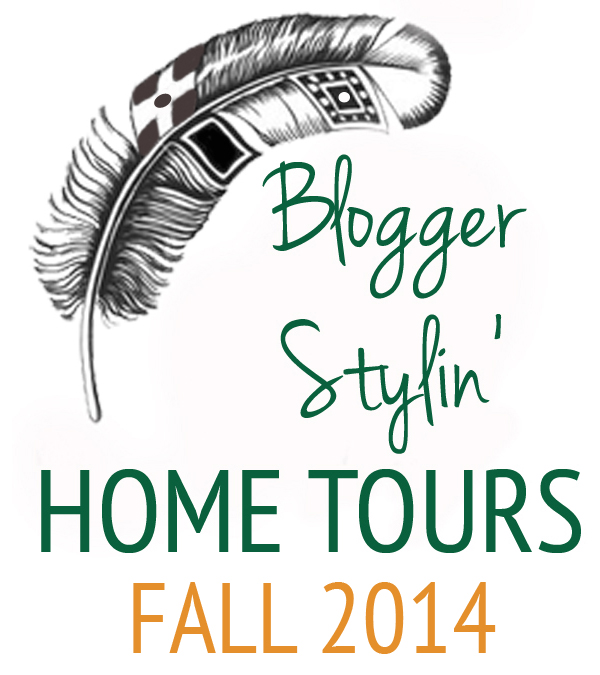 So come on in!
I cheated and bought the wreath at Homegoods recently. I couldn't resist that bright vibrant orange on the verge of bronze. Which are the colors I ultimately went up with around the house!
And our front door needs a new paint job BAD. The black paint has faded so much. In fact, I think I want just a different door. Ha!
As you come in, to the right we have our new bookcase that I decorated for Fall that you all saw last week.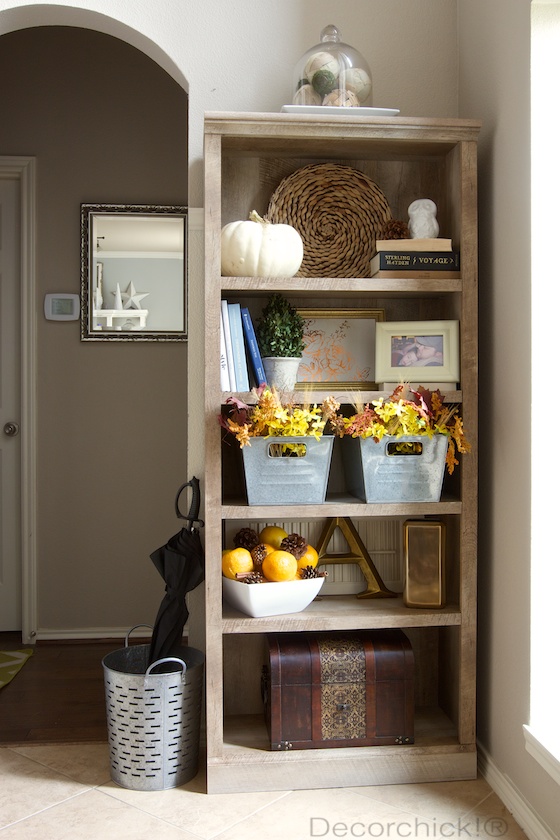 And on our entryway table, I went very simple. I went with a fruit theme again and this time with pretty red apples and pears.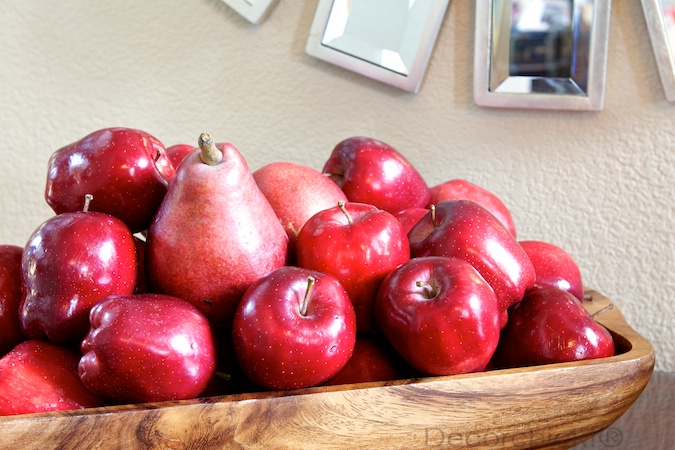 That pretty dough bowl is also a Homegoods find, because apparently I have put the 2 that I used to have in a very safe place. So safe that I haven't been able to find them for a year now. :)
Then I just took a white cake plate stand and made a simple arrangement with a gold pumpkin I had.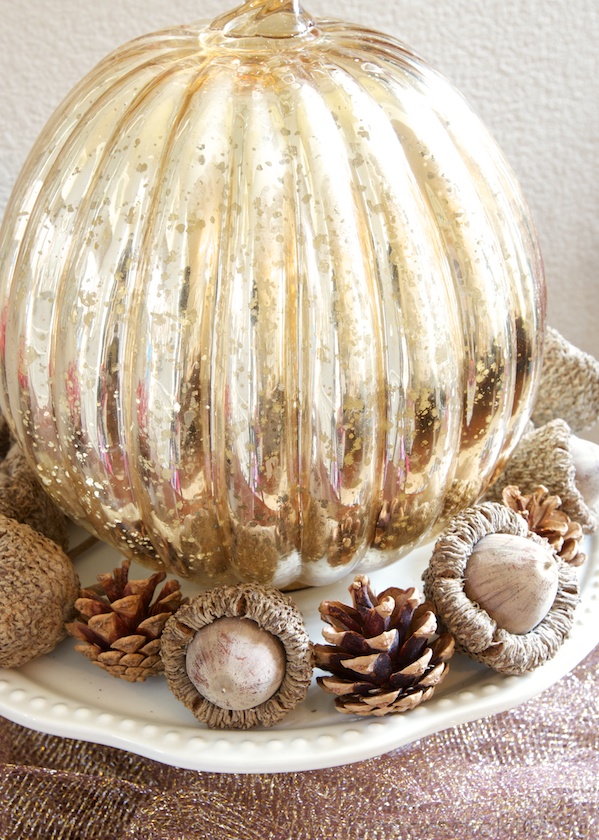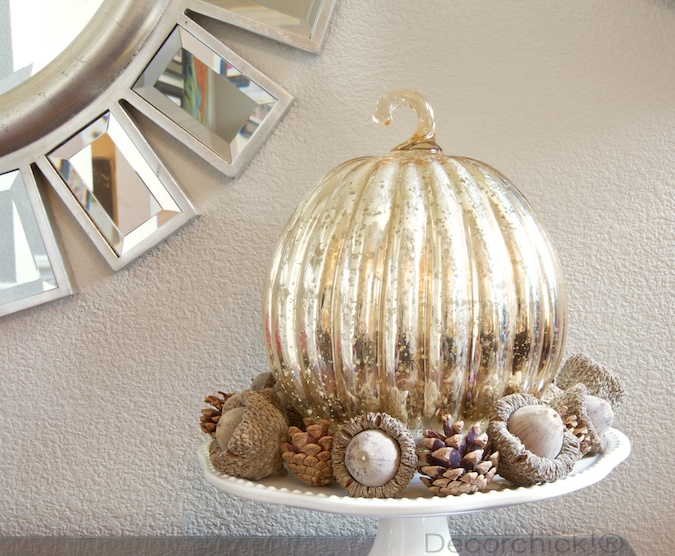 And here's the table.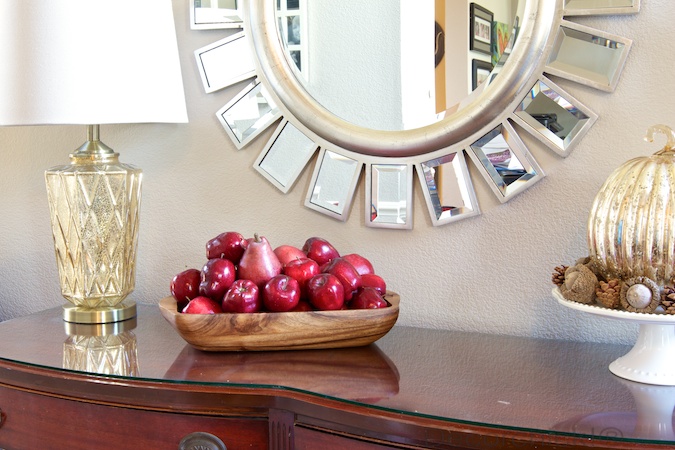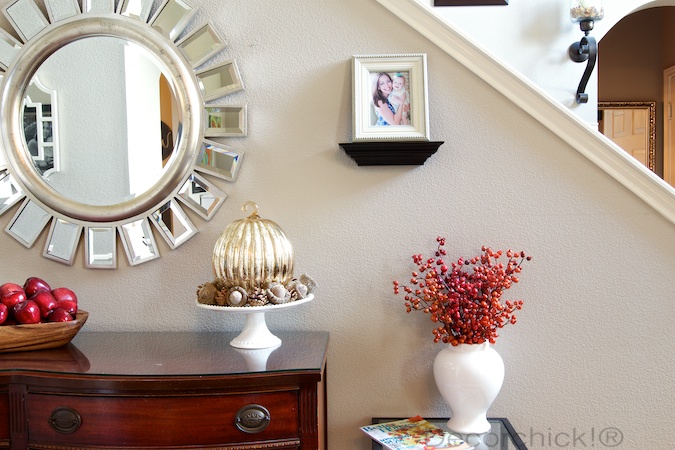 I really did try to keep it simple this year and not have our house look like pumpkins exploded everywhere. Because I have done that before. I love pumpkins though, so I can't say that won't happen again. :)
Now let's move to the breakfast room…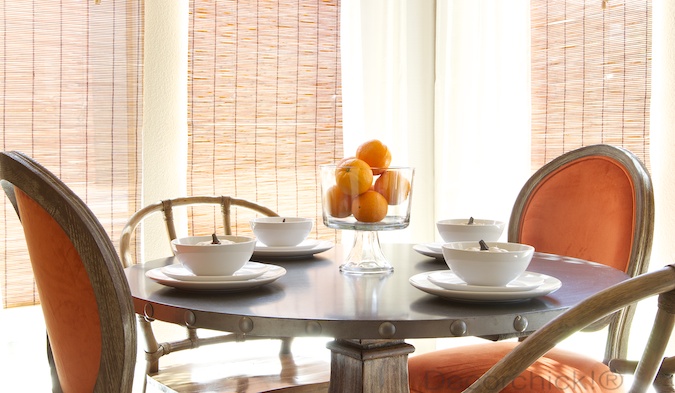 Yep, more oranges. It's fun decorating with edible things.
I just put my rub 'n buff pumpkins that I made a few years ago in the bowls for a little festive display.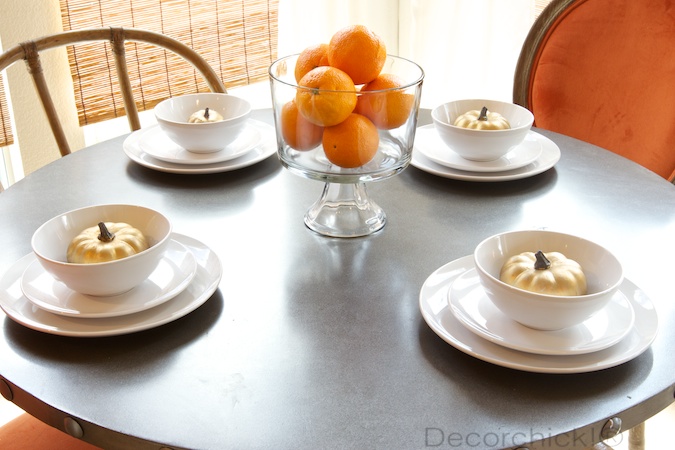 Golds and coppers are still my favorite colors for Fall, so that's what I did.
Including in the living room…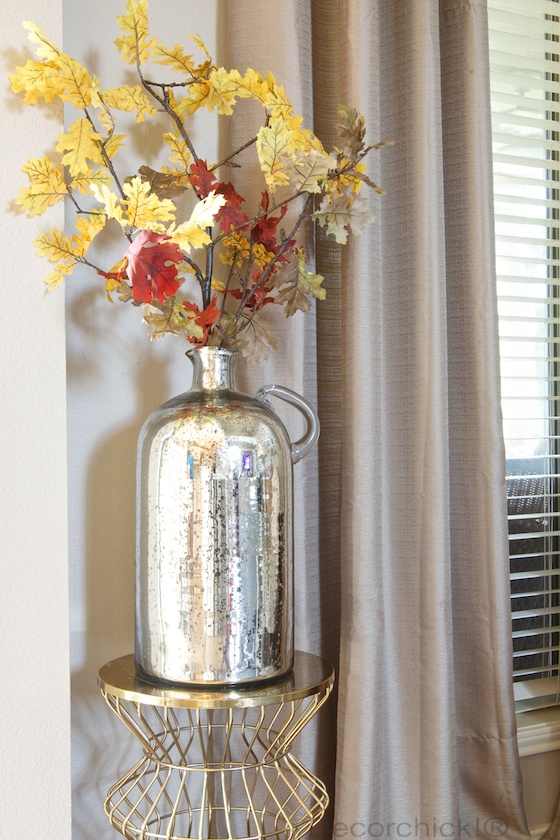 That big mercury glass vase and the branch is from Pottery Barn, also part of last years decor. Still love it!
Then in the living room, I found this pretty burnt orange/copperish ruffle pillow at Homegoods (shocker), and love it in our Paisley chair.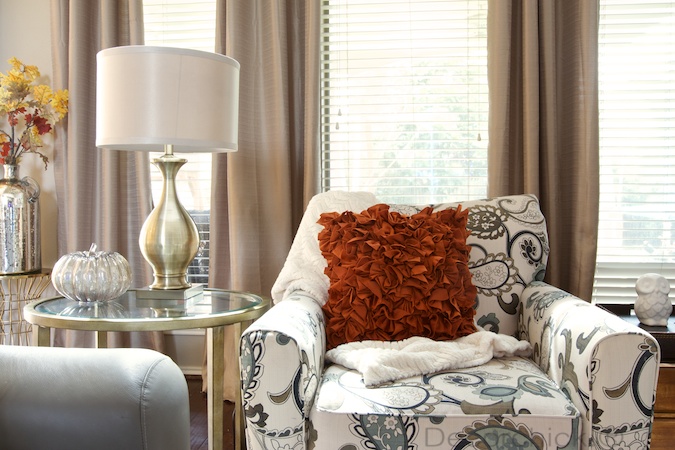 And here's the ottoman…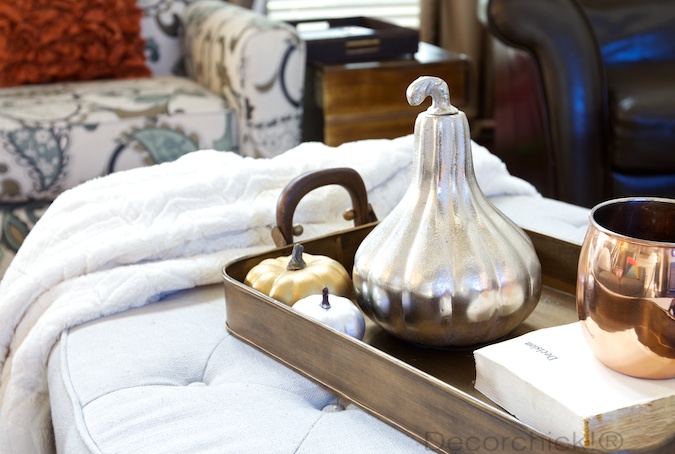 Remember to mix your metals! I think it looks so pretty. And makes it more interesting. :)
One of the things I'm most excited to show you is our mantel this year. It's VERY different and unlike what I have done in the past. I wanted it clean, and not cluttery. And not all of it symmetrical.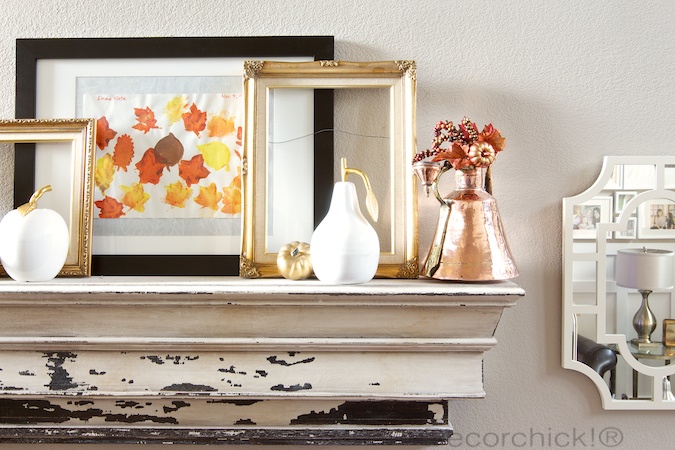 I remembered that picture that Emma painted last year at Pre-k, and the colors were perfect for what I was going for, so I took the big Ikea frame I had in the office and just replaced it with her painting.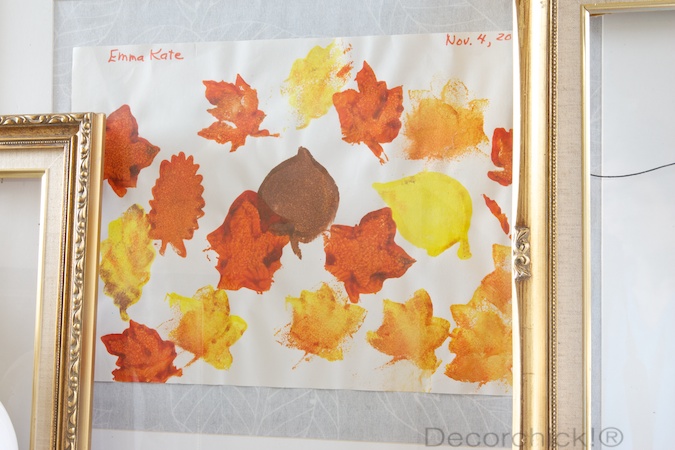 Then I just layered a few gold frames, and added a few simple accessories.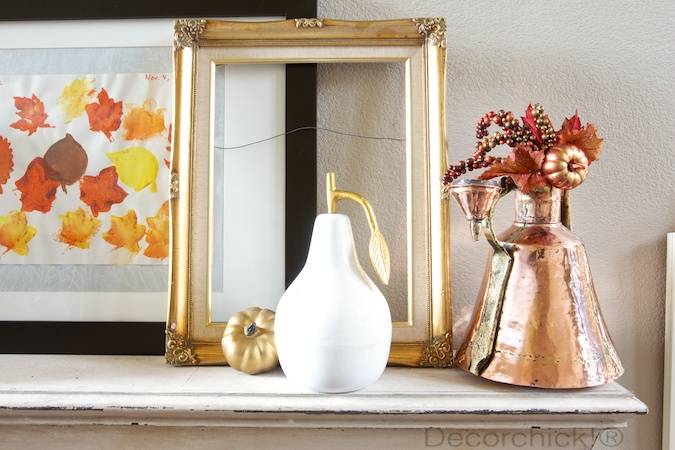 Those copper pitcher things? Aren't they so cool? Also from Homegoods (I know I know), but I couldn't resist.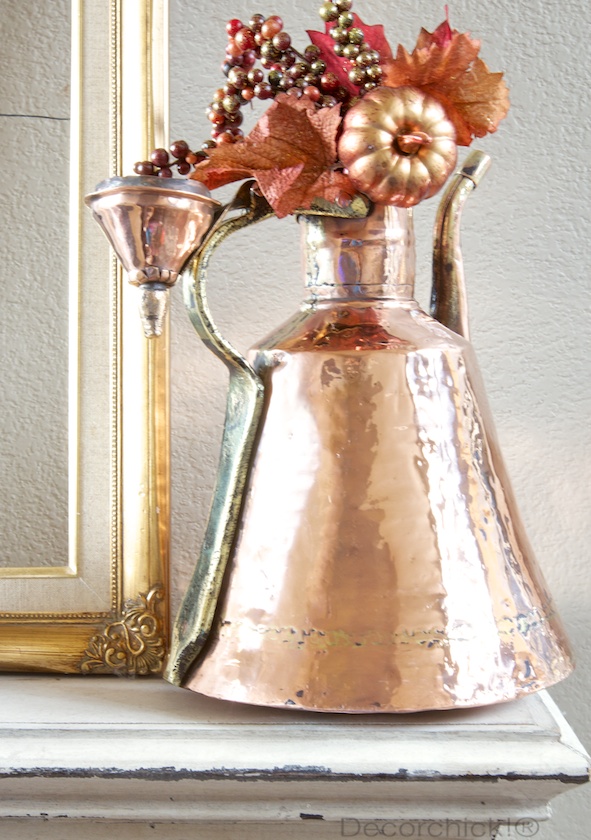 Here are a few more of the mantel.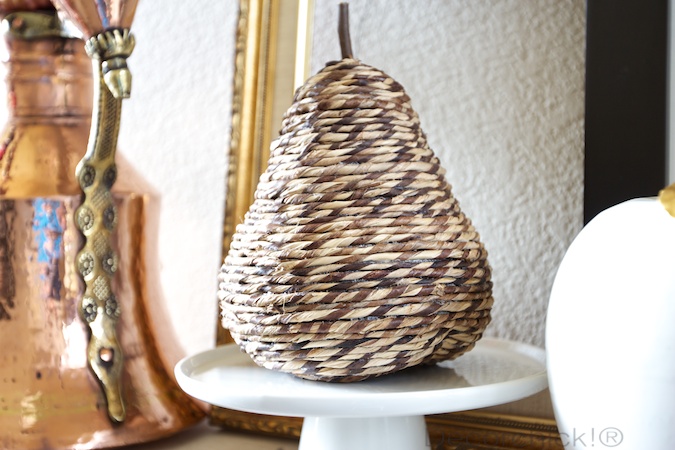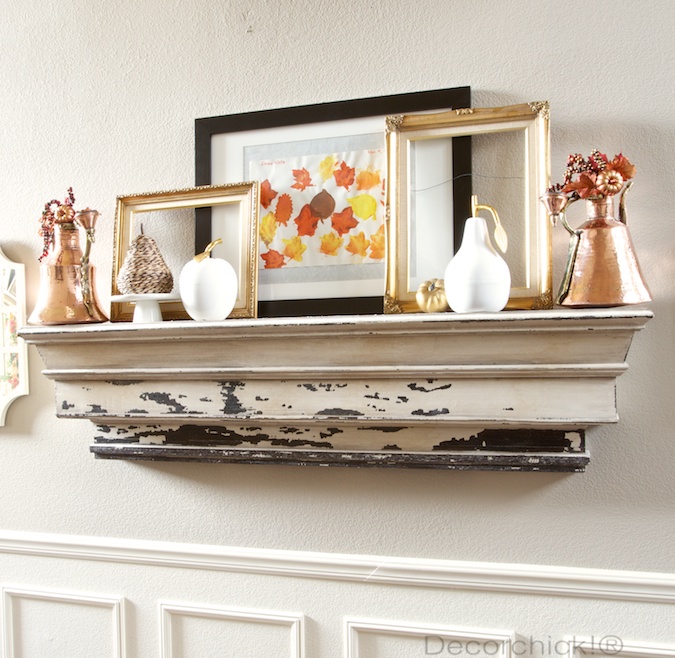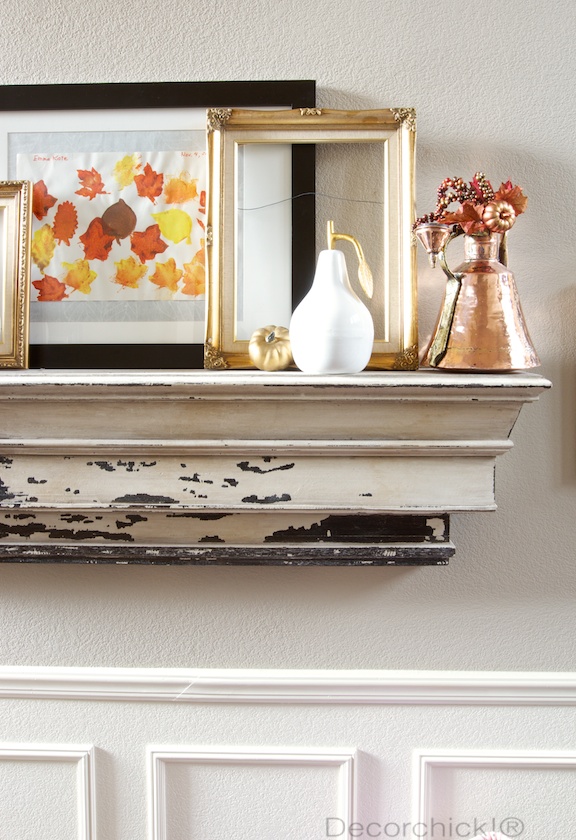 And that's a wrap for our Fall home tour! I hope you enjoyed it. :)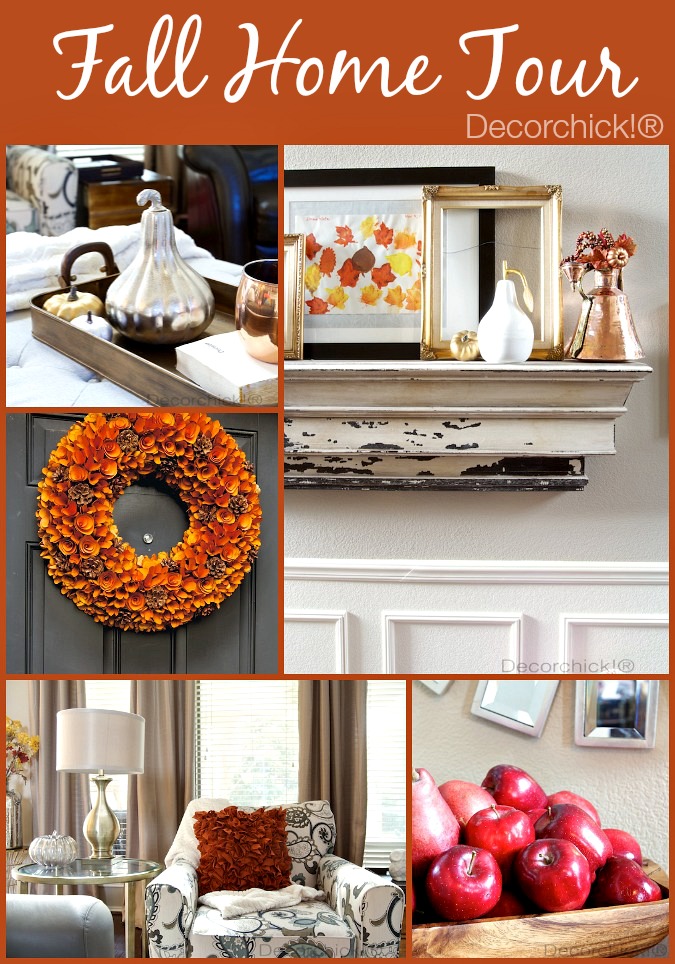 Now, hop on over to Rain on a Tin Roof to see her beautiful home decorated for Fall too! Don't forget to check out The DIY Playbook and The White Buffalo Styling Co. also.
Don't forget you can find details about all of the rooms I mentioned in today's post, in our regular home tour. So go on and take a tour if you haven't yet. You can also see more Fall ideas here. :)
Thanks for visiting everyone and I hope you have a wonderful day!
xxoo,
Decorchick!®