It was below 80 degrees here ALL weekend, so out came the Fall decor! I am so excited to show you our updated Fall entryway with this pretty new bookshelf that I decorated for the season.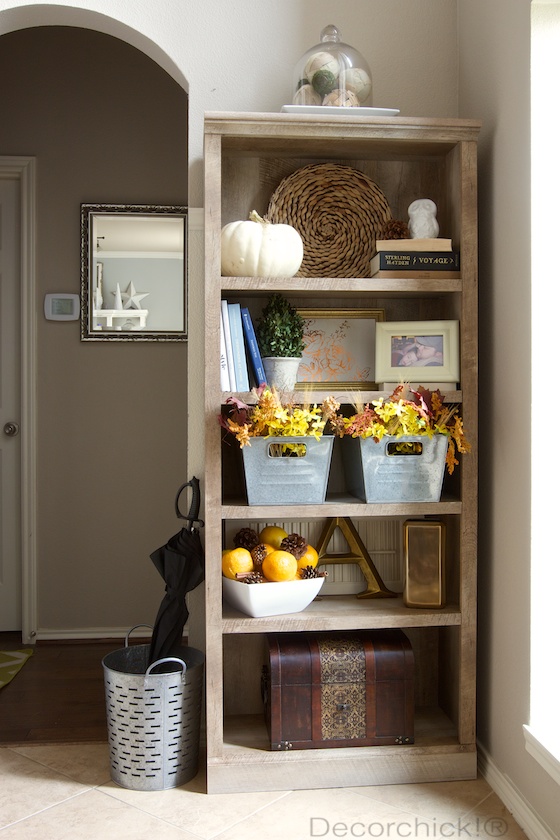 It looks SO much better in this little area by our front door now compared to what we previously had…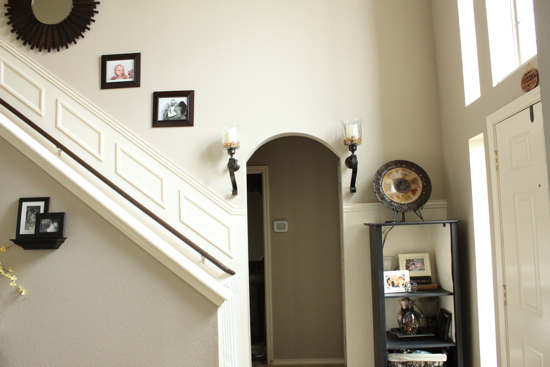 That is a really old photo, but that black thing was something I got at the thrift store years ago, and I've been wanting to chunk it out for about the past year or so. It was wide, wasn't super functional, and I spray painted it black back in the day. Crazy how our tastes can change so much.
I'm much more digging this rustic bookcase from BHG products at Walmart!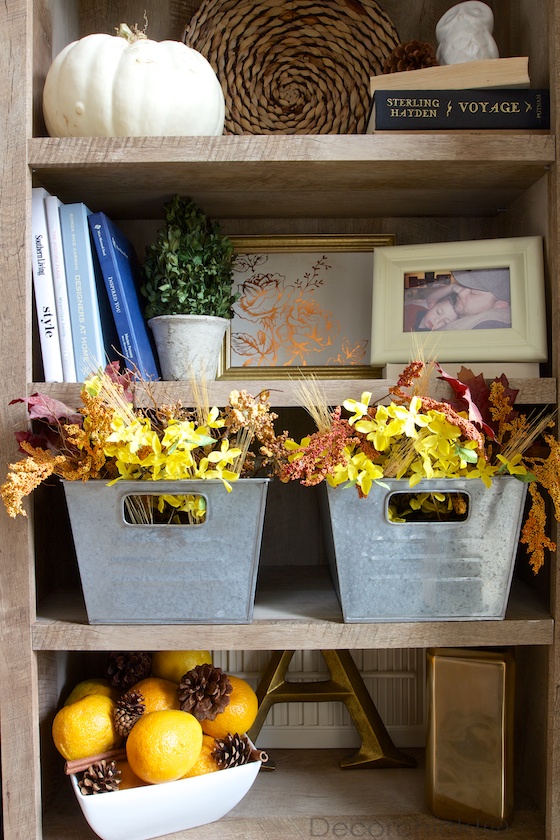 This is their Crossmill 5-shelf Bookcase in Lintel Oak and it's wonderful. And very affordable.
Now when guests come by they will see this pretty bookshelf that seems like it was made for this space, instead of a big black bulky box.
And maybe they will grab an orange on their way out.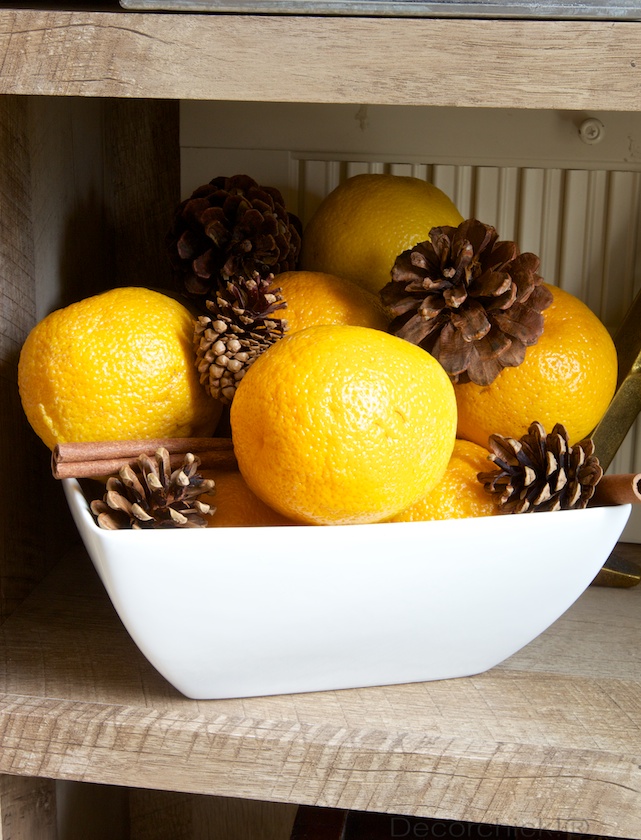 Yes I put fresh oranges in a bowl on the bookcase because it's pretty. And no I won't let them sit there and go rotten. We've already eaten 3 of them since yesterday.
Try it. I bet your friends will copy you. :)
These 2 galvanized bins are also BHG products at Walmart, and they are so fun!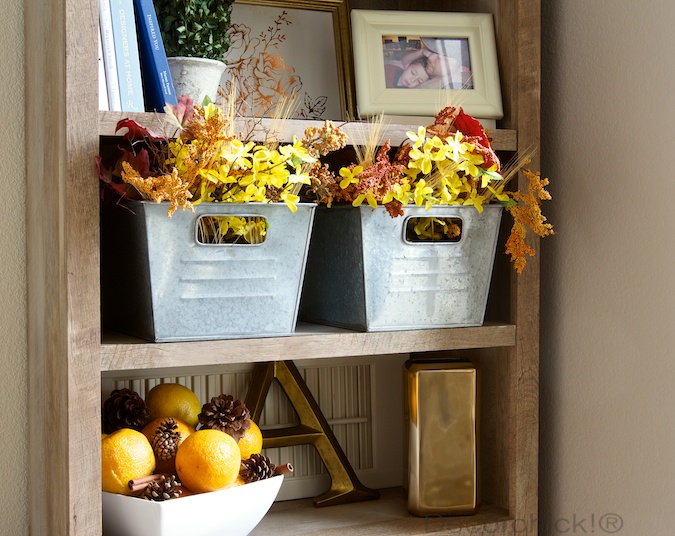 The other metal bin that I'm using as an umbrella holder in the first picture is another product from there. Super inexpensive y'all. And can be used for so many things!
I took one of my old shutters and put it as a backdrop on one of the shelves.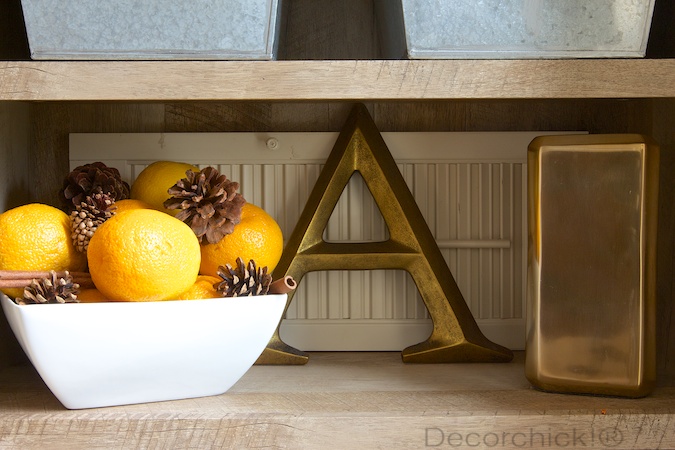 Kind of unexpected and I like that!
And then the top shelf…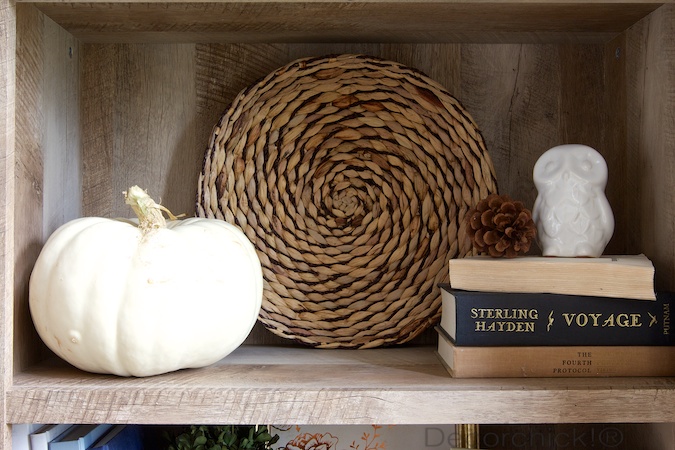 That is my first real white pumpkin of the season and it makes me happy. Now I'm ready for more. :)
I'm super happy with our updated entry and love this bookcase so much. My husband wants a few for his office now.
Their Crossmill pieces were definitely some of my favorites when we visited the Better Homes and Gardens Headquarters last month. Very on trend with the rustic grey weathered wood. So pretty!
And yes this bookcase is anchored to the wall with the L-bracket that came with it. Safety first when you have kiddos!
So what do you think of the updated entry and bookcase?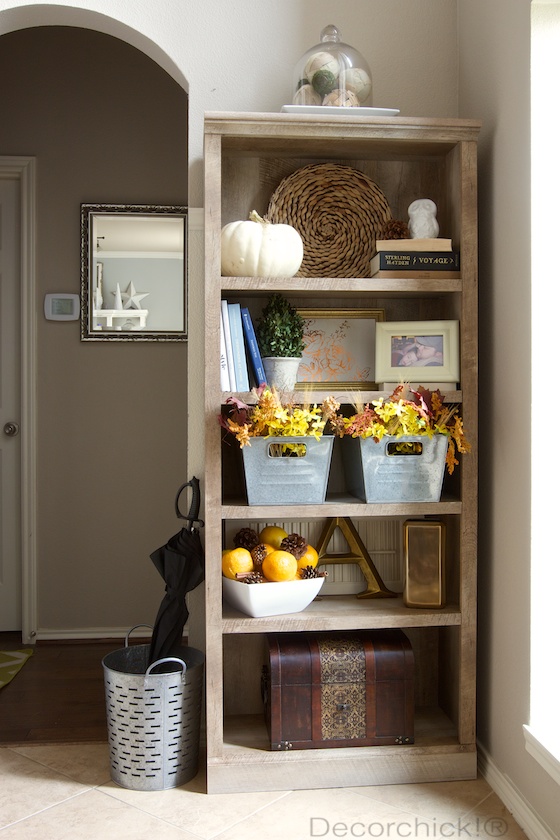 What are you doing around your house to get ready for guests and the Fall season? I even made chili over the weekend since we had "cooler" temps. :)
Be sure and follow BHG Walmart on Pinterest, Facebook, Instagram, and Twitter to get their latest ideas and inspiration too.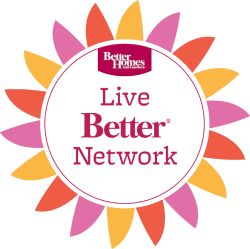 xxoo,
Decorchick!®
Disclosure: I received compensation from  BHG at Walmart for my time and participation in the BHG Live Better Network. Random thoughts, opinions and musings are of course always mine.