Howdy friends! Man, I needed a week or so to get back to normal, and to process my few days spent in North Carolina for the La-Z-Boy Design Dash event where I designed a coral sofa! My oh my it was a jam-packed, super fun, and amazing event. If you follow me on Instagram you have probably seen all of the excitement that went on. I have never experienced anything like it but it was incredible.
Okay so where to begin…oh yea, the coral sofa I designed.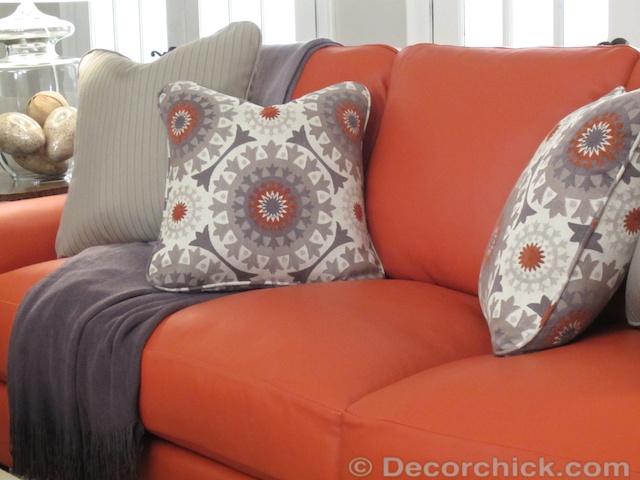 Stick with me here guys there's a lot of info to break down in this post. But it will be fun! :) But yowsa! A coral sofa! And it's LEATHER!! Soft, rich, buttery leather from La-Z-Boy.
When I was asked if I wanted to attend this event I had no idea what to expect. All we were told to do was go to our local store and design any sofa we wanted. And we knew that they were going to make whatever we picked out and would have it in North Carolina when we got there. Sure sounds good to me!
So I went to my store and originally picked something different, and then went back a 2nd time and went a totally different direction instead of safe neutral like I had done.  And I have to give a shout out to my SA's at my La-Z-Boy store Jennifer and Sharon–they were great and so knowledgeable about design and it was fun to chat with ladies who were passionate about the same thing I am.
When they showed me the coral leather swatch I was immediately sold. It was gorgeous. And it was bold. Then Jennifer put every upgrade possible on this sofa (it's the Talbot sofa) including soft comfy down cushions. Heaven.
We we arrived in North Carolina, I was immediately in awe with where we stayed, at the Proximity Hotel.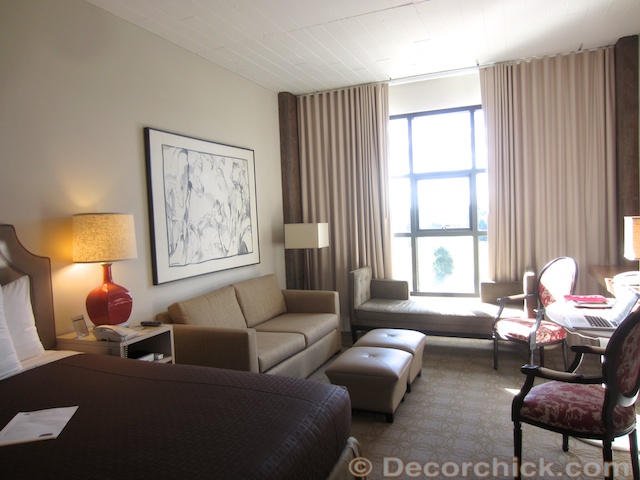 The hotel was just gorgeous. And the bathroom was also amazing. That night we had a cocktail party and met up with the La-Z-Boy team and mingled with everyone and my blogging friends. It's so fun to see everyone in real life since we have formed friendships over the years.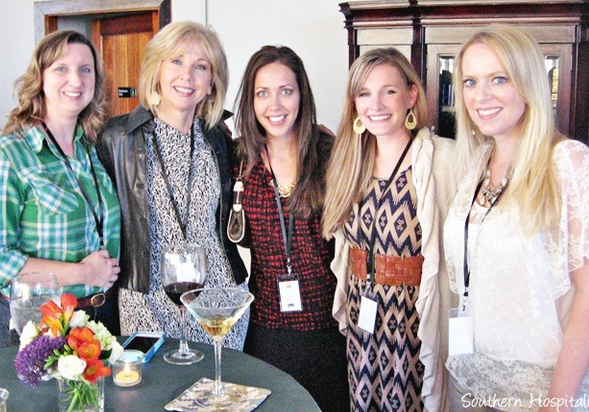 Image stolen from Rhoda, but that's Brittany, Rhoda, Me, Ashley, and Beth.
Then my new BFF Mark, who just happens to be the VP of Marketing for La-Z-Boy opened us up in prayer.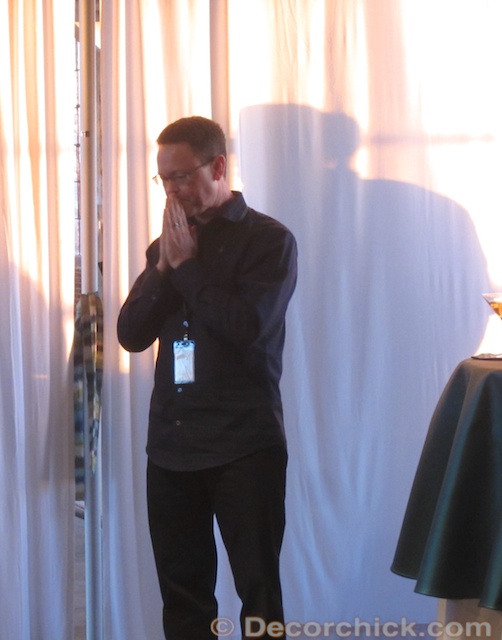 Just kidding. I couldn't resist. But he did speak about La-Z-Boy and his passion for the company was clearly evident. It was awesome.
Then those white curtains were whisked open and we were led to this.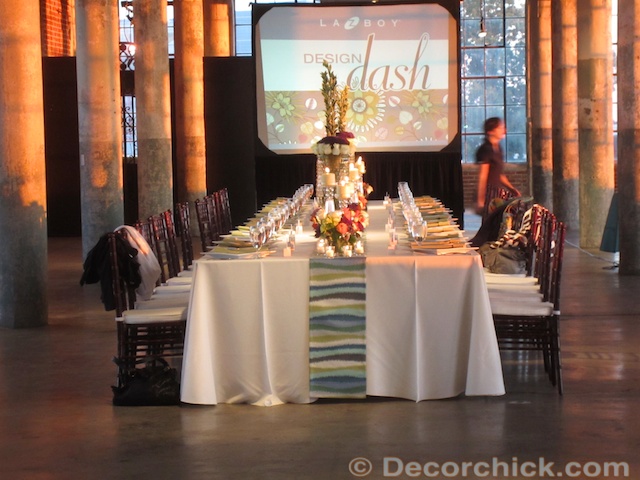 Is that not the most gorgeous table you've ever seen? I swear man, these people pulled out all the stops. Everything was so detailed and beautiful. See that runner on the table? That's made with LZB fabric.
The floral arrangements were just stunning too.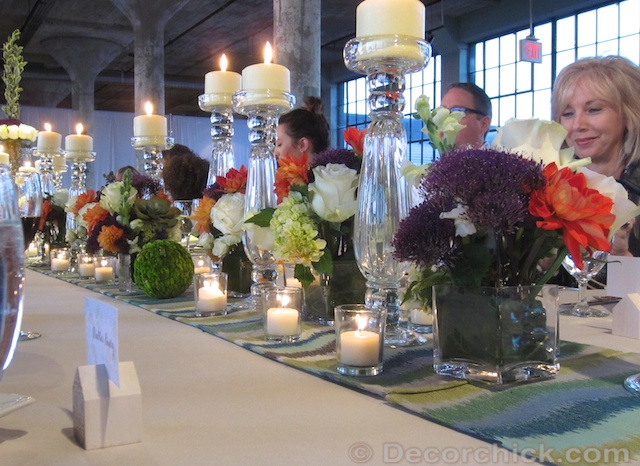 Needless to say, I was impressed. Very impressed.
To top it off THE president of La-Z-Boy was there with us all night, Mark Bacon.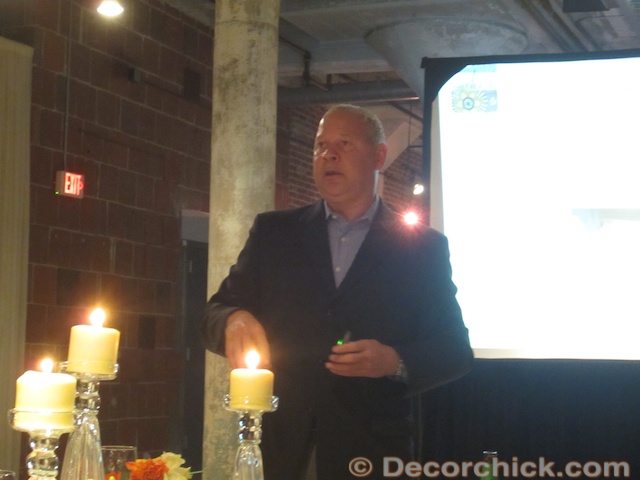 He is such a nice down to earth guy and I really saw that night how passionate this company is about their products.  And you can tell by all of the LZB employees from across the U.S. that attended the event, that this is just a great company to work for. I bet they have amazing Christmas parties. And their products are made in the good ole USA!
And if you think of Granny and Gramps' old puffy blue recliners when you hear La-Z-Boy, think again friends. They are up to date and on trend now with their furniture and fabrics and you will be amazed when you see more.
After dinner we were swept away to the secret design-dash event we had no idea what we were in for.  It was held in the 2-story showroom in High Point Market and wow, it was amazing. Gorgeous furniture I've never seen!
I know that picture isn't all that amazing, but I felt it was amazing enough to post. What was amazing though was their Design Dash Wall of Fame!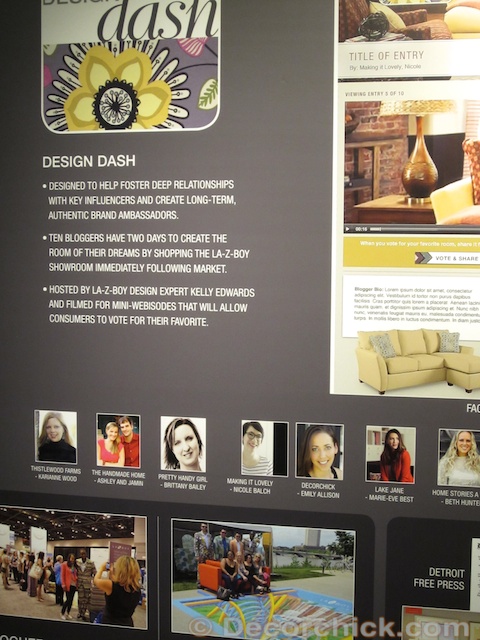 Seriously?! I swear they did everything and then some. They scored some major brownie points. Not that they need them but wow, impressive.
So this next part is where the real fun began. We had these shopping carts like they used to have on Supermarket Sweep (loved that show!) and we had 2 hours to RUN through the showroom and pick out items for our room that we had never seen.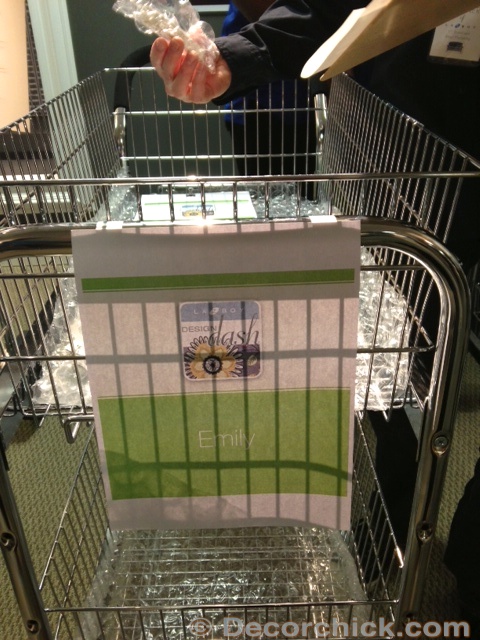 We hadn't even seen our sofas that we designed yet. It was crazy. All accessories, rugs, art, lighting etc had to be chosen. And if something was already tagged by another blogger you couldn't take it so it was really nuts. But oh so fun. They had some La-Z-Boy designers there to help us with shopping and putting our rooms together, and shout out to Michael who helped me and Beth.
Somehow I wasn't even nervous for this which is odd to me. But talk about me doing a video and I'll vomit. More on that later.
Y'all still with me?? Hope so because I'll be quizzing you.
To have a little fun break, you must check out this video La-Z-Boy put together about the Design Dash. It's just a teaser of what's to come, and how things happened that night in the showroom. I crack up each time I watch it.
The next day, we went to Kreber studios where all of our sofas were. This was the first time we got to see our sofas and our rooms that we had to design. It was a total blank slate, except for the paint color on the walls that we chose ahead of time.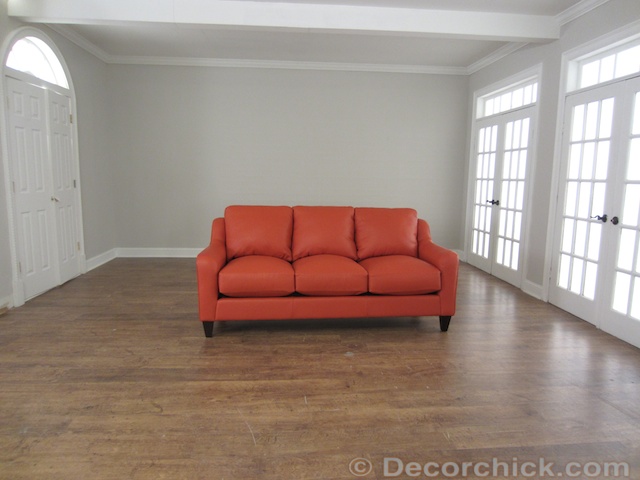 Intimidating much? Nah! But that sofa? LOVE.
We even had our own director's chairs, which also now lives at my real house!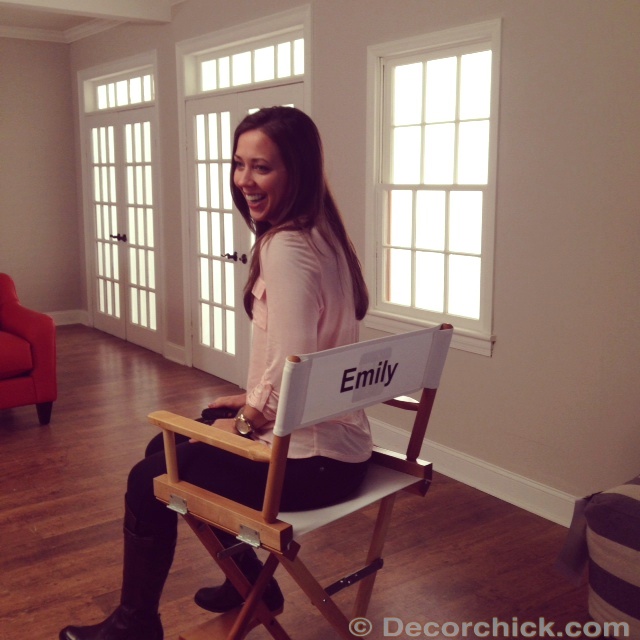 The team had brought all of the items we chose from the night before to the studios. I seriously don't know how they did it all but people basically worked all night long.
And wow this is long so I think I'm going to leave you hanging until Monday so you can see the full reveal of the room I did with the coral sofa. I know, hate me. But it was pretty awesome. I wish I had that room here! And also on Monday, I have something AWESOME for you all from La-Z-Boy, and the voting will begin on our rooms! So of course I will beg for votes on the room I did, but honestly, each blogger's room was spectacular. Really. And, there are going to be webisodes. Yes, webisodes. We all had to do some video footage. It nearly killed me, but I survived. I hope their editor is majorly skillful at what he does because we all know how I am with videos and all…..
Until then, those were my adventures in Greensboro, North Carolina. It was really a dream come true and I would love to design sets like that every day. Super super fun. Can't wait to show you everything else!
UPDATE: See the full room makeover in this post!
xxoo,
Decorchick!
p.s.- Trip and accommodations were provided by La-Z-Boy which was totally awesome. Even the wine.