Once upon a time about 4 years ago, I was amazed and mesmerized by what a can of spray paint could do. Heirloom White anyone?? And since I was so new to the world of DIY, (like, never really used a drill kind of new), I went a little crazy with the spray paint and shopping at Goodwill and thrift stores. I was simply in awe about how powerful a can of spray paint was! I do still get giddy about spray paint don't get me wrong. It's just that I'm not spraying every surface with spray paint like I once did.
What I also haven't done for quite a while now is go to Goodwill just "to go." If I go, it's because I am looking for something specific. I don't really go there to be inspired. ;) Now granted, I might see a horrific dresser that could use a little TLC and get inspired to redo it, but I am not out buying a random $5 chair that we don't need or a cheese dome just because they are inexpensive. Y'all remember the cheese dome cloches right?? Ahhh the good ole days.
But back in the day, I was at the thrift store several times a week. And spray painting a bunch of crap stuff. Mostly were little accessory type things that I no longer have or use, but some were big pieces! Like our hutch in the office.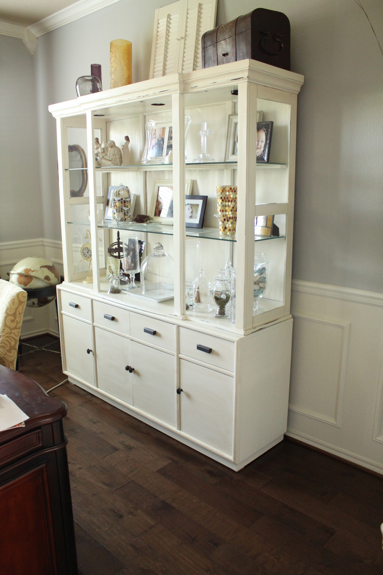 And yes I used many cans of Heirloom White spray paint on that baby. And still love it! But might be time for built-in bookcases instead.
Yes spray paint is amazing. It always will be. But try and really search for the pieces you truly love and will use in your home for a good while. If it means waiting and saving for something amazing then do it! Because all of those spray painted accessories will eventually just be clutter in your home and then you will end up having a closet dedicated to accessories only, and well, that's not good or normal. :)
Decorate with intent, not on impulse. That's what I keep telling myself.
For giggles, I did a search on my site for "heirloom white" and these are the posts that came up. They are way down deep into the archives of my blog, so you've probably never seen them, or my horrible photography back then either. You've been warned.
Were you or have you been bitten by the spray paint and thrift store bug?
xxoo,
Decorchick!