Well I'll just get right to it, so if you haven't heard yet, we had a GIRL!!!  We welcomed Ellie Marie into this world on Sunday, July 1 at 1:09 p.m.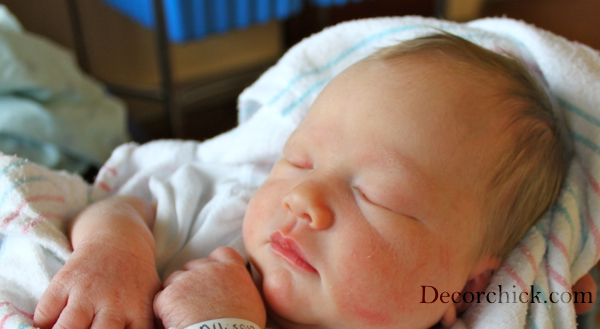 And she couldn't be any more perfect.  She weighed in at 7lbs 6oz, a full pound more than Emma, so all of those late nights of eating ice cream paid off. :)
The name Ellie means "noble, exalted, sun ray, and shining light." Love that.
I have to say that waiting to find out the gender was one of the best things we've ever done. It really was the surprise of a lifetime, especially since everyone thought we were having a boy! I secretly wanted another girl, but now I also want a boy. haha.
I have to tell you a funny labor story though and then I'll show some more pictures. And if it's TMI I'm sorry–I think it's hilarious so I'm gonna share. I told you all the c-section date was changed to Monday, July 2, so that's the day we were expecting to have her.  But on Sunday, Ellie had different plans.  I woke up in the morning and noticed my pajamas and undies were a little wet when I went to the bathroom.  But I thought it was just sweat because I had been previously sweating a lot at night.  My husband was at church and I told him on the phone too, and he agreed with me that it was no big deal.  So I went about my day like usual and at different times noticed my undies were getting a little wet whenever I'd stand up and walk around.  This happened about 4 times and the 4th time, it was very wet.  I seriously thought I was just leaking pee!  So I kept changing underwear.  Then finally I think to myself that something isn't right and so I called my mom.  I told her what was happening and the brilliant person she is said "you're water broke!"  I was still in denial and didn't think so because I thought when your water broke it all comes gushing out like it does in the movies.  Nope, not the case.  I didn't have any contractions or pains or anything either, maybe just a little back pain.  Then I called the doc and they tell me I need to go to the hospital and then the rest is history. But July 1st was my Pawpaw's birthday, so it was a good day for her to come. :)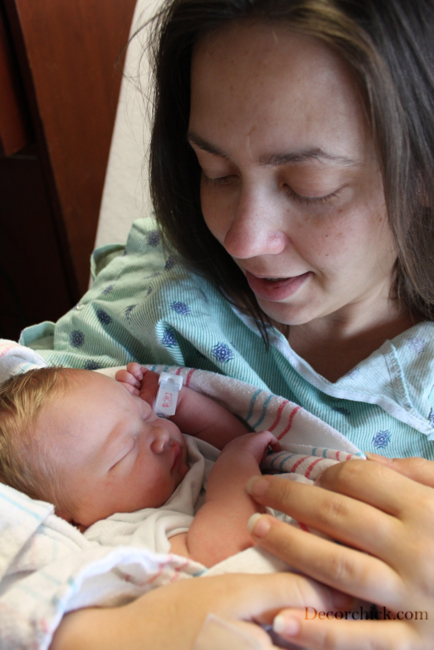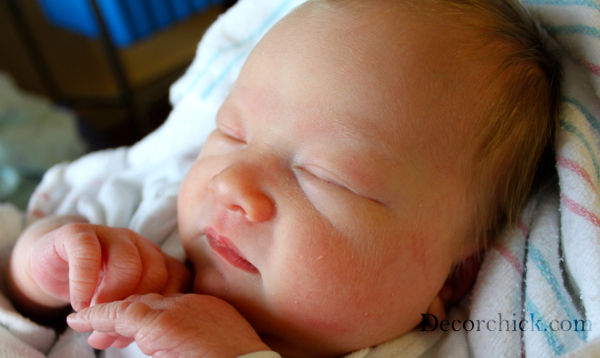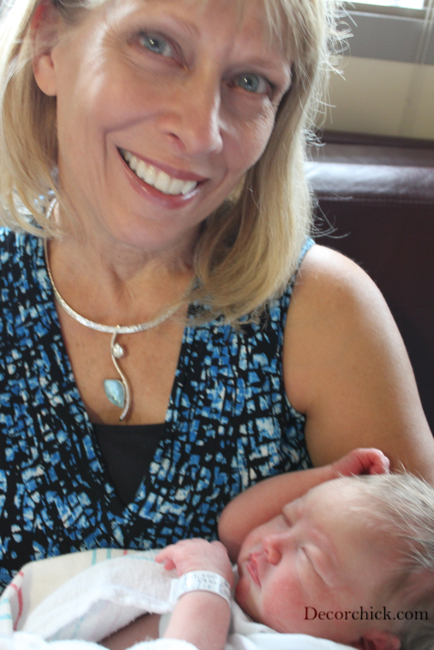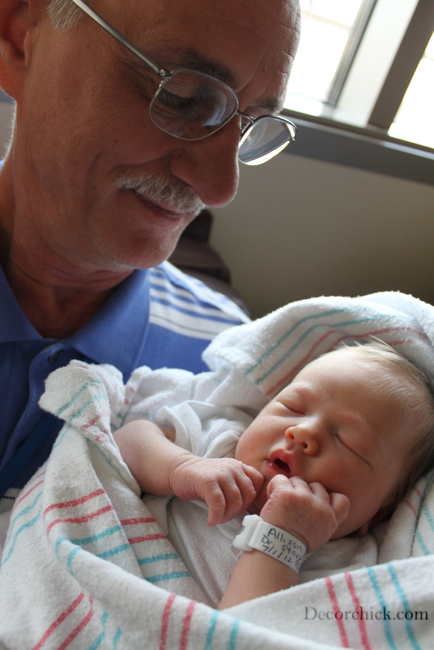 The nurse made a bow hat and I thought it was so cute.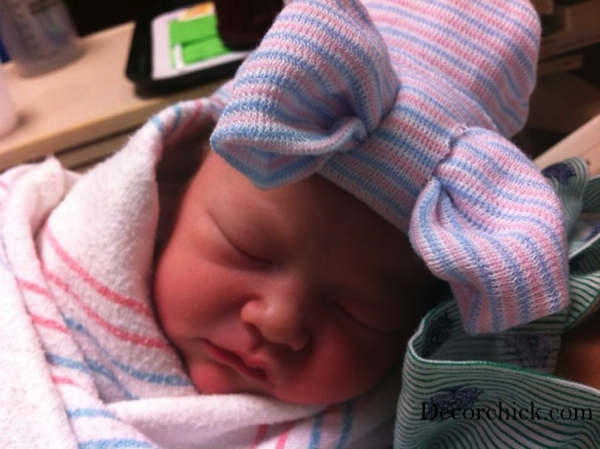 Here's Emma meeting her little sister for the first time.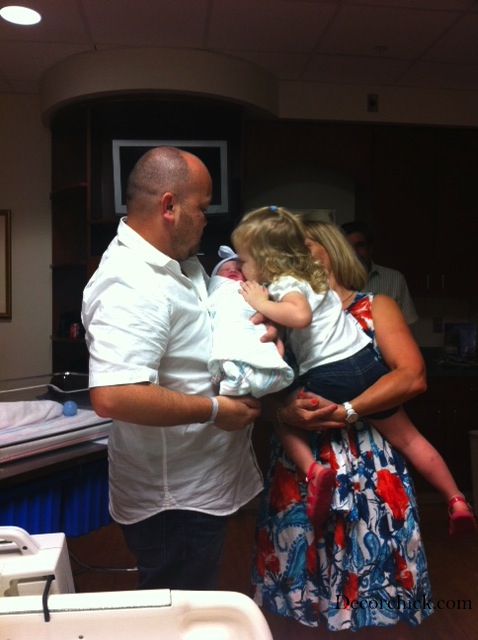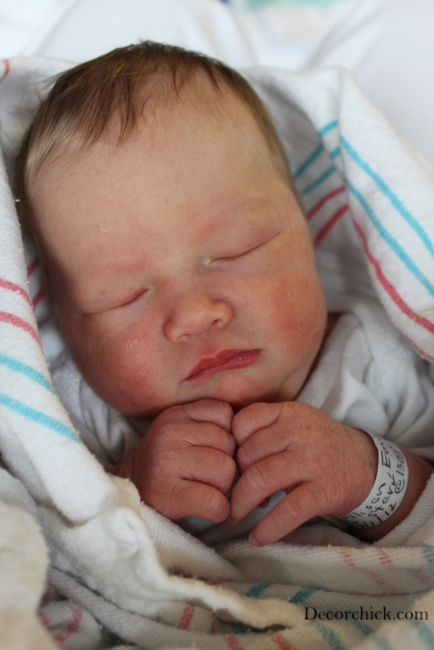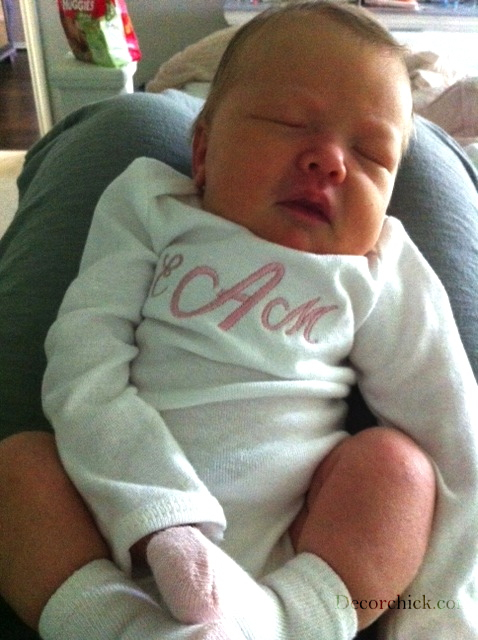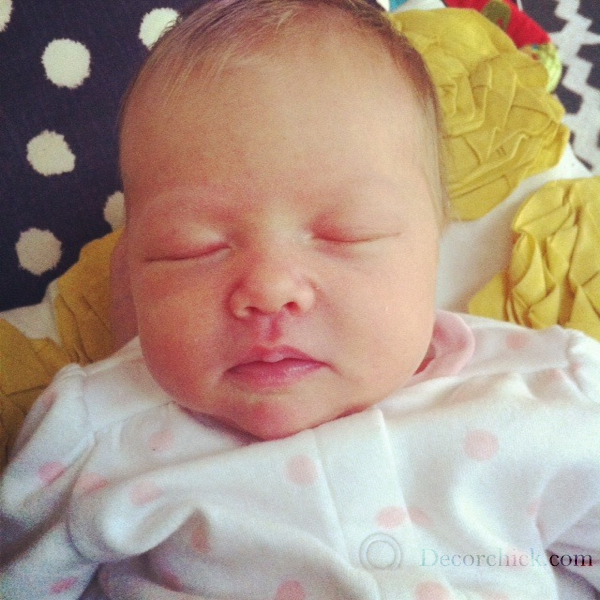 What's really cool is that she has blonde highlights!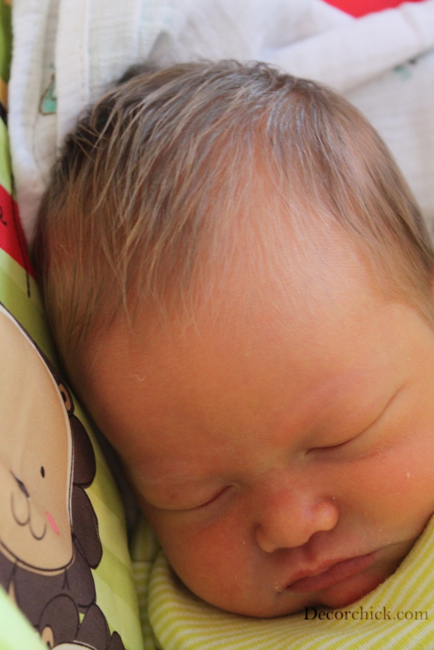 I think she's gonna be a blondie like Emma is but we'll see. I love her hair though!
And here is a pic of Emma the day she was born in case you want to compare.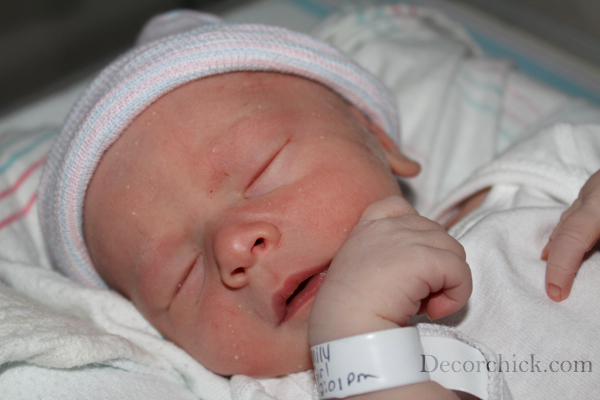 I thought they looked alike but now I'm not so sure.  Ellie definitely has more hair than Emma did when she was born. Emma just had blonde peach fuzz. :)
We came home on the 4th of July and Emma loves her new sister.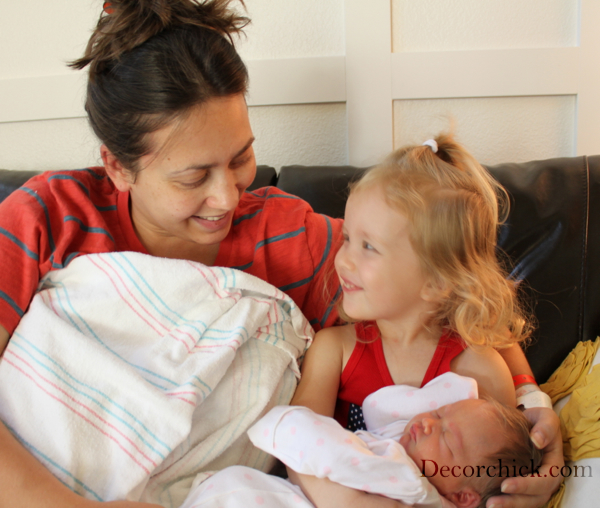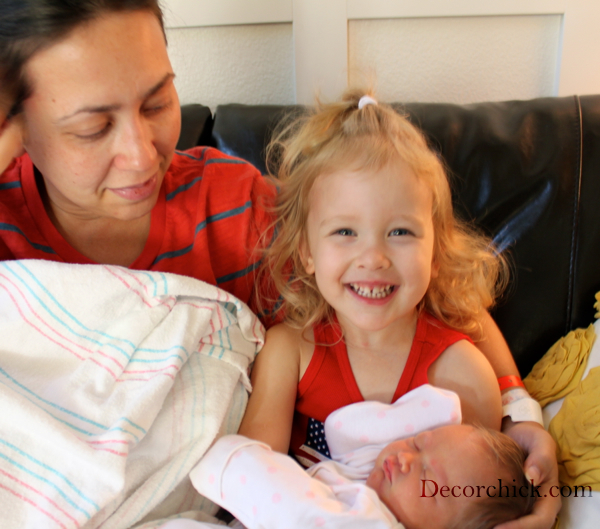 Having 2 kids is definitely different!  That will probably be a different post one day. :)
And here's me, my husband and Ellie.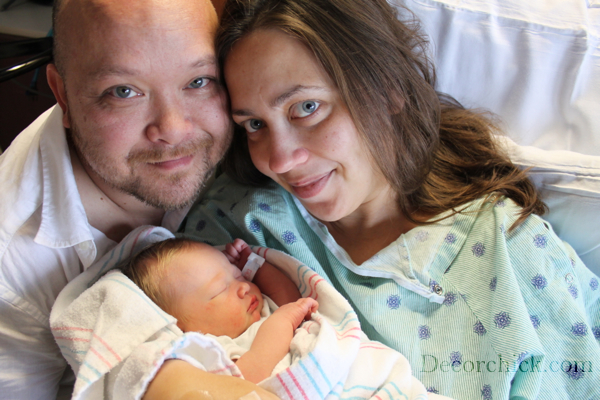 She's just so sweet. Now I'm gonna go snuggle with her. :)  Oh, and thank you all so much for the Facebook messages, tweets, texts etc. about our new little one.  I appreciate it and love you all!!
xxoo,
Decorchick!