Well, hello there!!!  It's been a while, yes?  I've missed you all so much, and before I show the mantel I want to thank all of you for the sweet comments, emails, tweets, and Facebook messages about the pregnancy.  I am feeling much better these days and am trying to get back in the groove, but some days I still feel off and do nothing, and I'm fine with that. :) The baby is doing great and is due in July! So thank you again for all of the prayers and well wishes–I felt them. :)
Now for the mantel…I wanted something simple this year and that's what I got.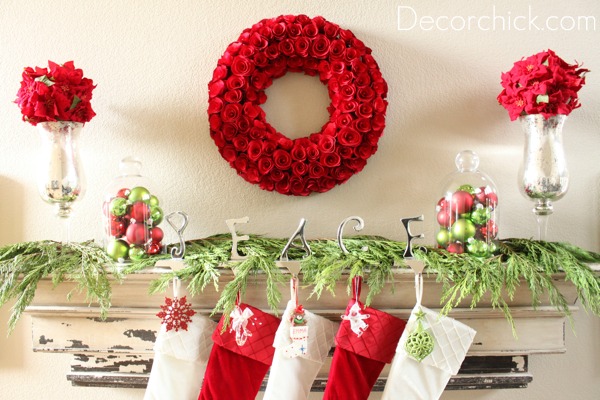 And I love it so much!  Don't hate me, but I bought that wreath. And it wasn't cheap.  Remember I've been sick right??  Well I was definitely sick when I paid $40 for it at Target, but I'm happy I did.  Sometimes you just gotta buy, and I was not up for crafting one this year.  Oh yea, don't hate me even more because those things on top of the mercury glass vases I bought at Target too.  It was the poinsettia balls they had and they just sat perfectly on top of the vases I already had.  So easy!
The fresh cedar garland I got at a local nursery and I looooove it.  I've never used fresh garland before, but I'm a fan now.  It's so easy to work with and I love how it lays and drapes over the mantel.
I filled some cloches I already had from Hobby Lobby up with ornaments and boom–instantly festive.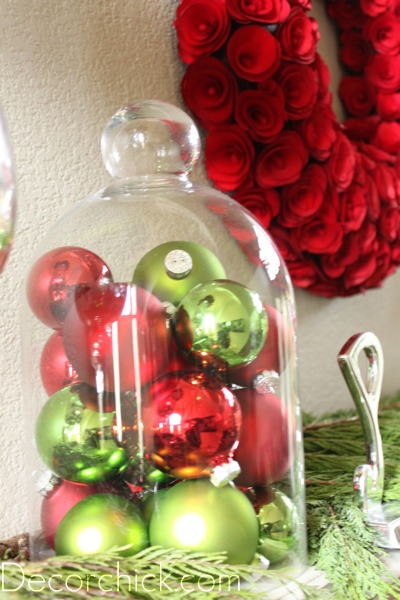 I found the red and white stockings at Wal-Mart for $6.47 each.  That was the cheapest stocking I could find that looked the best, and I'm very happy with them.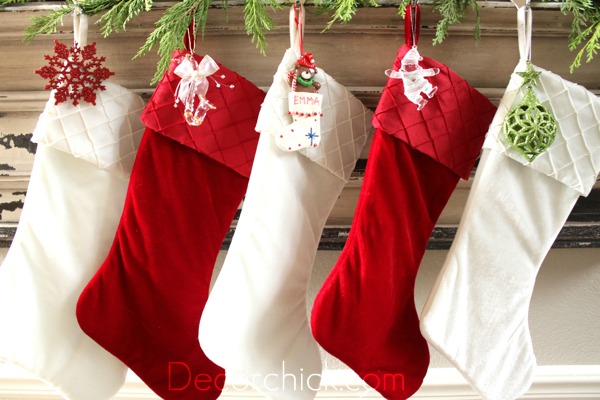 I just hung an ornament from each one for a little more bling. And I guess next year I'll have to get different stocking holders to make room for the new baby because "Peaces" isn't a word. ;)
And one more for ya.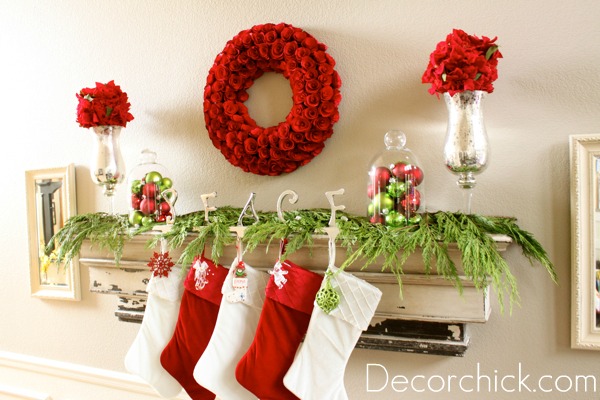 And that's it!  It's pretty much exactly what I had envisioned, and I'm glad I didn't keep putting stuff up there because then it would just be cluttered.  I tend to clutter sometimes but I really like simplicity these days.
What do you think, and what colors did you gravitate to this season?  I think I'll always have to have red at Christmas–it's just so darn pretty.  I love the limey green with it too!
I'll be linking this post to Rhoda's Mantel Party, Michelle's Mantel Party, Hooked on Houses House Tours Beth's party, and The Inspired Room.
xxoo,
Decorchick!