Hey guys! I had the opportunity a week ago to go on another service project with The Home Depot Foundation. This time it was in Miami and that is not a bad place to visit! ;) But we weren't there for play, we were there to help out with a Fisher House. I know I sound like a broken record when I talk about these Celebration of Service events, but man, they are just life changing.  To get to help someone in need is probably the greatest gift God has given us.  And for that I will be forever grateful.
Do you know what a Fisher House is? I didn't know about them until this trip. Here is the Fisher House we worked on in Miami.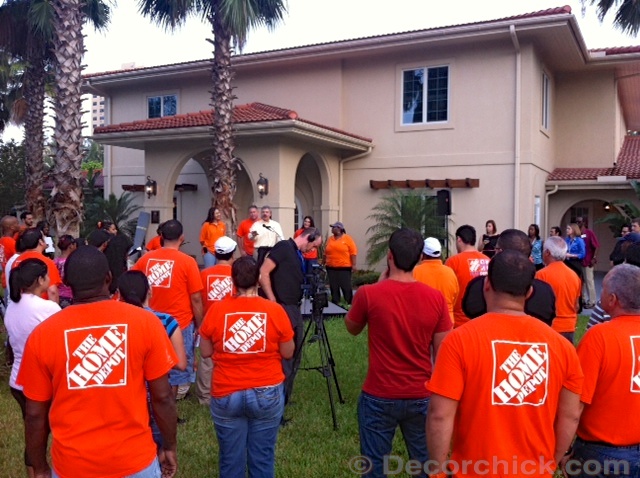 It's hard to tell in that picture, but it's a very large home. Um, 2o rooms large! Said from the Fisher House website, this is what the Fisher Homes are all about and provide:
"Because members of the military and their families are stationed worldwide and must often travel great distances for specialized medical care, Fisher House Foundation donates "comfort homes," built on the grounds of major military and VA medical centers. These homes enable family members to be close to a loved one at the most stressful times – during the hospitalization for an unexpected illness, disease, or injury.
There is at least one Fisher House at every major military medical center to assist families in need and to ensure that they are provided with the comforts of home in a supportive environment. Annually, the Fisher House program serves more than 17,000 families, and have made available over four million days of lodging to family members since the program originated in 1990. By law, there is no charge for any family to stay at a Fisher House operated by the Department of Veterans Affairs; and Fisher House Foundation uses donations to reimburse the individual Fisher Houses operated by the Army, Navy, and Air Force. No family pays to stay at any Fisher House!"
The organization was originally founded by Zachary and Elizabeth Fisher, who just so happened to be millionaires from smart investing in New York real estate. Mr. Fisher loved serving others and the armed forces were always near and dear to his heart.  He realized the need for places that families could stay while their loved ones were in the VA hospital, and thus the Fisher House was born.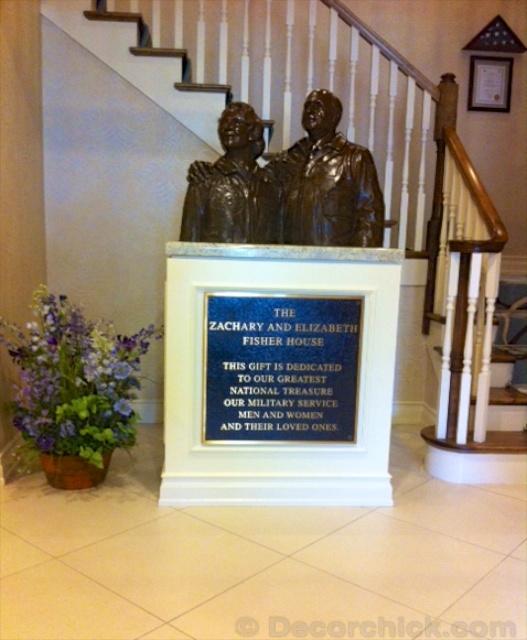 Please forgive my iphone pics!  I want to mention that these are NICE houses! Mr. Fisher wanted the families who stayed in these houses to feel like a home, so the furnishings and the decor are pretty exquisite.
The kitchen was huge!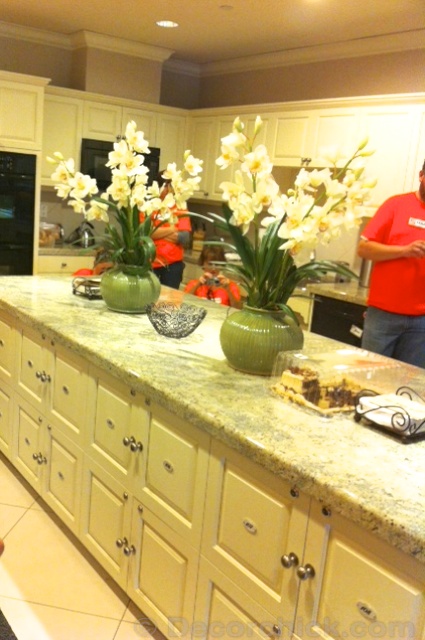 And a very large dining room.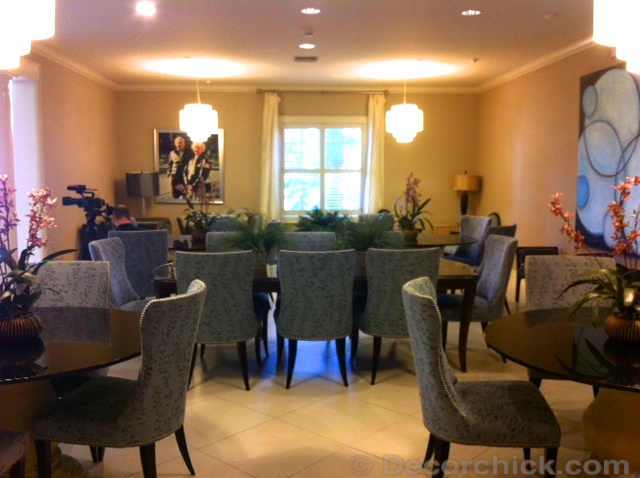 I loved this chair that was in one of the living areas too.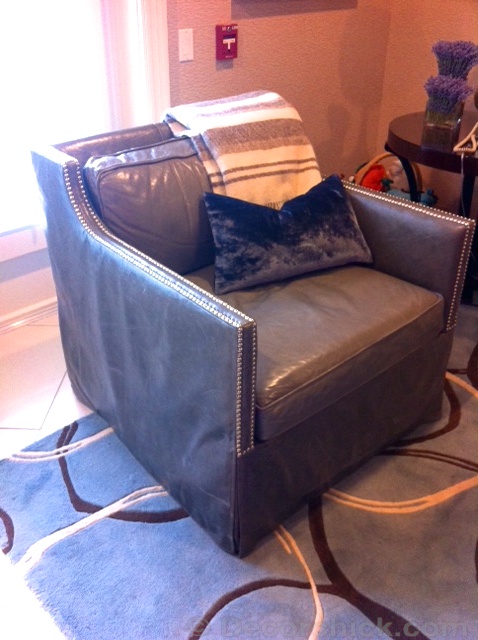 See how homey it feels? There's even toys for the kids too, just as if you were at home. And there can be several different families staying here at once, since the homes are so big and of course free of charge.  It's such a nice luxury to stay at one of these homes if you have a loved one in the hospital, which is always right next door so you don't have to walk far.
The day we worked on this house, several volunteers from the local Home Depot were there again just out of the kindness of their heart to serve others. It's pretty awesome.  There was lots of painting going on in the bedrooms, and lots of yard work happening that day.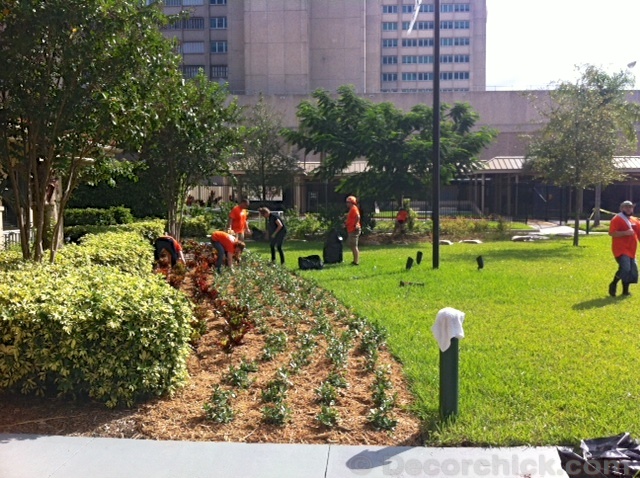 We were all hot and sweaty and loved every minute of it.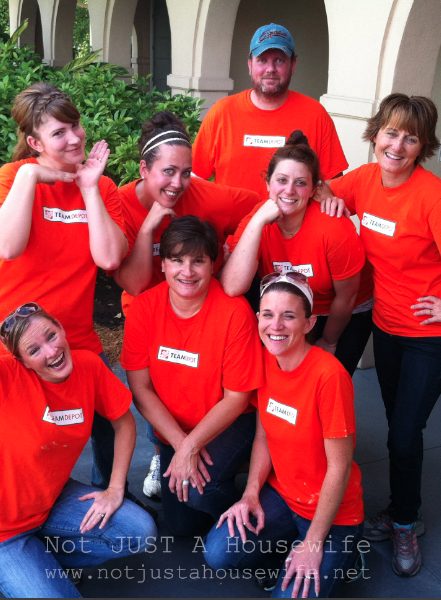 Photo courtesy of Not Just a Housewife.
I feel so fortunate to be a part of this, and just hope that my teensy bit of lending a helping hand will make a difference.  You never know how you will impact someone, and I have witnessed first hand how we are making people's lives better through these service projects with The Home Depot Foundation. It's seriously amazing. To learn more you can visit The Home Depot Foundation website, follow The Home Depot Foundation on Twitter, and like them on Facebook.
If you have or know of any veterans staying in the VA hospital and their family needs a place to stay, check out to see if a Fisher House is in your area. They would love to have you. :)
xxoo,
Decorchick!
Disclosure: The Home Depot partnered with bloggers such as me for their Celebration of Service Blog Network. As part of this program, I received compensation for my time. They did not tell me what to purchase or what to say about any product mentioned in these posts. The Home Depot believes that consumers and bloggers are free to form their own opinions and share them in their own words. The Home Depot's policies align with WOMMA Ethics Code, FTC guidelines and social media engagement recommendations.
Let's Connect!