Hey hey let's talk about light bulbs today. I noticed a lot of newer homes are coming with those LED lights now, you know, where it takes a bit for them to turn on after you flip the switch?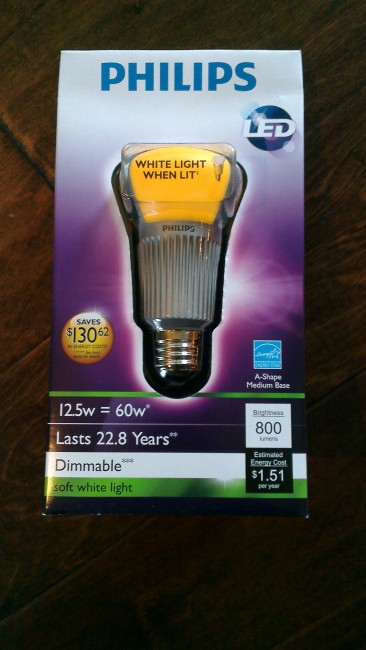 Well I received one from The Home Depot on one of our service projects and haven't put it to the test yet.  I will do that soon and show you (hopefully in a video format) how it looks.  If I can ever figure out how to do videos on my site. Ugh.
But if they really last 22 (TWENTY TWO) years, ummm, I think I will love them regardless. ;)
A little bit about these bulbs:
Emits the light equivalent to a 60 watt standard incandescent bulb using only 12.5 watts of power
Uses 79% less energy than a standard incandescent bulb, saving homeowners up to $130.62 in energy costs over the life of the bulb
Emits 800 lumens and lasts 22.8 years with normal use
Gives off a soft white light and is fully dimmable
Ideal for use in kitchens, living rooms, bedrooms and hallways
Price: $24.97
So have you tried out any of these LED lights yet? I'm pretty excited to try it out! We did some energy savings projects with the light bulbs at my last 2 Celebration of Service events (here and here) and it will make a huge difference in their energy costs per year and that made them all very excited.
What do you think of the LED bulbs and CFL's in general?
To learn more you can visit The Home Depot Foundation website, follow The Home Depot Foundation on Twitter, and like them on Facebook.
xxoo,
Decorchick!
Disclosure: The Home Depot partnered with bloggers such as me for their Celebration of Service Blog Network. As part of this program, I received compensation for my time. They did not tell me what to purchase or what to say about any product mentioned in these posts. The Home Depot believes that consumers and bloggers are free to form their own opinions and share them in their own words. The Home Depot's policies align with WOMMA Ethics Code, FTC guidelines and social media engagement recommendations.
Let's Connect!