Hi friends! I very much enjoyed our July 4th holiday and am ready to get back to business.  I hope you had a good one too! If you follow me on Instagram you know we had Ellie's 1 year old party over the weekend! It was so much fun. I will talk about the party later this week, but today I have to show off the rockstar rose/rosette cake my mom made.
Oh my goodness isn't that gorgeous??! I couldn't stop taking pictures of it because it was so pretty and photographed so well. The pale pink shade was perfection. And that cake stand is awesome too. I bought that to add to my Emma collection (from Pottery Barn) because I love it so much. I have the fruit bowl that you've all seen many times too. I hope to get the dinnerware one day.
So this rosette cake thing all started out because my cousin Rachael decided to make her daughter's cake instead of ordering from a bakery. I was going to just order Ellie's cake again, but I loved Rachael's so much and she said it was easy, so I "let" my mom have the duty of cake baking. I'm generous, I know. Plus I'm not much of a cake baker. I am a pie girl and can make a mean pie.
My mom has never decorated a cake like this so I told her she had to just google "rosette cake" and a ton would pull up. And that's all she did. So I'm not going to do a tutorial here and will direct you to the tutorial she used over at I Am Baker. It really is EASY. I got to make a few practice ones and it's really very simple. You just need the 1M decorator's tip and you'll be good to go. There are also tons of video tutorials on YouTube as well. My mom used her white cake recipe for a 3 layer cake that she uses for everything (you can use whatever you like), and she used a buttercream frosting recipe that she got years ago from an old friend. But she did say it would be very close to the frosting recipe at That Really Frosts Me. Just a warning–this cake will take an obscene amount of frosting so be prepared.
The top of the cake is all rosettes too.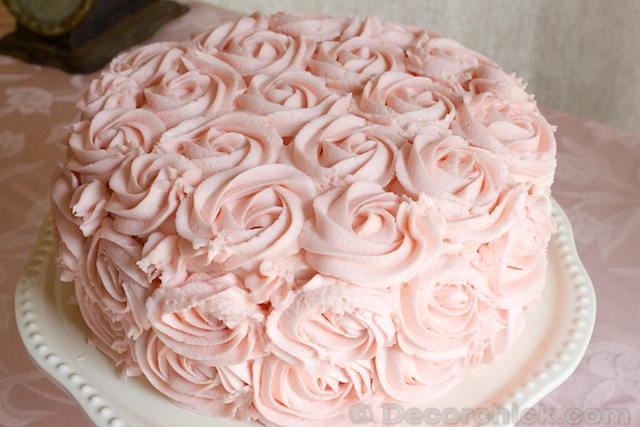 Then she made rosette cupcakes from the leftover cake batter.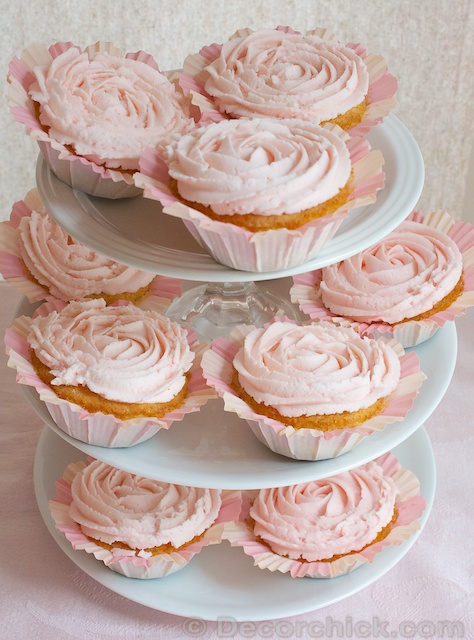 Here's a few more beauty shots.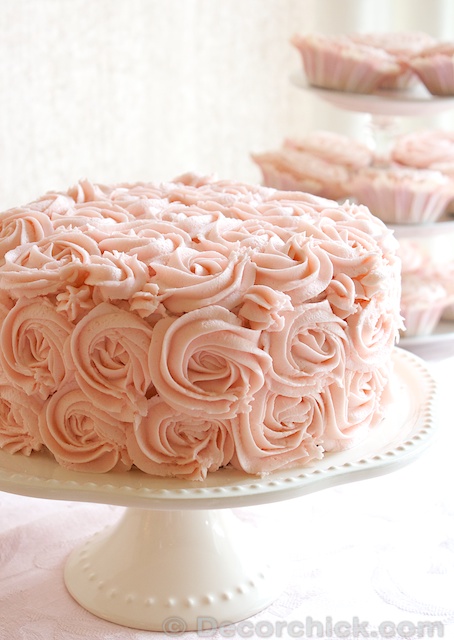 I think it's just so beautiful on its own and it was definitely fit for a princess. But I think it would be just as beautiful for a wedding too. It looks so fancy and elegant and I can't believe how easy it was. Says the person who didn't actually make the cake…but whatever.
So high-fives for mom! Did you ever see the cheeseburger cake she made a few years ago? That one is a must see. She is making Emma a rose cake too for her birthday party in a few weeks. Can't wait to see her handy work again. :)
So have you ever made one of these? Did you realize they can be so simple? The cake is definitely a show stopper.
xxoo,
Decorchick!
Let's Connect!