Happy new year everyone!  The new year around here is bringing some much needed de-cluttering and organizing and it feels so good.  I am determined to get rid of a lot of stuff that I am no longer using, accessorize less, and just enjoy simplicity.  I still will have accessories, but hopefully in a less cluttery way.  We'll see how that goes. :)
When I asked you all if I should paint our kitchen cabinets white in this post, it looks like the majority vote is about half in half.  And thank you all for chiming in on that post and giving me your 2 cents and advice.  I really appreciate it.  And for now, I am going with the half of you who said not to paint them.  As my title says, I am embracing the wood which I do love, and will just admire other people's white kitchens from afar. :)  I don't want to deal with chippy paint and don't want to have to wipe them down everyday.  That just wouldn't happen around here.
So in order to get my white craving fix, I did make a few changes by simply bringing in white through my accessories.  And I had everything already, so it was free.  I did splurge on one thing, and I love it!  Will show you later in the post.
So here is the kitchen before…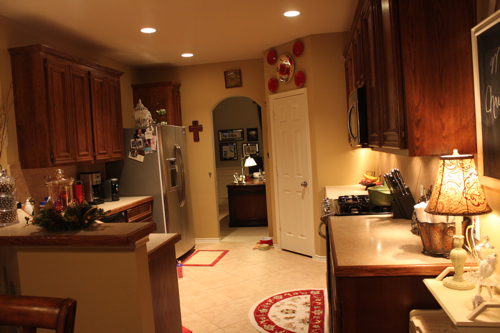 Too much going on, yes?  Having stuff all over the bar was driving me nutty too.  And look at the side of the fridge and on top of the fridge?  Just a big clutter zone.
And here it is after de-cluttering and adding white accessories already on hand.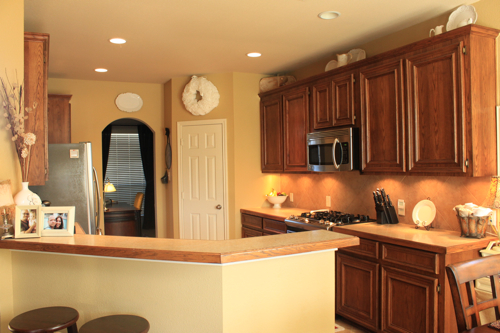 Much better right?  I moved my coffee filter wreath above the pantry door and love it there.  And I love everything off of the bar, and less things on the countertops.  And no more refrigerator clutter!
Here are a few more pics.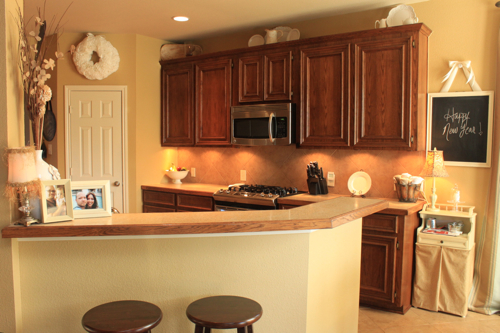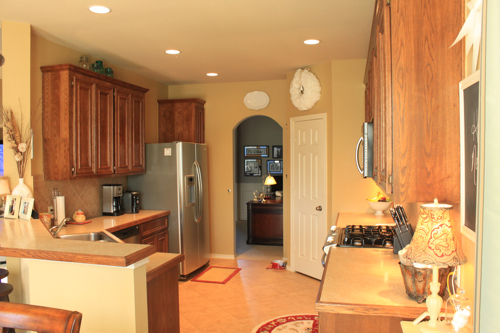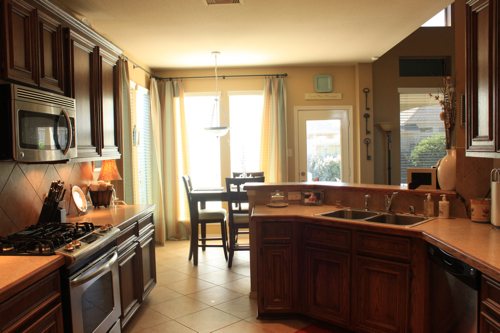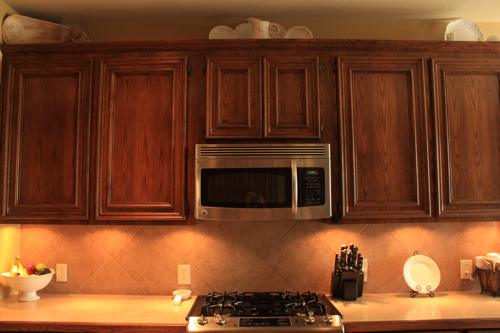 And my splurge was…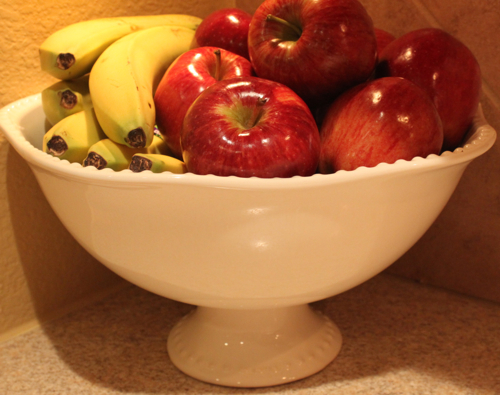 That beautiful fruit bowl.  It was exactly what I was looking for, and it's the Emma Footed Fruit Bowl from Pottery Barn.  Leave it to Pottery Barn to have what I was looking for. :)
It's very simple changes like this that will completely change the feeling of a room. It feels like a new kitchen to me, hence the reason I called it a mini makeover.  And now my white kitchen cravings have been satisfied without breaking the bank, and that makes me happy.  I still think a new creamy white backsplash will finish off this look, along with a new sink and fixture.  In time, my friends. :)
I love the changes to our kitchen.  What do you think?  Have you been de-cluttering too?  It's always in the air this time of year. :)
P.S.- the paint color in the kitchen is Tobacco Road.  It's probably the #1 question asked, and you can read about it here. :)
I'll be sharing this post at Nester's paint party and Thrifty Decor Chick's Before and After Party,
xxoo,
Decorchick!